Click on any eulogy link to view that eulogy.
Click on "Post a new eulogy" to add your own eulogy to Sara.
Other important links:
Sara Marie (Knutson) Cullen
West Point, 2007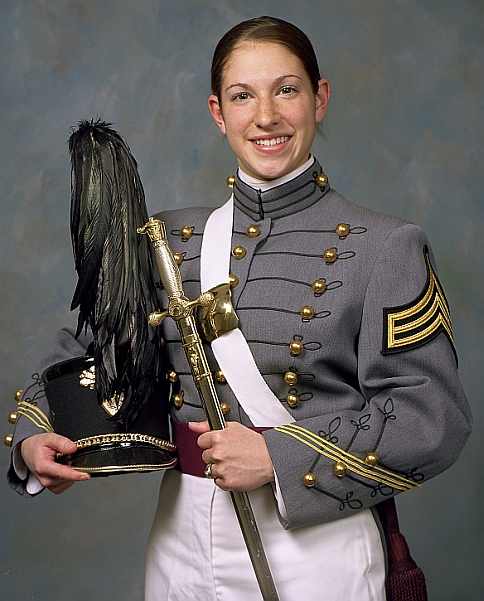 Be Thou At Peace
To date, 109 eulogies have been posted for Sara. Post a new eulogy to share some memories and thoughts that you may have. Additional biographical information may be found on the personal home page.
| Subject | Name | Date Posted |
| --- | --- | --- |
| An Exceptional Person | Jon Stewart | August 7, 2013 |
| Personal Eulogy | Keelan McNulty | March 29, 2013 |
| Personal Eulogy | Gonski Family-Eldersburg, MD; Parent-Class of '10 | March 25, 2013 |
| Personal Eulogy | Chris Stoinoff | March 25, 2013 |
| To Kelly & the Knutson Family | Salisbury Women's Soccer Family | March 23, 2013 |
| Personal Eulogy | Koeppes | March 22, 2013 |
| Personal Eulogy | CSM Lebert Beharie | March 22, 2013 |
| Personal Eulogy | Russel Hawkins | March 21, 2013 |
| God Bless | Joy (Mulholland) Tidwell | March 21, 2013 |
| Personal Eulogy | Robin and Rob Platky, Class of 2007 Parents | March 20, 2013 |
| Thank you | Vet AF Doc | March 20, 2013 |
| Personal Eulogy | Parent, Class of 2014 | March 20, 2013 |
| Personal Eulogy | Thomas R. White | March 20, 2013 |
| Thank you | Rena Szymczak | March 20, 2013 |
| Personal Eulogy | Chelsea | March 20, 2013 |
| Your Laugh was Contagious | Colleen Sid | March 20, 2013 |
| Personal Eulogy | Jodi Ballas | March 20, 2013 |
| Personal Eulogy | Anthony & Stella Osei-Agyeman | March 20, 2013 |
| Fellow Soldier Eulogy | BG Duff Duffy | March 20, 2013 |
| Personal Eulogy | BG Chris Hughes | March 20, 2013 |
| Personal Eulogy | Class of 2000 grad | March 19, 2013 |
| Personal Eulogy | Elizabeth Cal | March 19, 2013 |
| Personal Eulogy | Sahily Feliciano and Kamen Tsvetkov | March 19, 2013 |
| Personal Eulogy | Tom and Becky Wierschem | March 19, 2013 |
| Personal Eulogy | Cynthia and Michael Causbie | March 19, 2013 |
| Personal Eulogy | A Friend | March 19, 2013 |
| Truly Missed by All | Judy Wade | March 19, 2013 |
| Personal Eulogy | Stephan & Nancy Murphy Delaware Parents USMA '13 | March 19, 2013 |
| Personal Eulogy | Carol Vasher | March 19, 2013 |
| Personal Eulogy | CPTs Troy and Kelsey Yoho (Class of 2007) | March 18, 2013 |
| Personal Eulogy | Debbie Barr USMA parent 2007 | March 18, 2013 |
| Personal Eulogy | Foster Family (parents 2010) | March 18, 2013 |
| High Flight | . | March 18, 2013 |
| Personal Eulogy | Ken and Sandy Sidlovsky | March 18, 2013 |
| Personal Eulogy | CPT Lindsey Gerheim | March 18, 2013 |
| Personal Eulogy | Matt Hoff '07 | March 18, 2013 |
| Personal Eulogy | Sarah Komm | March 18, 2013 |
| Personal Eulogy | CPT | March 18, 2013 |
| Thank you for your service | John N. Martin, Jr | March 18, 2013 |
| Personal Eulogy | Parents,Class of 2013 | March 18, 2013 |
| USMA Class 2003 | Mary Tobin | March 18, 2013 |
| Personal Eulogy | Presley Family, Class of 2014 | March 17, 2013 |
| Personal Eulogy | Lorraine and Bob Knauff | March 17, 2013 |
| Personal Eulogy | Esterman Family 2015 | March 17, 2013 |
| Personal Eulogy | Lisa McKendree | March 17, 2013 |
| Personal Eulogy | Cindy Graham | March 17, 2013 |
| Our Prayers are with you | Mr.& Mrs. Carlos del Castillo | March 17, 2013 |
| Personal Eulogy to Sara Knutson | Randy and Lois Boyer | March 17, 2013 |
| Personal Eulogy | Jerry Napolitano | March 17, 2013 |
| Personal Eulogy | Joan and Louis Verardo | March 17, 2013 |
| Personal Eulogy | Julie Trangsrud and family | March 17, 2013 |
| Personal Eulogy | Mike Neumann | March 17, 2013 |
| Personal Eulogy | The Saxion Family ( Steven '07 ) | March 17, 2013 |
| Personal Eulogy | The Sanders Family | March 17, 2013 |
| Personal Eulogy | Michael & Carolyn Terrill | March 17, 2013 |
| Personal Eulogy | Deirdre C Major | March 17, 2013 |
| Personal Eulogy | ann johansmeyer | March 17, 2013 |
| Personal Eulogy | Susan Willard | March 17, 2013 |
| Angels Wings | Tiny Stallings | March 17, 2013 |
| Personal Eulogy | CPT Jared Jacobsen | March 17, 2013 |
| Personal Eulogy | The Kalitka Family 08 | March 17, 2013 |
| You will not be forgotten | The Ayala (Class of 2014) | March 17, 2013 |
| Personal Eulogy | Anna F Swain | March 17, 2013 |
| God's Speed | COL Steve Michael | March 17, 2013 |
| Personal Eulogy | MAJ Jesus A Tavares Jr. Class of '03 | March 17, 2013 |
| Deepest Sympathy | Sue & Pete Knoetgen | March 17, 2013 |
| Personal Eulogy | Kathryn 08 Parent | March 16, 2013 |
| Personal Eulogy | Caroline and Miles Hidalgo | March 16, 2013 |
| Personal Eulogy | The Ford's C/O 2013 | March 16, 2013 |
| Personal Eulogy | USMA Family ('73 and '99 Grads) | March 16, 2013 |
| Personal Eulogy | Parent, class of 2010 | March 16, 2013 |
| Personal Eulogy | David & Sherri Perry | March 16, 2013 |
| Personal Eulogy | The buckley family- cadet 2013 | March 16, 2013 |
| Personal Eulogy | 2010 Dad | March 16, 2013 |
| Personal Eulogy | Karen (Barr) Morgan | March 16, 2013 |
| Personal Eulogy | Marshall and Trudy Johnson, '62 and '07 | March 16, 2013 |
| Personal Eulogy | WP Mom, Class of 2014 | March 16, 2013 |
| Liberty High School Class of 2003 | Kathleen Horneman | March 16, 2013 |
| Deepest Sympathy | Nanette and Jim Reitter | March 16, 2013 |
| A Mother Who Knows Your Pain | Lonnette Wright Sampson | March 16, 2013 |
| They're all our children - Class of 1998 Parent | Tony de la Lama | March 16, 2013 |
| Personal Eulogy | Anne Wallen | March 16, 2013 |
| A beautiful and shining leader | The Lucero Family - Son in Class of 2013 | March 16, 2013 |
| Personal Eulogy | THE PRIETO FAMILY CLASS OF 2012 | March 16, 2013 |
| Personal Eulogy | The Lowe Family | March 16, 2013 |
| Class of 2015 Parent | LaurieThornton | March 16, 2013 |
| Personal Eulogy | The Richard Family | March 16, 2013 |
| Personal Eulogy | Rene Forsberg | March 16, 2013 |
| Personal Eulogy | Mayeaux Family-class of 2014 | March 16, 2013 |
| Personal Eulogy | The Mikstas Family (2009) | March 16, 2013 |
| Personal Eulogy | Sheryl Clay, family of USMA 2010 | March 16, 2013 |
| Personal Eulogy | Sheryl Hendler | March 16, 2013 |
| Personal Eulogy | Arijah Ankh Khalid-Zyn | March 16, 2013 |
| Personal Eulogy | Allison Sharp | March 16, 2013 |
| Personal Eulogy | Lisa Ford | March 16, 2013 |
| Personal Eulogy | Jeanette Grayeb-Mihal | March 16, 2013 |
| Personal Eulogy | Nora Murray | March 16, 2013 |
| Personal Eulogy | Lisa Rotte | March 16, 2013 |
| Personal Eulogy | Laura Kennedy | March 16, 2013 |
| Personal Eulogy | Carl and Gigi Sanders | March 16, 2013 |
| Personal Eulogy | Lynda Scott (2010 parent) | March 16, 2013 |
| Personal Eulogy | 2011 Parent | March 16, 2013 |
| Personal Eulogy | Christine Cohn 2010Parent | March 16, 2013 |
| Personal Eulogy | The Moody Family Class of 2011 | March 16, 2013 |
| Personal Eulogy | Michele Swicegood | March 16, 2013 |
| Personal Eulogy | 2013 Parent | March 16, 2013 |
| Personal Eulogy | Patty Brown | March 15, 2013 |
| Personal Eulogy | 2015 Class Parent | March 15, 2013 |
| Personal Eulogy | Lugene Armstrong | March 15, 2013 |