Click on any eulogy link to view that eulogy.
Click on "Post a new eulogy" to add your own eulogy to Tyler.
Other important links:
Tyler Edward Parten
West Point, 2007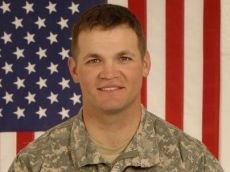 Be Thou At Peace
To date, 157 eulogies have been posted for Tyler. Post a new eulogy to share some memories and thoughts that you may have. Additional biographical information may be found on the personal home page.
| Subject | Name | Date Posted |
| --- | --- | --- |
| Personal Eulogy | Christie Haas | May 25, 2015 |
| Personal Eulogy | Andrew Moore | December 16, 2013 |
| Personal Eulogy | Joe Paladino | March 15, 2013 |
| Personal Eulogy | Frank Titus | January 24, 2012 |
| Personal Eulogy | A greatful American | September 10, 2010 |
| Personal Eulogy | Bill Reedy | May 31, 2010 |
| Personal Eulogy | A grateful American | May 31, 2010 |
| Personal Eulogy | Patty Cargill | April 14, 2010 |
| A Mother's Sleepless Night: New Year's 2010 | Mother | January 7, 2010 |
| Personal Eulogy | Lona Parten | December 26, 2009 |
| Like a beam of sunshine | Christina Stiles | December 18, 2009 |
| To the Parten Family | MG Bob and Shelly Caslen | November 12, 2009 |
| Personal Eulogy | Chris Hostler | November 12, 2009 |
| Personal Eulogy | Lona Parten | November 11, 2009 |
| Personal Eulogy | Raymond Morris | November 3, 2009 |
| Personal Eulogy | Lukas Berg '05 | October 26, 2009 |
| Personal Eulogy | Sandy Kolano | October 13, 2009 |
| Personal Eulogy | Sandy Kolano | October 13, 2009 |
| Personal Eulogy | Mary ('03 & '06 mom) | October 13, 2009 |
| Personal Eulogy | Matthew Busch | October 12, 2009 |
| Another Gold Star Parent | Leonard M. Cowherd II | October 7, 2009 |
| My "Adoptive Big Brother" | Marissa Reedy | October 5, 2009 |
| Personal Eulogy | L. Mathews 2012 parent | October 2, 2009 |
| Personal Eulogy | Bill Reedy | October 2, 2009 |
| Personal Eulogy | 1LT Patrick Dullano | September 28, 2009 |
| Condolences | Sherri Perry/mother of cadet 2013 | September 25, 2009 |
| Personal Eulogy | David Smith | September 25, 2009 |
| Personal Eulogy | 2007 and 2010 West Point Mom | September 24, 2009 |
| With Love. Mom | Lona Parten | September 24, 2009 |
| My inspiration | Amy Dittoe | September 22, 2009 |
| God's Soldier | Liz Schares | September 21, 2009 |
| Personal Eulogy | 1LT Joshua Rodriguez | September 21, 2009 |
| Be Thou at Peace! | James Powers | September 21, 2009 |
| Personal Eulogy | James & Robin Shrode | September 20, 2009 |
| Personal Eulogy | 1LT Anthony Ciaffone | September 20, 2009 |
| Personal Eulogy | Tony and Joan Kunz '09 parents | September 20, 2009 |
| Personal Eulogy | Michael and Cynthia Causbie | September 19, 2009 |
| Personal Eulogy | The McDaniel Family | September 18, 2009 |
| For My Friend and Comrade | 1LT Michael Soderberg | September 18, 2009 |
| Personal Eulogy | Deirdre C Major | September 17, 2009 |
| we remember You | Harry Bruner, Jr. 2008 parent | September 17, 2009 |
| Personal Eulogy | The Guynes Family | September 17, 2009 |
| Personal Eulogy | Fong family | September 17, 2009 |
| Personal Eulogy | 1LT Elizabeth Cal | September 17, 2009 |
| Personal Eulogy Parent of 2012 cadet | Caren J. Weeks-Bustos | September 17, 2009 |
| Personal Eulogy Tyler Reports to God | Daniel Vinvent Evans Parten | September 16, 2009 |
| Personal Eulogy | John Ashley | September 16, 2009 |
| Personal Eulogy | Melinda White/mother of cadet 2010 | September 16, 2009 |
| Personal Eulogy | 1LT Marjana Mair | September 16, 2009 |
| Personal Eulogy | Hughbert and Gail Collier | September 16, 2009 |
| Personal Eulogy | MAJ Darin Thomson | September 16, 2009 |
| Personal Eulogy | 2LT Daniel McDaniel | September 16, 2009 |
| Personal Eulogy | Caroline Hidalgo | September 16, 2009 |
| Personal Eulogy | 1LT Miles Murray | September 16, 2009 |
| Personal Eulogy | Stephane Crayne | September 16, 2009 |
| Personal Eulogy | 1LT Adam J. Harmon | September 16, 2009 |
| Personal Eulogy | Connie Jones | September 16, 2009 |
| Personal Eulogy | 1LT JB Kelly | September 15, 2009 |
| Be Thou At Peace... | CPT Craig Bonham II ('06) | September 15, 2009 |
| Personal Eulogy | Meg Reedy | September 15, 2009 |
| Personal Eulogy | Jerry Napolitano | September 15, 2009 |
| Personal Eulogy | John and Linda Hawkins | September 15, 2009 |
| eulogy from an '07 mom | Mary Pleuss '07 Mom | September 15, 2009 |
| Personal Eulogy | 1LT Dan Fisher | September 15, 2009 |
| Personal Eulogy | 1LT Jennifer Garigliano | September 15, 2009 |
| I know a hero. His name is Tyler Parten. | 1LT Jake Creecy | September 15, 2009 |
| Personal Eulogy | Steve and Kathy Hufstetler | September 15, 2009 |
| Personal Eulogy | John Stevens, '07 and '13 Parent | September 15, 2009 |
| Personal Eulogy | Stacey Locher (Class of 2011 Parent) | September 15, 2009 |
| Be Thou At Peace | Grant and Elizabeth Crawford | September 15, 2009 |
| From Fellow Arkansan & Mom of a Cadet '12 | Bev Kinley | September 15, 2009 |
| Personal Eulogy | Ginger East | September 15, 2009 |
| Personal Eulogy | Kelsey Tardieu | September 15, 2009 |
| Troop Commander in Tyler's Squadron | CPT Jay Ireland | September 15, 2009 |
| Roommate and Fellow Duck | 1LT Matthew Pritchett | September 15, 2009 |
| Personal Eulogy | 1LT Ty Padilla | September 15, 2009 |
| Our Deepest Sympathy | Brian and Elaine Miller | September 14, 2009 |
| Personal Eulogy | 2LT Irwin | September 14, 2009 |
| Personal Eulogy | Heather Hernandez | September 14, 2009 |
| Personal Eulogy | Pete Zink | September 14, 2009 |
| Personal Eulogy | Susan Kennedy | September 14, 2009 |
| Personal Eulogy | Cade Culver Family USMA '07 | September 14, 2009 |
| Personal Eulogy | Col. and Linda Somersall | September 14, 2009 |
| Personal Eulogy | Candi and Bobby Mizell | September 14, 2009 |
| Personal Eulogy | Randy Young | September 14, 2009 |
| From a Model Arab League friend | Marisa | September 14, 2009 |
| Personal Eulogy | The Prieto Family (Class of 2012) | September 14, 2009 |
| Personal Eulogy | Ryan Gardner | September 14, 2009 |
| Personal Eulogy | The Klueber Family (class of 2007) | September 14, 2009 |
| Deepest Sympathy | The Koenen Family of 2012 Cadet | September 14, 2009 |
| Personal Eulogy | Katie | September 14, 2009 |
| Prayers To Tyler's family | Tom & Jenny Mundie | September 14, 2009 |
| Keep smiling | Tom & Jenny Mundie | September 14, 2009 |
| You will be Missed | Michael Benedosso | September 14, 2009 |
| Personal Eulogy | Chris Hostler | September 14, 2009 |
| Personal Eulogy | The Mikstas Family 2009 | September 14, 2009 |
| Personal Eulogy | Laurie Lehman | September 14, 2009 |
| Personal Eulogy | Brian | September 14, 2009 |
| Personal Eulogy | Michele Swicegood | September 14, 2009 |
| Truly Sorry For Your Loss | 1LT Amberle Kurkowski | September 14, 2009 |
| Personal Eulogy | Kasey M. Kinney (USMA Class '05) | September 14, 2009 |
| Personal Eulogy | RIchard and Deborah Nifong | September 14, 2009 |
| Personal Eulogy | KMH 08 Parent | September 14, 2009 |
| With Sympathy | Jeff and Patty Meier | September 14, 2009 |
| Personal Eulogy | Gina Paddock | September 14, 2009 |
| Personal Eulogy | Pete and Nancy Selleck | September 14, 2009 |
| Personal Eulogy | The Wooley family | September 14, 2009 |
| Personal Eulogy | Nancy Berube | September 14, 2009 |
| with deepest sympathy | David & Janet Cruickshank | September 14, 2009 |
| Deepest Sympathy | The Worth Family of Cadet 2012 | September 14, 2009 |
| Personal Eulogy | Peter and Diane Hall (Renner '11) | September 14, 2009 |
| Deepest Sympathy from a fellow 07 Duck | Elizabeth Schubert | September 14, 2009 |
| Personal Eulogy | The Swartz Family - Amanda Class of 2012 | September 14, 2009 |
| Our thuoghts and prayers are with you. | carolyn Miele | September 14, 2009 |
| Personal Eulogy | Ron & Lynette Pfannenstiel | September 14, 2009 |
| With Much Gratitude & Sorrow | Christine Freitag | September 14, 2009 |
| Deepest Sympathy | Dina Astemborski | September 14, 2009 |
| Personal Eulogy | Deb Christian, '04 Parent | September 14, 2009 |
| Personal Eulogy | Stephan & Nancy Murphy | September 14, 2009 |
| Personal Eulogy | Andra Kai Shaw | September 14, 2009 |
| Personal Eulogy | Gigi Sanders | September 14, 2009 |
| Personal Eulogy | Joseph A. Linton | September 14, 2009 |
| God' Comfort and Pease to You | Frank McKnight | September 14, 2009 |
| To Tyler's family | Rory and Rita Odom | September 14, 2009 |
| Mom '06 | Kathy M Sweeney | September 14, 2009 |
| Deepest Sympathy | Patty Soderberg | September 14, 2009 |
| Personal Eulogy | Bill and Ty Vaughan | September 14, 2009 |
| Personal Eulogy | Matt and Colleen Joosten | September 14, 2009 |
| Personal Eulogy | Jordan Bellamy | September 14, 2009 |
| Personal Eulogy | Sonja Rodriguez | September 14, 2009 |
| Personal Eulogy | ann johansmeyer | September 14, 2009 |
| Personal Eulogy | Michael Nulk | September 14, 2009 |
| To Dave and Lona | Dr. Jimmy & Amanda Sites | September 14, 2009 |
| Personal Eulogy | Mr. & Mrs. Robert Jahn | September 13, 2009 |
| Personal Eulogy | Susan Hammond | September 13, 2009 |
| Our gratitude and sorrow | Debbie Pullen | September 13, 2009 |
| Personal Eulogy | Samar | September 13, 2009 |
| Personal Eulogy | Jeanette Grayeb-Mihal | September 13, 2009 |
| Parent of '07 | Sandee Z. Coward | September 13, 2009 |
| Personal Eulogy | Connolly Family, Gerard ('09) | September 13, 2009 |
| Personal Eulogy | COL (R) Joseph Frankie III | September 13, 2009 |
| Personal Eulogy | L G Buckley | September 13, 2009 |
| Personal Eulogy | 2LT Emily Sfeir | September 13, 2009 |
| Personal Eulogy | Joan and Louis Verardo | September 13, 2009 |
| Personal Eulogy | Dannielle (Pope) Needler | September 13, 2009 |
| Personal Eulogy | Dan Cross | September 13, 2009 |
| Personal Eulogy | David & Sheryl Clay | September 13, 2009 |
| To The Parents and Family of Tyler Edward Parten | Mary Bundy | September 13, 2009 |
| Personal Eulogy | Natalie Bradley | September 13, 2009 |
| Brave and Wonderful Soldier! | Toni | September 13, 2009 |
| Personal Eulogy | Elizabeth Day | September 13, 2009 |
| Personal Eulogy | Jared Flurry | September 13, 2009 |
| Personal Eulogy | Sharon Graham | September 13, 2009 |
| Personal Eulogy | Rod and Pat Backsmeier and family | September 12, 2009 |
| An Amazing Man | Mike and Jana Fitzpatrick | September 12, 2009 |
| Personal Eulogy | Charles & Carol Grevious | September 12, 2009 |
| Personal Eulogy | Pam & Dennis Desilets | September 12, 2009 |