Click on any eulogy link to view that eulogy.
Click on "Post a new eulogy" to add your own eulogy to Robert.
Other important links:
Robert Wilson Collins
West Point, 2008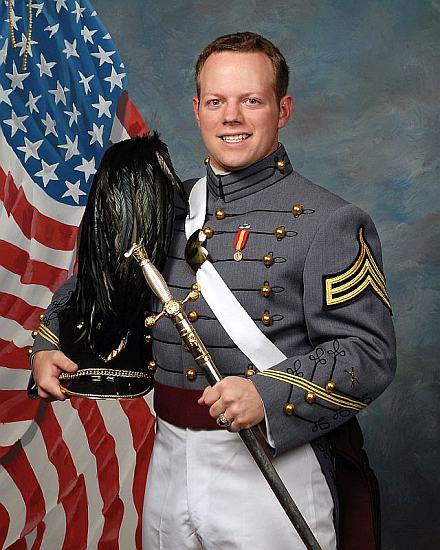 Be Thou At Peace
To date, 115 eulogies have been posted for Robert. Post a new eulogy to share some memories and thoughts that you may have. Additional biographical information may be found on the personal home page.
| Subject | Name | Date Posted |
| --- | --- | --- |
| Personal Eulogy | Gayle Ruckman | April 8, 2015 |
| Personal Eulogy | Geriann Wiesbrook | April 7, 2015 |
| Personal Eulogy | Geriann wiesbrokk | April 7, 2015 |
| Personal Eulogy | Jennifer Sanford | April 7, 2013 |
| Personal Eulogy | Donnaa DOLAN | April 6, 2012 |
| Personal Eulogy | Mom | July 1, 2011 |
| Personal Eulogy | Laura McKenzie | May 10, 2011 |
| Personal Eulogy | Sharon Collins | April 9, 2011 |
| Personal Eulogy | Jerry L Crosby, Sr, of Arizona | March 19, 2011 |
| Army Family | Donna and George Patten | August 1, 2010 |
| Classmate | Mike Merseburg | July 20, 2010 |
| Personal Eulogy | Eddie Madaris | June 21, 2010 |
| Personal Eulogy | Joseph Simmons | May 31, 2010 |
| Personal Eulogy | Mary ('03 & '06 mom) | May 24, 2010 |
| Parent'09 Cadet | Carlos del Castillo | May 23, 2010 |
| Personal Eulogy for a Fellow Buff | Kendrick Vaughn | May 4, 2010 |
| Personal Eulogy | Karen French- 08 parent | May 3, 2010 |
| Personal Eulogy | Connie Reeves and Cliff Lewis | May 2, 2010 |
| Personal Eulogy | The Mikstas Family (2009) | May 1, 2010 |
| With Heavy Hearts | The O'Sullivan Family | April 29, 2010 |
| Personal Eulogy | Harry Bruner | April 22, 2010 |
| Personal Eulogy | Dave Konze | April 19, 2010 |
| "Well done, Be thou at peace." | Nick Cosmas | April 19, 2010 |
| Personal Eulogy | Liz Schares | April 17, 2010 |
| Personal Eulogy | Jane Graham | April 17, 2010 |
| Fellow Graduate and Parents | Joseph W. Adamczyk | April 17, 2010 |
| Personal Eulogy to a fellow Graduate | Mario Feliciano (USMA '08) | April 16, 2010 |
| Personal Eulogy | Jo H Garvin | April 16, 2010 |
| Personal Eulogy | Terry & Ingo Kraus '08 Parents | April 16, 2010 |
| Personal Eulogy | Ron Krosnar | April 15, 2010 |
| Personal Eulogy | Bill Tomasi (USMA 87) | April 15, 2010 |
| Personal Eulogy | Kenny, Charlotte and Kelly Carnes | April 15, 2010 |
| Personal Eulogy | Wolf-Ekkehard Hindrichs | April 14, 2010 |
| Personal Eulogy | Mr. & Mrs. T.M. Corrigan | April 14, 2010 |
| Personal Eulogy | Bev Kinley | April 14, 2010 |
| Personal Eulogy | Heba Bullock | April 13, 2010 |
| Personal Eulogy | Cynthia and Michael Causbie | April 13, 2010 |
| Personal Eulogy | Hughbert and Gail Collier | April 13, 2010 |
| Personal Eulogy | John Bond | April 13, 2010 |
| with deepest sympathy | Sara Wilson Galyean | April 13, 2010 |
| Personal Eulogy | Sherri Perry | April 13, 2010 |
| Personal Eulogy | Samar | April 13, 2010 |
| Personal Eulogy | Allen & Ginny Cranford | April 13, 2010 |
| Personal Eulogy | Linda Bigbee | April 13, 2010 |
| With deepest sympathies | Diane Richard | April 13, 2010 |
| Personal Eulogy | Nancy CAmpbell | April 13, 2010 |
| Personal Eulogy | Chelsea | April 13, 2010 |
| Personal Eulogy | Mike Tillson | April 13, 2010 |
| Personal Eulogy | Rebekah Vaughan | April 13, 2010 |
| Personal Eulogy | Steve Hancock | April 12, 2010 |
| With Deepest Sympathy | Dan & Lynn Nichols | April 12, 2010 |
| Personal Eulogy | Victor Shen | April 12, 2010 |
| With Deepest Sympathy | Brian and Elaine Miller | April 12, 2010 |
| Our Deepest Sympathy | Mike and Cindy Flint | April 12, 2010 |
| Personal Eulogy | Robert and Iman Andrews' Family | April 12, 2010 |
| Personal Eulogy | Dennis and Armida Cavalier '09 Parents | April 12, 2010 |
| Deepest Sympathy | Mark and Deborah Broome | April 12, 2010 |
| Personal Eulogy | C Miele (parent '10) | April 12, 2010 |
| Deepest Sympathies | Janet Kalitka | April 12, 2010 |
| Personal Eulogy | Cheryl and Bill Brenton | April 12, 2010 |
| Personal Eulogy | Jody Glover | April 12, 2010 |
| Our Greatest Thanks | Koeppe Family | April 12, 2010 |
| Personal Eulogy | Chris Flournoy | April 12, 2010 |
| With Our Deepest Sympathy | Alicia Dixon | April 12, 2010 |
| Personal Eulogy | Terri Turner | April 12, 2010 |
| Personal Eulogy | Peggy Adams | April 12, 2010 |
| My Deepest Sympathies | Gary May (USMA 1976) | April 12, 2010 |
| Personal Eulogy | Lisa Love | April 12, 2010 |
| With Deepest Sympathy | Bob & Christine Freitag | April 12, 2010 |
| Personal Eulogy | Kathryn 08 Parent | April 12, 2010 |
| Personal Eulogy | Mo and Kathy Ford | April 12, 2010 |
| Personal Eulogy | Bill and Ty Vaughan Parents of '12 | April 12, 2010 |
| Personal Eulogy | The Connollys (Gerard '11) | April 12, 2010 |
| Personal Eulogy | Sheryl Clay | April 12, 2010 |
| Dina Astemborski '09 Parent | Dina Astemborski | April 12, 2010 |
| Personal Eulogy | RIchard and Deborah Nifong | April 12, 2010 |
| Personal Eulogy | Mr and Mrs Dean Stringfellow | April 12, 2010 |
| Personal Eulogy | Andra Kai Shaw | April 12, 2010 |
| Personal Eulogy | Ab and Connie Jones | April 11, 2010 |
| Personal Eulogy | Eugene B. Mechling, Jr | April 11, 2010 |
| Deepest Sorrow | Sandy and Bob Haddad | April 11, 2010 |
| Sincere Sympathy | Kunz -- 09 parents | April 11, 2010 |
| Our Sympathy | Rick & Sue Due | April 11, 2010 |
| Thoughts & Prayers | ANDY & DAWN JOHNSON | April 11, 2010 |
| Deepest Sympathy | Jim and Nanette Reitter | April 11, 2010 |
| Personal Eulogy | Geri Aman | April 11, 2010 |
| Personal Eulogy | Vera and Hans Beck, parents 06, 08 | April 11, 2010 |
| Condolences from Parent Class of '08 | John and Susan Carbone | April 11, 2010 |
| Personal Eulogy | Cline Family | April 11, 2010 |
| Personal Eulogy | Cindy and Steve Nelson | April 11, 2010 |
| Personal Eulogy | Jo-Ann Gradzik | April 11, 2010 |
| Personal Eulogy | John and Susan Hall | April 11, 2010 |
| Personal Eulogy | Kathleen Turner | April 11, 2010 |
| With Deepest Sympathy | Janet Stafford DiEugenio | April 11, 2010 |
| Personal Eulogy | Vince & Sung-Suk Hilaire ('09 Parents) | April 11, 2010 |
| With Sympathy | Sandee Coward 2007 Mom | April 11, 2010 |
| Deepest Sympathy | The Corson Family | April 11, 2010 |
| Personal Eulogy | Jeanette Grayeb-Mihal | April 11, 2010 |
| Deepest Sympathy | Janet Sullivan | April 11, 2010 |
| Personal Eulogy | ann johansmeyer | April 11, 2010 |
| Deepest Sympany | Patty Soderberg- '07 Parent | April 11, 2010 |
| Personal Eulogy | Cathy Speight | April 11, 2010 |
| Personal Eulogy | Randy and Debbie Kazmer | April 10, 2010 |
| Personal Eulogy | Michele Swicegood | April 10, 2010 |
| Personal Eulogy | Ignatius Rattay | April 10, 2010 |
| Personal Eulogy | lela buckley | April 10, 2010 |
| Personal Eulogy | Robert & Jane Wagner | April 10, 2010 |
| Personal Eulogy | Laurie Lehman | April 10, 2010 |
| Personal Eulogy | Gigi Sanders | April 10, 2010 |
| Personal Eulogy | LtCol (ret) Ed Kennedy | April 10, 2010 |
| Personal Eulogy | Jane Glover | April 10, 2010 |
| Personal Eulogy | Olinda Smith | April 10, 2010 |
| Personal Eulogy | Tony & Danute Mazeika | April 10, 2010 |
| Personal Eulogy | judy rivera | April 10, 2010 |
| Personal Eulogy | The Huber Family | April 10, 2010 |