Click on any eulogy link to view that eulogy.
Click on "Post a new eulogy" to add your own eulogy to Salvatore.
Other important links:
Salvatore Simplicio Corma
West Point, 2008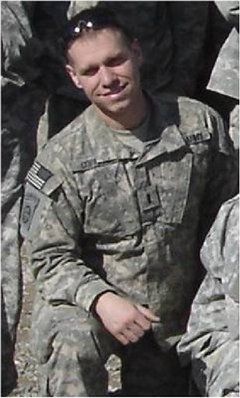 Be Thou At Peace
To date, 120 eulogies have been posted for Salvatore. Post a new eulogy to share some memories and thoughts that you may have. Additional biographical information may be found on the personal home page.
| Subject | Name | Date Posted |
| --- | --- | --- |
| Thinking of you | Aubrey Williams | May 29, 2016 |
| Two Years, Twenty Two Days | Stephen Fine | May 22, 2012 |
| Personal Eulogy | Jerry L Crosby, Sr, of Arizona | March 19, 2011 |
| Faculty Eulogy | Prof. Paul Springer | December 10, 2010 |
| Personal Eulogy | l c shurtz | October 13, 2010 |
| Army Family | Donna and George Patten | August 1, 2010 |
| hey buddy | Thomas Yi | June 6, 2010 |
| Personal Eulogy | Mary ('03 & '06 mom) | May 24, 2010 |
| Parent '09 Cadet | Carlos del Castillo | May 23, 2010 |
| Personal Eulogy | Kathryn 08 Parent | May 22, 2010 |
| Hero | Raymond C Edwards | May 14, 2010 |
| Hero | Raymond C Edwards | May 14, 2010 |
| To a good friend | 1LT Nathan Dyer | May 12, 2010 |
| Personal Eulogy | Pat Moore | May 11, 2010 |
| From Parent of Cadet '12 | Bev Kinley | May 11, 2010 |
| Personal Eulogy | Jerry Napolitano | May 11, 2010 |
| Personal Eulogy | Cynthia and Michael Causbie | May 10, 2010 |
| Punisher 6: My Friend Sal | 1LT Sean Snook - Sal's XO | May 10, 2010 |
| Personal Eulogy | Bette Osborn | May 10, 2010 |
| Our thoughts and prayers are with you | Dina and Ted Lyman | May 9, 2010 |
| With Heavy Hearts | The O'Sullivan Family | May 8, 2010 |
| NO MISSION TOO GREAT-REST IN PEACE | Leslie Palmatier (Max's mom,Class 2008) | May 7, 2010 |
| You will be missed | 1LT Amberle Kurkowski | May 7, 2010 |
| Personal Eulogy | Pam Mikstas | May 6, 2010 |
| Personal Eulogy | Michael and Donna Alexander | May 6, 2010 |
| Personal Eulogy | mary pleuss | May 5, 2010 |
| With Sincere Sympathy | Dan & Lynn Nichols | May 5, 2010 |
| Personal Eulogy | Nathan Hanagami | May 5, 2010 |
| Personal Eulogy | Alexander Kim | May 5, 2010 |
| to Sal the tender warrior..... | john harmeling | May 5, 2010 |
| Go Hogs | Mark Gerasimas | May 5, 2010 |
| Well Done, Sal | Marianna Carlson | May 5, 2010 |
| Personal Eulogy | Kendrick Vaughn | May 4, 2010 |
| Personal Eulogy | Marcus Lai | May 4, 2010 |
| Respect and Prayers | Sahily Feliciano | May 4, 2010 |
| Personal Eulogy | David Michelson | May 4, 2010 |
| Good Bye | Kesha Brown | May 4, 2010 |
| Rest in Peace | '08 Mom | May 4, 2010 |
| Personal Eulogy | Steven Cragg | May 4, 2010 |
| The WP 2008 Parents Grieve With You | Laurel & John McMahon | May 4, 2010 |
| Personal Eulogy | Simon Youngblut | May 4, 2010 |
| Personal Eulogy | Linden Mosk - parent of cadet 2013 | May 4, 2010 |
| Personal Eulogy-Dad of H-4 '08 | COL (Ret.) Ernest J. Herold, USMA '81 | May 3, 2010 |
| Our Prayers are with you | Kenneth Zwick | May 3, 2010 |
| Personal Eulogy | Michael O'Donnell | May 3, 2010 |
| Personal Eulogy | Hayden Piscal | May 3, 2010 |
| Personal Eulogy | Amy H Erickson | May 3, 2010 |
| Personal Eulogy | Mike Nix | May 3, 2010 |
| Personal Eulogy | 2013 Mom | May 3, 2010 |
| Personal Eulogy | Robert Messing | May 3, 2010 |
| Prayer | Koeppe Family | May 3, 2010 |
| Thoughts and Prayers | Janie Harris USMA 2009 H 4 mom | May 3, 2010 |
| Personal Eulogy | Jim and Jan Landrum | May 3, 2010 |
| Personal Eulogy | 2007 Parent | May 3, 2010 |
| Personal Eulogy | Sue Ellen Readinger | May 3, 2010 |
| Mom 06" | Kathy M Sweeney | May 3, 2010 |
| Personal Eulogy | Chief Warrant Officer Wayne D. Niehus | May 3, 2010 |
| Personal Eulogy | Marshall Seaman | May 3, 2010 |
| Personal Eulogy | Sandra Presnal | May 3, 2010 |
| Personal Eulogy | Murray Yopp | May 3, 2010 |
| Personal Eulogy | Rick & Sue Due | May 3, 2010 |
| God Bless Our Cadets | Tammy Sutherland-Abbott | May 3, 2010 |
| Eulogy for a Christian Gentleman | Fawn Pernelli | May 3, 2010 |
| Personal Eulogy | Lisa Murphy | May 3, 2010 |
| Personal Eulogy | Harry M Tsumas | May 3, 2010 |
| Personal Eulogy | Karen French | May 3, 2010 |
| Personal Eulogy | Pat Gill | May 3, 2010 |
| Personal Eulogy | Patrick Cassidy | May 3, 2010 |
| Sympathies and Prayers | Frank McKnight | May 3, 2010 |
| With Deepest Sympathy | Christine Freitag | May 3, 2010 |
| Deep Sympathy | Patty Soderberg -'07 parent | May 3, 2010 |
| Personal Eulogy | Priya Nye | May 3, 2010 |
| Good-bye Sal | Brian Carlson | May 3, 2010 |
| Personal Eulogy | Cyndi Mosk | May 3, 2010 |
| Personal Eulogy | Jo-Ann Gradzik | May 2, 2010 |
| Deepest Sympathy | Anita L. Culosi | May 2, 2010 |
| Personal Eulogy | Mark and Deborah Broome | May 2, 2010 |
| Personal Eulogy | Angie Travis Roberts | May 2, 2010 |
| Personal Eulogy | lg buckley | May 2, 2010 |
| Personal Eulogy | Ann Marie Glossinger | May 2, 2010 |
| Personal Eulogy | Ignatius F. Rattay | May 2, 2010 |
| Personal Eulogy | Carolyn Miele parent '11 | May 2, 2010 |
| Personal Eulogy | Peter Thompson | May 2, 2010 |
| Personal Eulogy | Stephen G. Fine, SFC, USAR, RET | May 2, 2010 |
| Personal Eulogy | 2007 Parent | May 2, 2010 |
| Personal Eulogy | RIchard and Deborah Nifong | May 2, 2010 |
| Personal Eulogy | Keith Fine | May 2, 2010 |
| Personal Eulogy | Dan Stuewe | May 2, 2010 |
| Personal Eulogy | Parent of a Cadet | May 2, 2010 |
| Personal Eulogy | Charlie Finnegan | May 2, 2010 |
| Personal Eulogy | Susan Kennedy | May 2, 2010 |
| Personal Eulogy | CPT Louis R. F. Preysz III (Ret) USA | May 2, 2010 |
| Personal Eulogy | Alex Mikstas | May 2, 2010 |
| Personal Eulogy | Laurie Lehman | May 2, 2010 |
| Personal Eulogy | Dan | May 2, 2010 |
| Personal Eulogy | Nanette and Jim Reitter | May 2, 2010 |
| Personal Eulogy | JB Kelly | May 2, 2010 |
| Personal Eulogy | Andra Kai Shaw | May 2, 2010 |
| Personal Eulogy | Adam Appleberry | May 2, 2010 |
| Personal Eulogy | parent class 2013 | May 2, 2010 |
| Personal Eulogy-WP Mom | Cat Kearns- | May 2, 2010 |
| Personal Eulogy | Jonathan Metcalf | May 2, 2010 |
| Personal Eulogy | Irma Agnew | May 2, 2010 |
| Personal Eulogy | Gigi andCarl Sanders | May 2, 2010 |
| Personal Eulogy | Peter and Diane Hall | May 2, 2010 |
| Personal Eulogy-"NO MISSION TOO GREAT" | John and Susan Carbone | May 2, 2010 |
| Personal Eulogy | Heather Hernandez | May 2, 2010 |
| Personal Eulogy | Ron Spiegel | May 2, 2010 |
| Personal Eulogy | Regina Roth | May 2, 2010 |
| Personal Eulogy | Mr. & Mrs. Swartz - Cadet USMA 2012 | May 2, 2010 |
| Personal Eulogy | Beth Sutey | May 2, 2010 |
| Personal Eulogy | Jennifer Howlett | May 2, 2010 |
| Personal Eulogy | Vicki Carlson | May 2, 2010 |
| Personal Eulogy | Aubrey McCary | May 2, 2010 |
| Personal Eulogy | Michele Swicegood | May 2, 2010 |
| Personal Eulogy | ann johansmeyer | May 2, 2010 |
| Personal Eulogy | Phyllis Strozier | May 2, 2010 |
| freedom they say is not free. | Robert W. Odiete | May 2, 2010 |
| Personal Eulogy | Jack Sullivan | May 2, 2010 |
| To my friend | Jared Graham | May 2, 2010 |