Click on any eulogy link to view that eulogy.
Click on "Post a new eulogy" to add your own eulogy to Christopher.
Other important links:
Christopher Shultz Goeke
West Point, 2008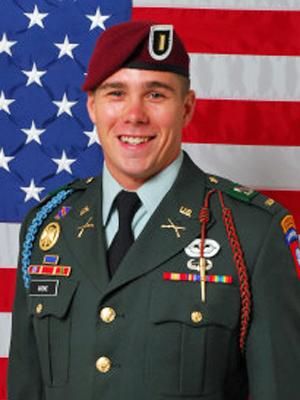 Be Thou At Peace
To date, 140 eulogies have been posted for Christopher. Post a new eulogy to share some memories and thoughts that you may have. Additional biographical information may be found on the personal home page.
| Subject | Name | Date Posted |
| --- | --- | --- |
| An accidental meeting | USMC vet | May 15, 2016 |
| Personal Eulogy | '09 | October 1, 2013 |
| Personal Eulogy | Cathy Long | November 9, 2011 |
| Cadet Basic Training - Task Force Goeke | USMA 2015 Parent | July 19, 2011 |
| Personal Eulogy | Barbara Bussey | July 2, 2011 |
| One Word: | John Francis Borra | March 29, 2011 |
| Personal Eulogy | Jerry L Crosby, Sr, of Arizona | March 19, 2011 |
| Personal Eulogy | Mike Viti | February 21, 2011 |
| Personal Eulogy | Linda Hughes | February 10, 2011 |
| You wil not be forgotten | Brian J Hurley | February 4, 2011 |
| Never Met | Sarah Krug | January 31, 2011 |
| Thank You | Charles | January 8, 2011 |
| Personal Eulogy | Ruth | November 12, 2010 |
| Personal Eulogy | Joel | September 23, 2010 |
| Personal Eulogy | Irma Agnew | August 18, 2010 |
| Personal Eulogy | Jean Schreiber | August 6, 2010 |
| Army Family | George and Donna Patten | August 1, 2010 |
| Personal Eulogy | LTC Jenn Minus | July 31, 2010 |
| Personal Eulogy | Troy Eigner class of '95 | July 27, 2010 |
| Personal Eulogy | Debbie VanDeman | July 27, 2010 |
| Prayers for God's Comfort | 2008 Parents, Laurel & John McMahon | July 25, 2010 |
| If We Never Meet Again This Side Of Heaven | Jonathan Munson | July 25, 2010 |
| Personal Eulogy | Col. & Mrs. Merle Peterson | July 25, 2010 |
| Personal Eulogy | Parent of an 09 grad | July 24, 2010 |
| With deepest regard for bravery | Manny Laureano | July 23, 2010 |
| Personal Eulogy | The Mikstas Family 2009 | July 23, 2010 |
| Our heartfelt Condolences | David and Jo Bernau | July 22, 2010 |
| A Thought | Stephen G. Fine, SFC, USAR, RET | July 21, 2010 |
| Personal Eulogy | Vera and Hans Beck, parents 06, 08 | July 21, 2010 |
| God's peace which surpasses all understanding | Connie Helbling, 2012 | July 21, 2010 |
| Personal Eulogy | Laurie and Michael Gilgan | July 21, 2010 |
| Thank You | Koeppe Family (2013) | July 20, 2010 |
| Personal Eulogy | Lois Belohlavek | July 20, 2010 |
| A great man | Steven Warner | July 20, 2010 |
| Personal Eulogy | 2013 Mother | July 20, 2010 |
| Personal Eulogy | Mary ('03 & '06 mom) | July 20, 2010 |
| In Sympathy | Parents of '08 1st Lieutenant | July 20, 2010 |
| Sympathy | Jeffrey R. Madsen/Sandi Madsen | July 20, 2010 |
| Personal Eulogy | Jennifer Jacobs | July 20, 2010 |
| Personal Eulogy | Lona Parten | July 20, 2010 |
| Personal Eulogy | David and Sandra Chavez | July 20, 2010 |
| Personal Eulogy | parent of 08 Lieutentant | July 20, 2010 |
| Personal Eulogy | Connie Jones | July 20, 2010 |
| Personal Eulogy | Gavin & Kelly Maher | July 20, 2010 |
| A Fallen Friend | Wolf-Ekkehard Hindrichs | July 20, 2010 |
| Personal Eulogy | Ross Gemmill | July 19, 2010 |
| Personal Eulogy | 2011 parent | July 19, 2010 |
| Personal Eulogy | Jeanne Gorlin, '08 | July 19, 2010 |
| Be Thou At Peace | Ted Daley, USMA '88, Eagan, Minnesota | July 19, 2010 |
| Personal Eulogy | CPT CJ Stevens | July 19, 2010 |
| Personal Eulogy | MAJ David T Hills | July 19, 2010 |
| Personal Eulogy | Chaplain Paige Heard | July 19, 2010 |
| WPPC - MN 2011 | Hall Family | July 19, 2010 |
| Personal Eulogy | CPT Andy Robinson | July 19, 2010 |
| Grip Hands | Vic Ames '92, Saint Paul MN | July 19, 2010 |
| Deepest Sympathy | Chuck McAteer, LTC (Ret), USA, Class of 1970 | July 19, 2010 |
| Personal Eulogy | Parent (Class of 2011) | July 19, 2010 |
| Blessed to Know Chris | CDR Matthew & Mrs. Charlene Carr | July 19, 2010 |
| Thank-you | Liz Schares | July 19, 2010 |
| To a Hero from a 2013 parent | Tammy Sutherland-Abbott | July 19, 2010 |
| Sympathy | Stacy Clayton | July 19, 2010 |
| Deepest Sympathy | Patty Soderberg -'07 parent | July 19, 2010 |
| Parents of 2013 cadet | Denise & Leon Strimel | July 19, 2010 |
| Personal Eulogy | RIchard and Deborah Nifong | July 19, 2010 |
| parents of 2013 | ROBERT W.ODIETE | July 19, 2010 |
| Class of 2013 Parents | Connie Doolen | July 19, 2010 |
| The Ultimate Sacrifice...God Bless | Cyndi Mosk, mom '13 | July 18, 2010 |
| Sympathy | 2008 B-1 Parents | July 18, 2010 |
| Be at Peace O Brave Soldier | Smith Family of Fall Creek, WI | July 18, 2010 |
| ALL THE WAY | MSG(R) James Shreve | July 18, 2010 |
| Personal Eulogy | Cathy Bertanzetti | July 18, 2010 |
| Personal Eulogy | Deborah Broome | July 18, 2010 |
| To a Great Friend | Adam Jannetti | July 18, 2010 |
| Personal Eulogy | Anita Schweitzer | July 18, 2010 |
| Personal Eulogy | Martin | July 18, 2010 |
| With Heavy Hearts | Ken & Mary O'Sullivan, Parents of Caroline O'Sullivan, '08 | July 18, 2010 |
| From Parents of Class of 2014 Plebe | Lori & Jeff Muhs | July 18, 2010 |
| Personal Eulogy | l c shurtz | July 18, 2010 |
| May it be said, Well Done. | LTG Bob and Shelly Caslen | July 18, 2010 |
| Personal Eulogy | Wes & Barbara Russell | July 18, 2010 |
| Parents Class of 2013 Cadet | James Long | July 18, 2010 |
| Remembering Chris | Shelley Potter | July 18, 2010 |
| Family of Cadet, Class of 2012 | Ignatius F Rattay | July 18, 2010 |
| Well done, be thou at peace... | Major Scott Morris | July 18, 2010 |
| Deepest Condolences | Rani Sumathi | July 17, 2010 |
| Personal Eulogy | Joanne Connolly Gerard'2011 | July 17, 2010 |
| Gratitude for his Service | West Point Parents - Class of 2014 | July 17, 2010 |
| With Deepest Sympathy | C. Freitag | July 17, 2010 |
| 06 grad parents | janice and jeff lowe | July 17, 2010 |
| Personal Eulogy | Kyle and Maureen Orvik | July 17, 2010 |
| Gratitude | Natalie Evans | July 17, 2010 |
| Personal Eulogy | Cynthia and Michael Causbie | July 17, 2010 |
| Personal Eulogy | Margo Kwasnoski - military wife and neighbor | July 17, 2010 |
| Gratitude | George Robertson | July 17, 2010 |
| Personal Eulogy | Laurie Lehman | July 17, 2010 |
| I will miss Chris, very much | Colonel John B. Halstead, Class of 1986 | July 17, 2010 |
| Personal Eulogy | Debbie Flowers (09 parent) | July 17, 2010 |
| For the Family | NC Parents 2014 | July 17, 2010 |
| Personal Eulogy | Robert & Jane Wagner | July 17, 2010 |
| Personal Eulogy | Louis and Joan Verardo | July 17, 2010 |
| Personal Eulogy | Cliff Harris | July 17, 2010 |
| Such Sadness | Louis Rayes | July 17, 2010 |
| Personal Eulogy | JO-Ann Gradzik | July 17, 2010 |
| Personal Eulogy | Barry Willey, COL (ret.), US Army | July 17, 2010 |
| Personal Eulogy | Steve and Elise Block | July 17, 2010 |
| Thoughts and Prayers | Barbara Willey | July 17, 2010 |
| Personal Eulogy | Mom of B1 2008 Cadet | July 17, 2010 |
| Deepest Thoughts and Prayers | Priya Nye | July 17, 2010 |
| Personal Eulogy | Mother of two cadets | July 17, 2010 |
| Personal Eulogy | Nathaniel Stickney | July 17, 2010 |
| Personal Eulogy | Linda Jones, Mom 09 | July 17, 2010 |
| To the family | Walter & Kimberly McRae (Son Class of 2014) | July 17, 2010 |
| Personal Eulogy | Vicki Carlson | July 17, 2010 |
| in sorrow | Josiah Wearin | July 17, 2010 |
| Personal Eulogy | Jim and Nanette Reitter | July 17, 2010 |
| Personal Eulogy | Jeanette Grayeb-Mihal | July 17, 2010 |
| Personal Eulogy | Tom and Dawn Wright | July 17, 2010 |
| Personal Eulogy | Charles & Carol Grevious | July 17, 2010 |
| Personal Eulogy | Joseph W. Adamczyk | July 17, 2010 |
| With deep sorrow | Joseph and Elizabeth Osborne, parents of LT Zachary Osborne | July 17, 2010 |
| Personal Eulogy | ann johansmeyer | July 17, 2010 |
| Personal Eulogy | Paula Anne Watkins | July 17, 2010 |
| Personal Eulogy | Mom of a Yearling | July 17, 2010 |
| Personal Eulogy | David DeMarco '09 Parent | July 17, 2010 |
| Personal Eulogy | Ellen & Steve Palmer (Aaron '08) | July 17, 2010 |
| Personal Eulogy | Parent of a 2014 New Cadet | July 17, 2010 |
| Personal Eulogy | Mom '06 | July 17, 2010 |
| Personal Eulogy | Andra Kai Shaw | July 17, 2010 |
| Personal Eulogy | Mother of Cadet 2008 | July 17, 2010 |
| Personal Eulogy | Kathryn 08 Parent | July 17, 2010 |
| Personal Eulogy | Conrad & Karen Jarvis | July 17, 2010 |
| Personal Eulogy | Barbara Newell | July 17, 2010 |
| Personal Eulogy | Jane Graham | July 17, 2010 |
| Personal Eulogy | Mother of cadet, class of 2012 | July 17, 2010 |
| Personal Eulogy | Steve and Mary Brainerd | July 17, 2010 |
| Condolences | S. Rodriguez | July 17, 2010 |
| Personal Eulogy | Eric and Deb McNaul, WP MN family | July 17, 2010 |
| Personal Eulogy | Carl and Gigi Sanders | July 17, 2010 |
| Personal Eulogy | cara kopowski | July 17, 2010 |
| Personal Eulogy | Bill Roberts | July 17, 2010 |