Click on any eulogy link to view that eulogy.
Click on "Post a new eulogy" to add your own eulogy to Dimitri.
Other important links:
Dimitri A. Del Castillo
West Point, 2009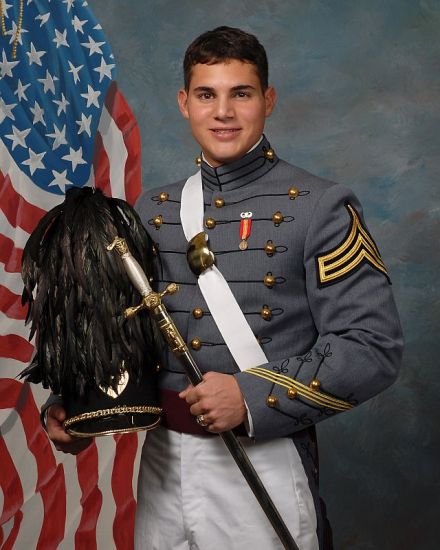 Be Thou At Peace
To date, 135 eulogies have been posted for Dimitri. Post a new eulogy to share some memories and thoughts that you may have. Additional biographical information may be found on the personal home page.
| Subject | Name | Date Posted |
| --- | --- | --- |
| Personal Eulogy | Lynn Poer | May 25, 2015 |
| Personal Eulogy | COL (R) Mike Winstead | October 6, 2013 |
| Personal Eulogy from Spain | Miguel A. Ibanez | June 26, 2013 |
| Rembering your family today | Judy and Lowell Locke | May 27, 2013 |
| Personal Eulogy | Sarah Erne | June 25, 2012 |
| Personal Eulogy | Kurt Gelke '79 | March 13, 2012 |
| Personal Eulogy | Luanne and Bill Leeds | March 1, 2012 |
| Personal Eulogy | Frederick Hoenke | August 26, 2011 |
| Personal Eulogy | Army Rugger | August 11, 2011 |
| You are LOVED | Spc Clarkson, Erika | July 27, 2011 |
| Personal Eulogy | Mary ('03 & '06 mom) | July 18, 2011 |
| Personal Eulogy | Ron Burrow and family | July 13, 2011 |
| Personal Eulogy | Evelyn Huddleston | July 11, 2011 |
| Personal Eulogy | Jane and Mike Susong | July 10, 2011 |
| Dimitri - A hero, a son, a husband, a friend. Be thou at Peace | Carol Schubert, mom of Liz Schubert '07 and Sara '13 | July 9, 2011 |
| Personal Eulogy | The Barber Family | July 8, 2011 |
| Personal Eulogy | Alie | July 8, 2011 |
| Personal Eulogy | Rosalia Abreu | July 8, 2011 |
| Personal Eulogy | Janet | July 6, 2011 |
| Personal Eulogy | Frank Janoski | July 5, 2011 |
| Personal Eulogy | MG (R) Felix A. Santoni | July 4, 2011 |
| Katie & Family | Peter M. Hall USMA '63 H-2 | July 4, 2011 |
| To the family of an American Hero | The Marstiller / Getschow family | July 3, 2011 |
| Personal Eulogy | Cline Family | July 3, 2011 |
| Personal Eulogy | Levy's family ( class of 2014) | July 3, 2011 |
| Personal Tribute to Dimitri -- "Some Gave All" | Spencer Garrison | July 3, 2011 |
| Personal Eulogy | Bil; & Deborah Treadway (Will '09... E-4) | July 3, 2011 |
| Personal Eulogy | The Mikstas Family 2009 | July 3, 2011 |
| Heartfelt sympathy | The Swoope family, 09 parents/Miss. | July 2, 2011 |
| To my son | Mr. Carlos del Castillo | July 1, 2011 |
| Personal Eulogy | Ron Krosnar | July 1, 2011 |
| Your sacrifice will not be forgotten | David McNair | July 1, 2011 |
| Personal Eulogy | David Hanson | July 1, 2011 |
| Deepest Sympathy | Nanette and Jim Reitter | July 1, 2011 |
| Personal Eulogy | Kathryn 2008 Parent | July 1, 2011 |
| Personal Eulogy | gayle hoenke '09 mom | July 1, 2011 |
| Personal Eulogy | The Gotschall Family - Class of 2014 | July 1, 2011 |
| Personal Eulogy | RoseEllen Dowdell, Mom of '06 grad | June 30, 2011 |
| Funny, kind spirited, intelligent,well-rounded: Dimitri A. del Castillo | Katrina Elizabeth | June 30, 2011 |
| Personal Eulogy | Jeanne Stock | June 30, 2011 |
| Personal Eulogy | Ann Piaia | June 30, 2011 |
| Personal Eulogy | Michele Minetola | June 30, 2011 |
| Personal Eulogy | Matt & Janet Biddick, Class of "09 parents | June 30, 2011 |
| Personal Eulogy | Darlene Miller | June 30, 2011 |
| Personal Eulogy | Robert and Michelle Canning '09 Parents | June 30, 2011 |
| Personal Eulogy | Nancy Jo Mulry | June 30, 2011 |
| Personal Eulogy | Randy and Laura Weidner, 2009 Parents | June 30, 2011 |
| Personal Eulogy | Cynthia and Michael Causbie | June 30, 2011 |
| Personal Eulogy | Nicholas Kanakis | June 30, 2011 |
| We share your loss | Ira Lacson | June 30, 2011 |
| Personal Eulogy | Sally Mose | June 30, 2011 |
| Personal Eulogy | The Hubbard Family - '09 Parents | June 30, 2011 |
| Prayer for Dimitri | Sarah McNulty Floyd | June 30, 2011 |
| Personal Eulogy | Roderic O'Connor Class '09 | June 30, 2011 |
| Personal Eulogy | CW2 Jose Medina Machado | June 30, 2011 |
| Personal Eulogy | Tim and Sara Kenny | June 29, 2011 |
| Personal Eulogy | The Flannery Family - '09 | June 29, 2011 |
| Personal Eulogy | sharon Buck | June 29, 2011 |
| Personal Eulogy | Carol and Frank Czerniakowski, USMA '09 ; E-4 parents | June 29, 2011 |
| Personal Eulogy | Bill & Ty Vaughan | June 29, 2011 |
| Personal Eulogy | The Ayala family (Class of 2014) | June 29, 2011 |
| Personal Eulogy | Katie | June 29, 2011 |
| Personal Eulogy | Koeppe Family | June 29, 2011 |
| Personal Eulogy | Maria T. Collins, parent, Class of 2014 | June 29, 2011 |
| Personal Eulogy | Major and Mrs. Rizaldo L. Salvador | June 29, 2011 |
| Personal Eulogy | Candi and Bob Mizell | June 29, 2011 |
| God will carry you. | The McMahon Family, 2008 WP parents | June 29, 2011 |
| Personal Eulogy | Janice Piechowiak | June 29, 2011 |
| Personal Eulogy | F.D.DeMarco | June 29, 2011 |
| Personal Eulogy | Sharra Deniz | June 29, 2011 |
| Personal Eulogy | Donna Dolan -parent of 2011 graduate | June 29, 2011 |
| Personal Eulogy | Olinda Smith | June 29, 2011 |
| Personal Eulogy | Jeanette Grayeb-Mihal | June 29, 2011 |
| Personal Eulogy | Judy Williams | June 29, 2011 |
| Personal Eulogy | The Shumaker Family | June 29, 2011 |
| Personal Eulogy | Barbara Anania Parents 2012 | June 29, 2011 |
| Personal Eulogy | Josiah C. Wearin | June 29, 2011 |
| Personal Eulogy | Sheppard | June 29, 2011 |
| Personal Eulogy | Michele Swicegood | June 29, 2011 |
| Personal Eulogy | Raquel Cunningham | June 29, 2011 |
| God Bless You Brave Soldier | Tammy Sutherland-Abbott | June 29, 2011 |
| Personal Eulogy | Jorge & Andrea Hidalgo (Parents of Daren Hidalgo KIA 2-20-11) | June 29, 2011 |
| Personal Eulogy | Paula Blose | June 29, 2011 |
| Thank you for your service | The Tonetti Family class 2012 | June 29, 2011 |
| Personal Eulogy | Ray Van Doorne | June 29, 2011 |
| Personal Eulogy | Dr. Katherine Harris | June 29, 2011 |
| Personal Eulogy | Kathy M Sweeney | June 29, 2011 |
| Personal Eulogy | Kukharsky Family, Class 2014. | June 29, 2011 |
| Personal Eulogy | Gibson S. Sale Jr. | June 29, 2011 |
| Personal Eulogy | Dave and Carol Peterson '09 parents | June 29, 2011 |
| Personal Eulogy | Dave and Karyn Kumlien '09 Parents | June 29, 2011 |
| Personal Eulogy | Kevin & Debra Hohn | June 29, 2011 |
| Personal Eulogy | Cathy Bertanzetti | June 29, 2011 |
| Personal Eulogy | Estella Avila | June 29, 2011 |
| Personal Eulogy | Allan and Kathy Bogardus Class of '09 | June 29, 2011 |
| Personal Eulogy | Susan Willard | June 29, 2011 |
| deepest sympathy | Marlene Wilburn | June 29, 2011 |
| Personal Eulogy | Sandy & Rich Kolano, 07 parents, son in Afghanistan | June 29, 2011 |
| Personal Eulogy | Debbie Flowers | June 29, 2011 |
| Personal Eulogy | Jann Foley | June 29, 2011 |
| Personal Eulogy | The Buckley family, class of 2013 | June 29, 2011 |
| Personal Eulogy | Troy Van Stone | June 29, 2011 |
| Personal Eulogy | Judge Gregory P. Holder | June 29, 2011 |
| Personal Eulogy | Mary & Mike Conway '06 parents | June 29, 2011 |
| Personal Eulogy | CPT Tracy Morel | June 29, 2011 |
| Personal Eulogy | Caroline Hidalgo | June 29, 2011 |
| Prayers and Condolences | Frank and Bobbi McKnight, Parents '07 and '11 | June 29, 2011 |
| With Sympathy | Mr. & Mrs. Freitag | June 29, 2011 |
| Personal Eulogy | Class of 2013 Mom | June 29, 2011 |
| Personal Eulogy | Tim and Caren Peterson | June 29, 2011 |
| Condolences | The Prieto Family Class of 2012 | June 29, 2011 |
| Personal Eulogy on this July 4 | Harry Bruner | June 29, 2011 |
| Personal Eulogy | Paula anne Watkins | June 29, 2011 |
| Personal Eulogy | Edward Kotz | June 29, 2011 |
| Personal Eulogy | John and Pam Hoffmaster | June 29, 2011 |
| Gripping Hands Across the Decades | R. James Steiner, USMA '78 | June 29, 2011 |
| Condolences | Lisa Lowe, Son, USMA '13 | June 29, 2011 |
| Personal Eulogy | Maryellen Kloiber | June 29, 2011 |
| Personal Eulogy | Carl and Gigi Sanders | June 29, 2011 |
| Personal Eulogy | Daniel Parten, '10 | June 29, 2011 |
| Personal Eulogy | Marsha Runkle Hartman..Aunt of Lt. John M Runkle | June 29, 2011 |
| Personal Eulogy | ann johansmeyer | June 29, 2011 |
| Sandonato Family | Tom Sandonato | June 29, 2011 |
| Personal Eulogy | The Calhoun Family | June 29, 2011 |
| Personal Eulogy | RANDY YOUNG | June 29, 2011 |
| Personal Eulogy | Mary and Andrew Swartz 2012 parents | June 29, 2011 |
| Condolences | Paul and Dina Astemborski Parents of 1st Lt Stephen Astemborski "09 | June 29, 2011 |
| Personal Eulogy | 1LT Jazmine Stephens | June 29, 2011 |
| Prayers | Lisa Murphy | June 29, 2011 |
| Personal Eulogy | Richard and Deborah Nifong | June 29, 2011 |
| An Inspiration | Kimberly Cale | June 29, 2011 |
| Condolences | Sonja Rodriguez 2007 mom | June 29, 2011 |
| Personal Eulogy | Laura Piccione | June 29, 2011 |
| Personal Eulogy | The Stringfellow family | June 29, 2011 |
| Hero Eulogy | SFC Stephen G. Fine, USAR (RET) | June 29, 2011 |