Click on any eulogy link to view that eulogy.
Click on "Post a new eulogy" to add your own eulogy to John.
Other important links:
John M. Runkle
West Point, 2009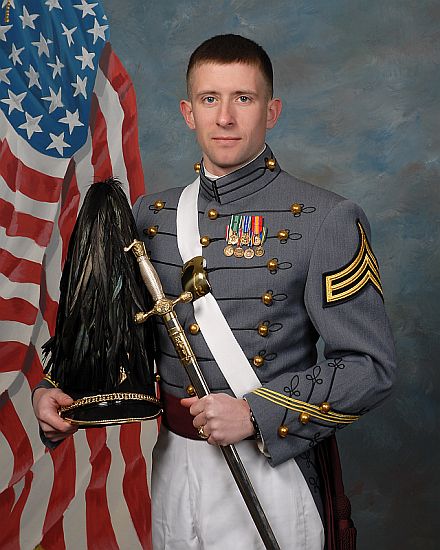 Be Thou At Peace
To date, 133 eulogies have been posted for John. Post a new eulogy to share some memories and thoughts that you may have. Additional biographical information may be found on the personal home page.
| Subject | Name | Date Posted |
| --- | --- | --- |
| Personal Eulogy | Brian Anderson | January 31, 2013 |
| Personal Eulogy | Nilsen Family | September 30, 2012 |
| Always remembered | Matthew Bowman, 7-17 Cav, OEF | May 26, 2012 |
| Personal Eulogy | Marsha Runkle Hartman | April 9, 2012 |
| Personal Eulogy | Luanne and Bill Leeds | March 1, 2012 |
| Personal Eulogy | Ziia Nawabi | January 21, 2012 |
| A Great Student, Colleague and Friend | Robert Mihara | December 18, 2011 |
| Personal Eulogy | Jwan Yawer Mcgregor | December 11, 2011 |
| Personal Eulogy | Veteran's Reflections | August 15, 2011 |
| Ethan Thies - Fellow E4 Company | Ethan Thies | August 12, 2011 |
| Personal Eulogy | Mary ('03 & '06 mom) | July 18, 2011 |
| Personal Eulogy | The Flannery Family - Class of 2009 | July 8, 2011 |
| Personal Eulogy | The Carter Family - 2010 Parents | July 1, 2011 |
| Personal Eulogy | Matt & Janet Biddick, Class of '09 parents | June 30, 2011 |
| Praise and Bravery to John | John & Phoebe Spidel | June 28, 2011 |
| Personal Eulogy | Stan and Cindy Brown | June 28, 2011 |
| Personal Eulogy from '09 parents | Bill and Elise Grete | June 28, 2011 |
| Personal Eulogy | Anita Barnhart | June 22, 2011 |
| Personal Eulogy | Phil Caruso | June 20, 2011 |
| Personal Eulogy | Candi and Bobby Mizell-2011 parents | June 13, 2011 |
| Personal Eulogy | Dan And Beth Duncan | June 13, 2011 |
| Personal Eulogy from '09 Parent | Jorge Hidalgo | June 13, 2011 |
| Personal Eulogy | Kathryn 08 Parent | June 12, 2011 |
| Personal Eulogy | Marsha Hartman | June 11, 2011 |
| Personal Eulogy | Frank Janoski | June 10, 2011 |
| Personal Eulogy | Brooke (Yates) Bryant | June 10, 2011 |
| Personal Eulogy | John and Eileen Sims | June 9, 2011 |
| Personal Eulogy | Karen Kuo | June 8, 2011 |
| Thank you | Deana Bond | June 8, 2011 |
| Thanks for bravery & service - Freedom in America | Myrna Myer - Wadsworth, OH | June 8, 2011 |
| Personal Eulogy | Shelly Hardin | June 8, 2011 |
| Personal Eulogy | Bill & Barbara Workman | June 7, 2011 |
| RIP | Chris Beach | June 7, 2011 |
| Personal Eulogy | Putzig Family | June 7, 2011 |
| Personal Eulogy | Carrie Bechtel-Cooper | June 7, 2011 |
| Personal Eulogy | Cynthia and Michael Causbie | June 6, 2011 |
| Personal Eulogy | Dixie Rush | June 6, 2011 |
| Personal Eulogy | Tammy R Gallatin | June 6, 2011 |
| Personal Eulogy | CW2 Drafall, Charles | June 6, 2011 |
| May God comfort you. | The McMahon Family, 2008 parents | June 5, 2011 |
| Dear Runkle Family | The Martino Family '14 | June 5, 2011 |
| Personal Eulogy | Allison Sharp | June 3, 2011 |
| Personal Eulogy | Ron Krosnar | June 3, 2011 |
| Personal Eulogy | The Ayala Family West Point (CLASS 2014) | June 2, 2011 |
| Personal Eulogy | The Waldorf family class of 2012 | June 1, 2011 |
| Personal Eulogy | Lisa Deger | June 1, 2011 |
| duty and honor | ltcnel Jorge Sfeir M.D. | June 1, 2011 |
| Personal Eulogy | Christine | June 1, 2011 |
| Personal Eulogy | Jane G. | June 1, 2011 |
| Personal Eulogy | 2LT Jamie DeSpain | June 1, 2011 |
| Personal Eulogy | Paul & Eva Alvarez | June 1, 2011 |
| Personal Eulogy and Deepest Appreciation for John's Sacrifice | Connie and Carl Doolen, 2013 Parents | June 1, 2011 |
| Personal Eulogy | Katie Landis | June 1, 2011 |
| Personal Eulogy | Michael Heim | May 31, 2011 |
| Personal Eulogy | David & Sherri Perry, 2013 parents | May 31, 2011 |
| Personal Eulogy | the Stockwell Family | May 31, 2011 |
| Personal Eulogy | Randy and Laura Weidner, Parents 2009 | May 31, 2011 |
| Sympathies, from '09 parents | Jan and Oop Swoope, Mississippi | May 31, 2011 |
| Personal Eulogy | Kevin and Marcie Filcik | May 31, 2011 |
| Personal Eulogy | Debbie Pitman | May 31, 2011 |
| Personal Eulogy | Maria Collins, 2014 Parent | May 31, 2011 |
| Personal Eulogy | Robert Mosera parent 2012 | May 31, 2011 |
| Personal Eulogy | Colonel W.O. Brisco (US Air Force, Ret.) | May 31, 2011 |
| WP Parent 2013 | Tammy Sutherland-Abbott | May 31, 2011 |
| Personal Eulogy | 2LT Dave Lee | May 31, 2011 |
| Personal Eulogy | 1SG Kenneth S Chaney | May 31, 2011 |
| Personal Eulogy | Dennis and Mary Anderson - Parents 2009 | May 31, 2011 |
| Personal Eulogy | Jerry L Crosby, Sr, of Arizona | May 31, 2011 |
| Personal Eulogy | Jeanette Grayeb-Mihal | May 31, 2011 |
| Personal Eulogy | Sally Pummell | May 31, 2011 |
| Personal Eulogy | 1LT Emily Sfeir | May 31, 2011 |
| Personal Eulogy | Andra Kai Shaw | May 31, 2011 |
| Personal Eulogy | Mary & Mike Conway '06 Parents | May 31, 2011 |
| Personal Eulogy | The Richard Family | May 31, 2011 |
| Personal Eulogy | Pamela S Ramsier | May 31, 2011 |
| Personal Eulogy | Ann Marie Glossinger | May 31, 2011 |
| Personal Eulogy | West Point Parents, Class of 2013 | May 31, 2011 |
| Personal Eulogy | Maureen Orvik | May 31, 2011 |
| Personal Eulogy | Joanne Connolly Gerard '11 | May 31, 2011 |
| Personal Eulogy | 1LT Peter Thompson '09 | May 31, 2011 |
| Sincerest Sympathy | Brian and Elaine Miller | May 31, 2011 |
| Personal Eulogy | West Point Mom Class 2014 | May 31, 2011 |
| Gratitude for John's Service and Prayers for John's family. | Cheryl Hockaday | May 31, 2011 |
| Personal Eulogy | Natalie Bradley, West Point mom | May 31, 2011 |
| Prayers For John and Family | The Buller Family | May 30, 2011 |
| Personal Eulogy | The Treadway Family- Class of 2009 | May 30, 2011 |
| Personal Eulogy | Gail Merrill, parent 2014 | May 30, 2011 |
| Mom 09' | Kathy M Sweeney | May 30, 2011 |
| Personal Eulogy | Janet Kalitka | May 30, 2011 |
| Personal Eulogy | Diane and Peter Hall | May 30, 2011 |
| freedom they say is not free. | ODIETE,ROBERT W. | May 30, 2011 |
| Personal Eulogy for 1LT John Runkle | Christine Cohn | May 30, 2011 |
| Personal Eulogy | Janice Piechowiak | May 30, 2011 |
| Personal Eulogy | Mike and Kay Dey | May 30, 2011 |
| Personal Eulogy | Bob Fee | May 30, 2011 |
| Personal Eulogy | Cathy Bertanzetti | May 30, 2011 |
| Be thou at peace | Deb | May 30, 2011 |
| Personal Eulogy | Rob Rogers | May 30, 2011 |
| Personal Eulogy | barbara anania | May 30, 2011 |
| In Remembrance | Suzanne E Presley, Parent '14 | May 30, 2011 |
| Personal Eulogy | Carol and Frank Czerniakowski, USMA 09 parents | May 30, 2011 |
| Personal Eulogy | Koeppe Family (2013) | May 30, 2011 |
| Personal Eulogy | Jwan Yawer McGregor | May 30, 2011 |
| Personal Eulogy | Robert Patterson | May 30, 2011 |
| Personal Eulogy | lela buckley | May 30, 2011 |
| Personal Eulogy | Dolan Family | May 30, 2011 |
| Personal Eulogy | Beverly Lee | May 30, 2011 |
| Personal Eulogy | Steve Walsh | May 30, 2011 |
| Personal Eulogy | Robert and Irma Agnew | May 30, 2011 |
| Personal Eulogy | The Hubbard Family | May 30, 2011 |
| Personal Eulogy | Stephan & Nancy Murphy - Parent Class of 2013 | May 30, 2011 |
| We'll remember you always | Manuella and Alex Pop | May 30, 2011 |
| Personal Eulogy | Kerry Bleikamp, mom of 2013 cadet | May 30, 2011 |
| Personal Eulogy | Drew Poyner | May 30, 2011 |
| Personal Eulogy | LTC & Mrs Dale Mark Benedict | May 30, 2011 |
| Personal Eulogy | Ann Johansmeyer | May 30, 2011 |
| Personal Eulogy | Noala Fritz | May 30, 2011 |
| Personal Eulogy | Don Harris | May 30, 2011 |
| Personal Eulogy | Nat Rattay | May 30, 2011 |
| Personal Eulogy | Tom and Brigid Cucinotta | May 30, 2011 |
| Personal Eulogy | MANUEL PRIETO JR | May 30, 2011 |
| Personal Eulogy | Gwen Haas | May 30, 2011 |
| Personal Eulogy | Jordi Stringfellow | May 30, 2011 |
| Personal Eulogy | Patti and John Swanson | May 30, 2011 |
| Personal Eulogy | Joe Adamczyk | May 30, 2011 |
| Personal Eulogy | Marlene Wilburn | May 30, 2011 |
| Thank you brave soldier | Judy Hepworth | May 30, 2011 |
| Personal Eulogy | David Eisenlohr | May 30, 2011 |
| Personal Eulogy | Carlos del Castillo | May 30, 2011 |
| Personal Eulogy | Gigi Sanders | May 30, 2011 |
| We will miss you, John | Nate and Patty Pulliam | May 30, 2011 |
| Personal Eulogy | F.D. DeMarco | May 30, 2011 |
| Personal Eulogy | Michele Swicegood | May 30, 2011 |