Click on any eulogy link to view that eulogy.
Click on "Post a new eulogy" to add your own eulogy to Timothy.
Other important links:
Timothy J Steele
West Point, 2009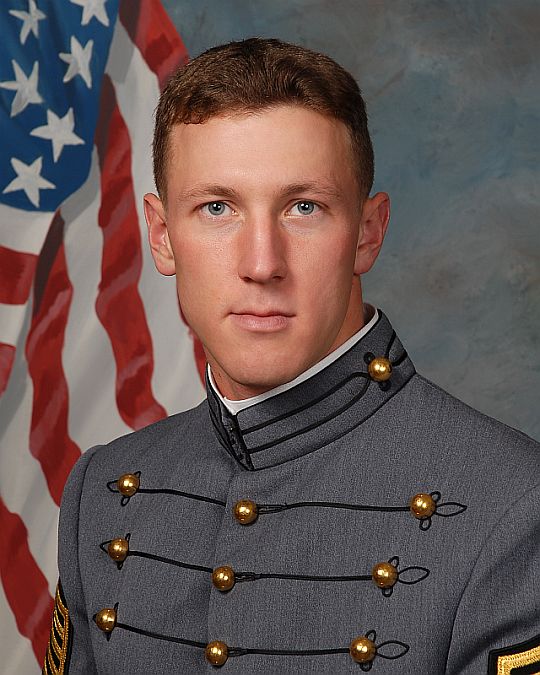 Be Thou At Peace
To date, 124 eulogies have been posted for Timothy. Post a new eulogy to share some memories and thoughts that you may have. Additional biographical information may be found on the personal home page.
| Subject | Name | Date Posted |
| --- | --- | --- |
| Memorial Day 2018 | Adam Nordin | May 29, 2018 |
| Memorial Day 2016 | Adam Nordin | May 31, 2016 |
| My Roommate Tim | Perry H. Cooper | January 7, 2016 |
| Memorial Day 2015 | Adam Nordin | May 28, 2015 |
| Personal Eulogy | Kat Warren | January 25, 2015 |
| Personal Eulogy | Maria Angélica | October 11, 2014 |
| Memorial Day 2014 | Adam Nordin | May 26, 2014 |
| Personal Eulogy | samuel nnodim | November 13, 2013 |
| Personal Eulogy | Joshua Hurt | August 22, 2013 |
| Memorial Day 2013 | Adam Nordin | June 13, 2013 |
| Personal Eulogy | Jonathan Porter | September 30, 2012 |
| Memorial Day 2012 | CPT Adam Nordin | May 28, 2012 |
| A true American Hero | Anthony Carollo | May 24, 2012 |
| Personal Eulogy | darin young | April 6, 2012 |
| Personal Eulogy | Luanne and Bill Leeds | March 1, 2012 |
| Personal Eulogy | CPT Adam Nordin, '07 | February 3, 2012 |
| THANK YOU HONORED SOLDIER | Stephen G. Fine, SFC (Ret), USAR | January 23, 2012 |
| Personal Eulogy | Jorge and Andrea Hidalgo (Parents USMA 06, 09 KIA) | October 24, 2011 |
| Personal Eulogy | Koeppe Family | September 29, 2011 |
| Personal Eulogy | Lisa, '09 Mom | September 28, 2011 |
| Personal Eulogy | Alan Millstein | September 14, 2011 |
| Personal Eulogy | Mary ('03 & '06 mom) | September 7, 2011 |
| Well done. | CPT Mark Gerasimas | September 6, 2011 |
| Personal Eulogy | Samuel & Joyce Nkansah, 2015 Parents | September 6, 2011 |
| Deepest Sympathies and Prayers | Frank McKnight | September 2, 2011 |
| Eulogy from a teacher | Mark Sivik | September 1, 2011 |
| Personal Eulogy | Tracy Brower | September 1, 2011 |
| Personal Eulogy | Candi and Bobby Mizell | August 31, 2011 |
| Personal Eulogy | The Cinotto Family--Mr and Mrs Gary Cinotto | August 30, 2011 |
| Personal Eulogy | 1LT James Gorby | August 29, 2011 |
| Personal Eulogy | Cline Family | August 29, 2011 |
| Personal Eulogy | West Point Mother | August 29, 2011 |
| Personal Eulogy | The Peterson Family | August 29, 2011 |
| Personal Eulogy | Stan and Cinidy Brown '10 Grad Parents | August 29, 2011 |
| Condolences | Matt & Janet Biddick - '09 parents | August 29, 2011 |
| Personal Eulogy | Charles A. Houston | August 29, 2011 |
| Personal Eulogy | Cynthia and Michael Causbie | August 28, 2011 |
| God's Speed | COL Stephen Michael, CDR 1st BCT 10th Mountain Div | August 28, 2011 |
| Thank you | Anne Wallen, Parent '09 | August 28, 2011 |
| Exceptional | Parent of 2013 Cadet | August 28, 2011 |
| Praying for God to comfort you. | The McMahon Family (Michael '08) | August 28, 2011 |
| The Loss of a Great American | Nick Eidemiller | August 28, 2011 |
| Personal Eulogy | cathy speight '13 Mom | August 27, 2011 |
| Personal Eulogy | Rob & Bonnie Van't Land --- WP Class of 2012 Parents | August 27, 2011 |
| Duxbury Mom of Miles Gillis DHS '07 | Marianne Capozucca | August 27, 2011 |
| Our Sympathy | Marianne Calhoun | August 27, 2011 |
| Personal Eulogy | Andra Kai Shaw | August 27, 2011 |
| Personal Eulogy | 1LT Sean Kennedy | August 27, 2011 |
| Personal Eulogy | Mary Rhode, Parent 2008 | August 27, 2011 |
| From a fellow PL at Makuan Strong Point | Dylan Potter | August 27, 2011 |
| Personal Eulogy | Barbara Newell | August 27, 2011 |
| Personal Eulogy | Chris Hurst | August 26, 2011 |
| West Point Parent | The Lowe Family | August 26, 2011 |
| Personal Eulogy | Jerry Napolitano | August 26, 2011 |
| Personal Eulogy | Ignatius | August 26, 2011 |
| Personal Eulogy | Maria T. Collins, parent, Class of 2014 | August 26, 2011 |
| Personal Eulogy | Jane and Mike Susong | August 26, 2011 |
| With deepest sympathy | Cathy Bertanzetti | August 26, 2011 |
| Personal Eulogy | Sam & Cheryl Trobee 2011 Parents | August 26, 2011 |
| Personal Eulogy | CPT Samir Patel | August 26, 2011 |
| Personal Eulogy | 1LTs Bryan and Madeline McAlister | August 26, 2011 |
| Personal Eulogy - A Light in the Darkness | Valerie Williams | August 26, 2011 |
| Personal Eulogy | Dave & Sherri Perry, Parents of '13 cadet | August 26, 2011 |
| Personal Eulogy | Frank Janoski, Class of 1974 | August 26, 2011 |
| Personal Eulogy | Robin Levine | August 26, 2011 |
| Personal Eulogy | Tom and Barbara Cosentino | August 26, 2011 |
| Personal Eulogy | Connie Helbling | August 26, 2011 |
| Personal Eulogy | Richard and Deborah Nifong | August 26, 2011 |
| Personal Eulogy | Tonseth Family Class of 2015 | August 26, 2011 |
| Personal Eulogy | 1LT Emily Sfeir | August 26, 2011 |
| Be Thou at Peace | Andrew J. Blik | August 26, 2011 |
| West Point Parent | Frederick Hoenke | August 26, 2011 |
| Personal Eulogy | Larry Turrentine | August 26, 2011 |
| grateful | Susan Willard | August 26, 2011 |
| Be thou at peace LT Steele! | West Point Society of North Texas | August 26, 2011 |
| With Sympathy | Overly Family | August 26, 2011 |
| Class of 2015 Family | Linda Longmuir | August 26, 2011 |
| Personal Eulogy | Bob Fee | August 26, 2011 |
| Fallen Hero | Sutherland Family 2013 | August 26, 2011 |
| WP Parents-class 2013 | Robert And Iman Andrews | August 26, 2011 |
| With Sympathy | Bob & Christine Freitag | August 26, 2011 |
| Personal Eulogy | Randy Young | August 26, 2011 |
| To the Steele family | Harry Bruner, Jr | August 26, 2011 |
| Personal Eulogy | 2015 Family | August 26, 2011 |
| Personal Eulogy | 2013 Mom | August 26, 2011 |
| Deepest Sympathies | The Kukharsky Family | August 26, 2011 |
| Be Thou at Peace | Steve and Liz Noack | August 26, 2011 |
| Personal Eulogy | The Schaeffer Family | August 26, 2011 |
| Personal Eulogy | Kathy Wooley | August 26, 2011 |
| Personal Eulogy | Debra Eldridge | August 26, 2011 |
| Personal Eulogy | Beth Sutey | August 26, 2011 |
| Personal Eulogy | Joan Witz | August 26, 2011 |
| Prayers for You and Your Family | Janet White | August 26, 2011 |
| A Fallen Soldier | Karen Bangert | August 26, 2011 |
| Personal Eulogy | Joseph W. Adamczyk | August 26, 2011 |
| God Bless You Steel...Be Thou at Peace | Charles A. Bustamante | August 26, 2011 |
| Personal Eulogy | Villanueva | August 26, 2011 |
| Personal Eulogy | Steven Cragg | August 26, 2011 |
| Personal Eulogy | Jan & Oop Swoope, '09 parents | August 26, 2011 |
| Personal Eulogy | Dennis and Irene Lee | August 26, 2011 |
| Personal Eulogy | Thomas Kim | August 26, 2011 |
| Personal Eulogy | Michele Swicegood | August 26, 2011 |
| Personal Eulogy | The Stepleton family, USMA 2012 | August 26, 2011 |
| Personal Eulogy | jordan stringfellow | August 26, 2011 |
| Personal Eulogy | Gayle Hoenke | August 26, 2011 |
| Personal Eulogy | The Frakes Family | August 26, 2011 |
| Personal Eulogy | Conklin Family | August 26, 2011 |
| Good men must die, but death can not kill their names | Luanne and Bill Leeds | August 26, 2011 |
| From a new parent of a 2015 | The Barta Family | August 26, 2011 |
| Deepest Sympathies | Brian and Elaine Miller | August 26, 2011 |
| Personal Eulogy | Carlos del Castillo | August 25, 2011 |
| Personal Eulogy | Cyndi Mosk | August 25, 2011 |
| Personal Eulogy | Class of 2014 Mom | August 25, 2011 |
| Personal Eulogy | Karen Malta (mother of Marissa 2014) | August 25, 2011 |
| Personal Eulogy | Sharon Graham | August 25, 2011 |
| Personal Eulogy | Cruickshank Family | August 25, 2011 |
| Our deepest sympathy and heartfelt prayers | The Buckley family (John, 2013) | August 25, 2011 |
| Personal Eulogy | Finnane Family | August 25, 2011 |
| Personal Eulogy | Knoetgen Family | August 25, 2011 |
| Personal Eulogy | Carl and Gigi Sanders | August 25, 2011 |
| Personal Eulogy | bill roberts | August 25, 2011 |
| Personal Eulogy | Russel Myles | August 25, 2011 |
| Personal Eulogy | The Hubbard Family | August 25, 2011 |
| Be thou at peace | Aubrey Williams, USMA '07 H4 | August 25, 2011 |