Click on any eulogy link to view that eulogy.
Click on "Post a new eulogy" to add your own eulogy to Sean.
Other important links:
Sean Robert Jacobs
West Point, 2010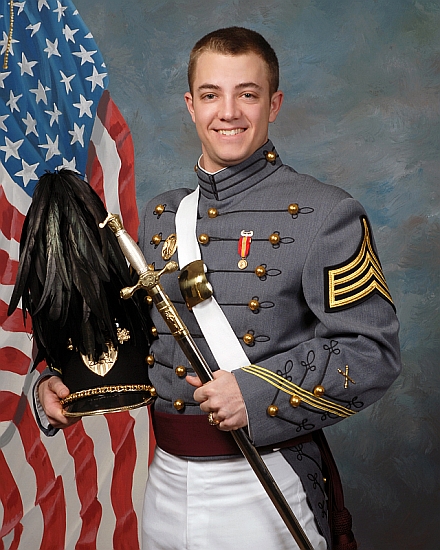 Be Thou At Peace
To date, 88 eulogies have been posted for Sean. Post a new eulogy to share some memories and thoughts that you may have. Additional biographical information may be found on the personal home page.
| Subject | Name | Date Posted |
| --- | --- | --- |
| Personal Eulogy | Jeff Crosbie '10 | August 10, 2014 |
| Personal Eulogy | 1LT JASON R. AUTRY FA | October 14, 2012 |
| May the Lord bless you and keep you. | The McMahon Family (Michael '08) | September 4, 2012 |
| Personal Eulogy | Wendy Mcibbin | August 12, 2012 |
| Personal Eulogy | Cyndi Mosk | August 10, 2012 |
| Personal Eulogy | Alan and Sheila McCurdy | August 7, 2012 |
| Personal Eulogy | Peter McIlvaine Hall USMA '63 | August 6, 2012 |
| Personal Eulogy | Keith and Nancy Fabi (parents of 2013 cadet) | August 5, 2012 |
| Deepest Sympathy | Mike and Sharon Spears | August 5, 2012 |
| Personal Eulogy | Blazek Family-Class 2015. | August 4, 2012 |
| Personal Eulogy | The Buckley family, parents of 2013 cadet | August 4, 2012 |
| Personal Eulogy | Nkansah Family | August 4, 2012 |
| Personal Eulogy | The Lucas Family | August 4, 2012 |
| Personal Eulogy | The Fosters, parents class of 2010 | August 4, 2012 |
| Personal Eulogy | Pete and Susan Korellis | August 4, 2012 |
| Personal Eulogy | Frederick and Kristianne Koenen - parents class of 2012 | August 4, 2012 |
| Personal Eulogy | Sharon and Jeff Esterman | August 4, 2012 |
| Personal Eulogy | Janet & Leonard Meeks (parents 2010) | August 4, 2012 |
| Personal Eulogy | Donna and Charlie Walker | August 3, 2012 |
| To the extended family of Lt. Jacobs - A Slow Hand Salute | Harry C. Bruner, Jr. | August 3, 2012 |
| Personal Eulogy | The Kalitka Family 08 | August 2, 2012 |
| Personal Eulogy | Caroline and Dennis McGuire | August 2, 2012 |
| Personal Eulogy | ann johansmeyer | August 2, 2012 |
| Personal Eulogy | Gigi and Carl Sanders | August 2, 2012 |
| Personal Eulogy | Joines Family | August 2, 2012 |
| Personal Eulogy | The Strimel Family - Parents 2013 | August 2, 2012 |
| In Sympathy | Kathryn 08 Parent | August 2, 2012 |
| Personal Eulogy | Andra Shaw | August 2, 2012 |
| "I am the past, the spirit of those warriors who have made the final sacrifice." | toni gross | August 1, 2012 |
| Personal Eulogy | Gail, Class 2014 Parent | August 1, 2012 |
| Personal Eulogy | David & Sheryl Clay | August 1, 2012 |
| Personal Eulogy | Chuck and Noanie Shviely | August 1, 2012 |
| With Sympathy | C Freitag | August 1, 2012 |
| Personal Eulogy | Grace Rogan | August 1, 2012 |
| The True Hero | The Fraziers | August 1, 2012 |
| God Bless You | Russel Myles | August 1, 2012 |
| Personal Eulogy | Nanette and Jim Reitter | August 1, 2012 |
| Personal Eulogy | Lori Ross | August 1, 2012 |
| Personal Eulogy | Mac and Jenny Chouhdry | August 1, 2012 |
| Personal Eulogy | Jeff and Sandra Presnal | August 1, 2012 |
| Personal Eulogy | The Orvik Family - Class of 2012 | August 1, 2012 |
| Personal Eulogy | The Sanders Family | August 1, 2012 |
| Personal Eulogy | The Hurley Family | August 1, 2012 |
| God Bless your family | Paula Sherick Jimenez | August 1, 2012 |
| Personal Eulogy | Steve and Susan Hammond - Parents Class of 2009 | July 31, 2012 |
| Personal Eulogy | Jeanette Grayeb-Mihal | July 31, 2012 |
| Personal Eulogy | The Ellison Family | July 31, 2012 |
| Personal Eulogy | Cynthia and Michael Causbie | July 31, 2012 |
| Our Condolences | Valles Family | July 31, 2012 |
| Personal Eulogy | The Vaughan Family Parents of 2012 Grad | July 31, 2012 |
| Personal Eulogy | The McBride family-Class of 2013 | July 31, 2012 |
| Personal Eulogy | Lisa McKendree, Class of 2014 parent | July 31, 2012 |
| Personal Eulogy | Janice McBride mother of a cadet class of 2013 | July 31, 2012 |
| Personal Eulogy | Victoria Knight | July 31, 2012 |
| Personal Eulogy | Mike LaPlante | July 31, 2012 |
| Honor him always | Carlos del Castillo | July 31, 2012 |
| Personal Eulogy | Sue and Bob Sullivan | July 31, 2012 |
| Personal Eulogy | Mark and Michele Smith, Parents class 2013 | July 31, 2012 |
| Personal Eulogy | Lisa Lowe, Son, USMA '13 | July 31, 2012 |
| Personal Eulogy | Paz Family | July 31, 2012 |
| Personal Eulogy | Lynda and Trevor Scott | July 31, 2012 |
| Personal Eulogy | James and Dawna Wolak (Parent USMA 2016) | July 31, 2012 |
| Personal Eulogy | Debbi Eldridge, Class of 2015 Parent | July 31, 2012 |
| Personal Eulogy | Linda Tindall | July 31, 2012 |
| Personal Eulogy | Stephan & Nancy Murphy Delaware Parents USMA '13 | July 31, 2012 |
| Personal Eulogy | Katie | July 31, 2012 |
| Personal Eulogy | Mark Davison '01 | July 31, 2012 |
| Thank You | Koeppe Family | July 31, 2012 |
| Personal Eulogy | The Sieracki family Class of 2013 | July 31, 2012 |
| Personal Eulogy | Pastor & Mrs Raymond & Deborah Merriweather(2009 Parents) | July 31, 2012 |
| Personal Eulogy | The Swoope family '09 | July 31, 2012 |
| Personal Eulogy | The Prieto Family Class of 2012 | July 31, 2012 |
| Thank You Dear Fallen Soldier | SFC (Ret) Stephen Fine | July 31, 2012 |
| Personal Eulogy | Joseph and Susan Wasilewski | July 31, 2012 |
| Personal Eulogy | The Stringfellow Family | July 31, 2012 |
| Personal Eulogy | Gary and Jean Marie Cinotto | July 31, 2012 |
| Personal Eulogy | Jann foley. Parent of '13 | July 31, 2012 |
| Personal Eulogy | Suzanne E. Presley, Mother, Cadet-Class of 2014 | July 31, 2012 |
| Personal Eulogy | Dr. Katherine Harris, parent class 2010 | July 31, 2012 |
| Personal Eulogy | Will & Chris Kruger | July 31, 2012 |
| Personal Eulogy | Kurt and Kerry Bleikamp, Class of 2013 parents | July 31, 2012 |
| Personal Eulogy | Michele Swicegood | July 31, 2012 |
| Personal Eulogy | Grace Auten | July 31, 2012 |
| May God Comfort You | Mary & C.D. Crigger - 2006 parents | July 31, 2012 |
| Our Sympathy | The PIechowiak Family | July 31, 2012 |
| Personal Eulogy | Art & Shinta Stanley-Parent of 2015 Cadet | July 31, 2012 |
| Personal Eulogy | Lisa, Parent of 2014 Cadet | July 30, 2012 |
| Personal Eulogy | Joe & Anne Baki | July 30, 2012 |