Click on any eulogy link to view that eulogy.
Click on "Post a new eulogy" to add your own eulogy to Todd.
Other important links:
Todd William Lambka
West Point, 2010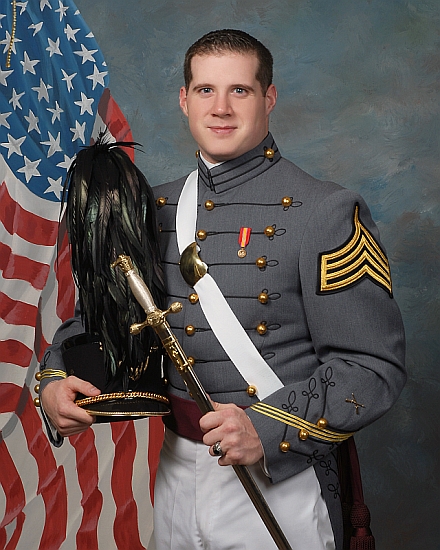 Be Thou At Peace
To date, 90 eulogies have been posted for Todd. Post a new eulogy to share some memories and thoughts that you may have. Additional biographical information may be found on the personal home page.
| Subject | Name | Date Posted |
| --- | --- | --- |
| to lambka | Giovanni Vozzolo | March 5, 2015 |
| Personal Eulogy | LTC Peter C. Shull | August 2, 2013 |
| An extraordinary classmate | 1LT Andrew J. Ng | September 11, 2012 |
| Personal Eulogy | Chris and Nancy Jones, parents of 2012 graduate | September 5, 2012 |
| Personal Eulogy | Parent, Class of 2013 | August 15, 2012 |
| Personal Eulogy | Doug Larsen | August 11, 2012 |
| Personal Eulogy | Cyndi Mosk | August 10, 2012 |
| The most wonderful brother and friend | Amber Cross | August 8, 2012 |
| "Loyal 'Til the End" | Wayne and Cheryl Harris | August 8, 2012 |
| Personal Eulogy | Mary & Mike Conway | August 8, 2012 |
| Personal Eulogy | Alan and Sheila McCurdy | August 7, 2012 |
| Personal Eulogy | Barb Prahl | August 6, 2012 |
| To Our "Shield and Our Sword" | David Zuppke | August 6, 2012 |
| The Long Gray Line | Peter McIlvaine Hall USMA '63 | August 6, 2012 |
| Loyal 'til the end, class of 2010 | Laurie & Ted Hollander | August 6, 2012 |
| Personal Eulogy | Louis & Joan Verardo | August 6, 2012 |
| With Sympathy | Freitag Family | August 6, 2012 |
| Personal Eulogy | Robert Javan | August 6, 2012 |
| Personal Eulogy | Mubarak and Jenny Chouhdry- Ali Class of 2012 | August 6, 2012 |
| "a life crowded to full" | Harry C. Bruner, Jr. | August 6, 2012 |
| Personal Eulogy | Lynette Hegeman | August 6, 2012 |
| Personal Eulogy | Jason and Lauren Newman | August 6, 2012 |
| Personal Eulogy | Glenn Meloro Parent of '10 Grad, Dan Meloro | August 6, 2012 |
| Personal Eulogy | Aguirre Family | August 6, 2012 |
| Personal Eulogy | Keith and Nancy Fabi (parents of 2013 cadet) | August 5, 2012 |
| In Sympathy | Joines Family | August 5, 2012 |
| Prayers for God to comfort you | The McMahon Family (Michael '08) | August 5, 2012 |
| Personal Eulogy | Anne Wallen | August 5, 2012 |
| Personal Eulogy | Barbara Wagner | August 5, 2012 |
| RIP Brave Soldier | Karen Engelhardt, parent of 2010 graduate | August 5, 2012 |
| Personal Eulogy | Gigi and Carl Sanders | August 5, 2012 |
| Personal Eulogy | Lori D'Antonio-Parent Class of 2014 | August 5, 2012 |
| Personal Eulogy | David and Sheryl Clay | August 5, 2012 |
| Deepest sympathy | Mike and Sharon Spears | August 5, 2012 |
| Personal Eulogy | Cheryl and Ed Endres | August 5, 2012 |
| Personal Eulogy | Lynda and Trevor Scott | August 5, 2012 |
| Personal Eulogy | Ron Krosnsr | August 5, 2012 |
| Personal Eulogy | John Jackman | August 5, 2012 |
| Personal Eulogy | Debra Eldridge Class of 2015 Parent | August 5, 2012 |
| Personal Eulogy | cheryl schmidt | August 5, 2012 |
| Prayers of Sympathy for your family | Paula Sherick Jimenez | August 5, 2012 |
| Personal Eulogy | Andra Shaw | August 5, 2012 |
| Personal Eulogy | Shaver Family | August 4, 2012 |
| Personal Eulogy | Diane Batschynsky | August 4, 2012 |
| Personal Eulogy | Miriam Pitts | August 4, 2012 |
| Personal Eulogy | Melissa Blazek | August 4, 2012 |
| Thank You Fallen Warrior | SFC (Ret) Stephen Fine | August 4, 2012 |
| Personal Eulogy | Mrs. Palazzolo | August 4, 2012 |
| Personal Eulogy | The Buckley family, parents of 2013 cadet | August 4, 2012 |
| Personal Eulogy | Emily Sfeir | August 4, 2012 |
| Personal Eulogy | The Sanders Family | August 4, 2012 |
| Personal Eulogy | J. Pfannes | August 4, 2012 |
| Personal Eulogy | Stephan & Nancy Murphy Delaware Parents USMA '13 | August 4, 2012 |
| With Deepest Sympathy | Jim and Nanette Reitter | August 4, 2012 |
| Personal Eulogy | Maureen | August 4, 2012 |
| Personal Eulogy | Steve & Susan Hammond | August 4, 2012 |
| Personal Eulogy | James Wolak | August 4, 2012 |
| Personal Eulogy | Leonard & Janet Meeks (Parents 2010) | August 4, 2012 |
| Personal Eulogy | Lisa Lowe, Son, USMA '13 | August 4, 2012 |
| Personal Eulogy | Michele | August 4, 2012 |
| Personal Eulogy | The Fosters, 2010 parents | August 4, 2012 |
| Personal Eulogy | Lisa, Parent of 2014 Cadet | August 4, 2012 |
| Personal Eulogy | Adam Novo, '12 | August 4, 2012 |
| Personal Eulogy | Cynthia and Michael Causbie | August 4, 2012 |
| Personal Eulogy | Pete and Susan Korellis | August 4, 2012 |
| Personal Eulogy | Frederick and Kristianne Koenen - parents class of 2012 | August 4, 2012 |
| Personal Eulogy | 2010 Dad | August 4, 2012 |
| Personal Eulogy | Presley, Parent, Class '14 | August 4, 2012 |
| With deep sympathy | Valles Family | August 4, 2012 |
| Personal Eulogy | Cindy Sprouse Supina | August 4, 2012 |
| Personal Eulogy | Patty Brown | August 4, 2012 |
| Personal Eulogy | THE PRIETO FAMILY CLASS OF 2012 | August 4, 2012 |
| Personal Eulogy | Chuck and Noanie Shively | August 4, 2012 |
| Personal Eulogy | Susan Willard | August 4, 2012 |
| Personal Eulogy | Baki Family 2011 | August 4, 2012 |
| Personal Eulogy | The Swoope Family, 2009 | August 4, 2012 |
| Personal Eulogy | The Malandrino Family WP 2011 | August 4, 2012 |
| Personal Eulogy | Lisa, Class of 2014 parent | August 4, 2012 |
| Personal Eulogy | joan witz | August 4, 2012 |
| Personal Eulogy | ann johansmeyer | August 4, 2012 |
| Personal Eulogy | Dr. Katherine Harris, 2010 Parent | August 4, 2012 |
| Personal Eulogy | Paula & Danny Watkins | August 4, 2012 |
| Personal Eulogy | Jeanette Grayeb-Mihal | August 4, 2012 |
| Personal Eulogy | Patricia and David Moton | August 4, 2012 |
| Personal Eulogy | Dalese Stockwell | August 4, 2012 |
| Personal Eulogy | Mary & C.D. Crigger, 2006 parents | August 4, 2012 |
| Personal Eulogy | Darlene Kelly | August 4, 2012 |
| Personal Eulogy | Will & Chris Kruger | August 4, 2012 |
| Personal Eulogy | Joseph and Susan Wasilewski | August 4, 2012 |
| RIP Brave Soldier | Lynda Sudyk Hansen | August 4, 2012 |