Click on any eulogy link to view that eulogy.
Click on "Post a new eulogy" to add your own eulogy to David.
Other important links:
David Rylander
West Point, 2011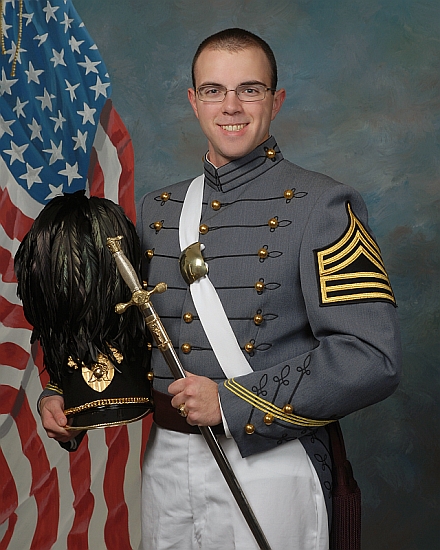 Be Thou At Peace
To date, 117 eulogies have been posted for David. Post a new eulogy to share some memories and thoughts that you may have. Additional biographical information may be found on the personal home page.
| Subject | Name | Date Posted |
| --- | --- | --- |
| Personal Eulogy | Barbara Andrews | February 2, 2015 |
| Personal Eulogy | Jeanette Grayeb-Mihal | May 18, 2013 |
| From a stranger | Cheryl Mooney | August 9, 2012 |
| Personal Eulogy | Carl and Gigi Sanders | August 2, 2012 |
| In Sympathy | Kathryn 08 Parent | August 2, 2012 |
| Personal Eulogy | Catherine Kiley | July 11, 2012 |
| Personal Eulogy | Carol Smedley | June 25, 2012 |
| Personal Eulogy | Mary ('03 & '06 mom) | May 28, 2012 |
| Personal Eulogy | Paula Blose | May 26, 2012 |
| Personal Eulogy | Doug and Rhonda Clendenon | May 25, 2012 |
| Personal Eulogy | Hall Family '11 | May 17, 2012 |
| Personal Eulogy | Angela De Marco Manzi | May 17, 2012 |
| Personal Eulogy | Parents of 2011 & 2014 | May 16, 2012 |
| Personal Eulogy | The Grete Family, Parents Class of 2009 | May 16, 2012 |
| Personal Eulogy | Rowe Lennon | May 14, 2012 |
| Personal Eulogy | Fanko Family - WP Class of 2014 | May 14, 2012 |
| Personal Eulogy | Andexler Family Beth, Josiah, Breanna, Micah and Laura | May 14, 2012 |
| Grip Hands | Carlos and Catherine del Castillo | May 13, 2012 |
| Personal Eulogy | Dr and Mrs Livingston parents of Bryce Livingston'11 | May 13, 2012 |
| Personal Eulogy | Jordan Stringfellow | May 12, 2012 |
| Personal Eulogy | LtCol (ret) Ed Kennedy | May 11, 2012 |
| Personal Eulogy | Nanette and Jim Reitter | May 11, 2012 |
| Personal Eulogy | The Fabi Family (Parents of 2013 Cadet) | May 11, 2012 |
| Personal Eulogy | Julie Ross | May 11, 2012 |
| Personal Eulogy | Frederick Hoenke | May 11, 2012 |
| God's Peace and Comfort Be With You | Frank and Bobbi Mcknight Family Parents of 2LT Brendan '11 | May 11, 2012 |
| Our deepest sympathies | Valles Family | May 11, 2012 |
| Personal Eulogy | The Alvarez family | May 11, 2012 |
| Personal Eulogy | Aggie Kelton | May 11, 2012 |
| Personal Eulogy | A Proud Comrade-in-Arms | May 11, 2012 |
| Personal Eulogy | Andra Shaw | May 10, 2012 |
| Personal Eulogy | Portales Family - Class of 2011 | May 10, 2012 |
| Personal Eulogy | Jerry Napolitano | May 10, 2012 |
| Personal Eulogy | Cara Kopowski | May 10, 2012 |
| Personal Eulogy | The Unger Family (02) | May 10, 2012 |
| Personal Eulogy | Karen Snow | May 10, 2012 |
| Mom of 2015 Cadet | Debra Eldridge | May 10, 2012 |
| Personal Eulogy | Just a WP Mom | May 10, 2012 |
| Mom of a fellow 2011 grad | Diane Bohn | May 10, 2012 |
| Personal Eulogy | Michael and Cynthia Causbie | May 10, 2012 |
| Personal Eulogy | Dave & Cindy Reilly, Parents of a 2011 USMA Graduate | May 10, 2012 |
| Funeral Home details for Friday, May 11 | Michael Nilsen, Sr | May 10, 2012 |
| Personal Eulogy | Jane G. | May 10, 2012 |
| mom to mom | Melissa Blazek- son class 2015 | May 10, 2012 |
| Personal Eulogy | Dave Parker | May 10, 2012 |
| Personal Eulogy | The Hubbard Family ('09) | May 10, 2012 |
| Personal Eulogy | Looper Family parents class 2011 | May 10, 2012 |
| Rylander, | 2015 Dad | May 10, 2012 |
| Our Deepest Sympathies | Johnson Family, Parents Class of 2015 | May 10, 2012 |
| Personal Eulogy | Susan Willard | May 9, 2012 |
| Personal Eulogy | Pamela Kirkwood | May 9, 2012 |
| Personal Eulogy | Rebecca Culver | May 9, 2012 |
| Personal Eulogy | Kayla Meredith, classmate | May 9, 2012 |
| Personal Eulogy | Gayle Hoenke | May 9, 2012 |
| Personal Eulogy | Peter and Sherri Hamilton | May 9, 2012 |
| With Deepest Sympathy | The Tonseth Family - class of 2015 | May 9, 2012 |
| Personal Eulogy | Janalyn Miller | May 9, 2012 |
| Personal Eulogy | Mr & Mrs James Long | May 9, 2012 |
| Our sympathy | Janice piechowiak | May 9, 2012 |
| Mom of 2013 Cadet | Lisa Lowe, Son, USMA '13 | May 9, 2012 |
| Parents of 2013 cadet | Caroline and Dan Mengon | May 9, 2012 |
| Personal Eulogy for the Rylander Family | Christine Cohn '10Parent | May 9, 2012 |
| Personal Eulogy | Conrad & Karen Jarvis Parents, Cadet Class 2012 | May 9, 2012 |
| Personal Eulogy | Parents of Matt Wilkinson '10 | May 9, 2012 |
| Personal Eulogy | Lisa, Parent of Class of 2014 | May 9, 2012 |
| Personal Eulogy | Bill Vanaskie '69 | May 9, 2012 |
| Forever Remembered.... | Ayala Family (Class 2014) | May 9, 2012 |
| Personal Eulogy | Tara and Mike Leegan | May 9, 2012 |
| Parents 2012 | Barbara Anania | May 9, 2012 |
| Personal Eulogy | The Grevious Family | May 9, 2012 |
| Personal Eulogy | The Bonds Family | May 9, 2012 |
| Personal Eulogy | Jeanette Grayeb-Mihal | May 9, 2012 |
| Personal Eulogy | Gushock Family | May 9, 2012 |
| 2013 WP Family | Christine Medina | May 9, 2012 |
| RIP Brave Soldier | Bill and Lynda Hansen | May 9, 2012 |
| Our Prayers are with Your Family | Paula Sherick Jimenez | May 9, 2012 |
| Personal Eulogy | The Kinsey Family | May 9, 2012 |
| FOR FREEDOM WE FIGHT | STEVE AND LAURIE PARKS | May 9, 2012 |
| Personal Eulogy | Class of 2013 Parents | May 9, 2012 |
| Personal Eulogy | Richard and Deborah Nifong | May 9, 2012 |
| Personal Eulogy | The Merrill family, parent 2014 | May 9, 2012 |
| Personal Eulogy | Presley Family '14 | May 9, 2012 |
| Personal Eulogy | Yates Family Class of 2011 | May 9, 2012 |
| Personal Eulogy | Parent Class of 2010 | May 9, 2012 |
| Personal Eulogy | The Reisher's 2011 parents | May 9, 2012 |
| Personal Eulogy | The Prieto Family-Class of 2012 | May 9, 2012 |
| Personal Eulogy | The Buckley family | May 9, 2012 |
| "As in all battles, | Harry C. Bruner, Jr. | May 9, 2012 |
| Personal Eulogy | Fee Family | May 9, 2012 |
| Personal Eulogy | Mayeaux Family-class of 2014 | May 9, 2012 |
| Personal Eulogy | Lisa Hetland | May 9, 2012 |
| Personal Eulogy | Mary & Mike Conway 2006 Parents | May 9, 2012 |
| Personal Eulogy | Dr. Katherine Harris | May 9, 2012 |
| Personal Eulogy | Mike and Donna Gotschall | May 9, 2012 |
| God Be With you Brave Soldier | Tammy Sutherland-Abbott | May 9, 2012 |
| Condolences | Nathan and Jill Osborne | May 9, 2012 |
| Personal Eulogy | Koeppe Family | May 9, 2012 |
| Personal Eulogy | The Orvik Family-2012 | May 9, 2012 |
| Personal Eulogy | McAlister Family | May 9, 2012 |
| With Sympathy | C Freitag | May 9, 2012 |
| Personal Eulogy | Drew Poyner - Parent of Class of 2012 | May 9, 2012 |
| Personal Eulogy | Paula Bryant Watkins | May 9, 2012 |
| Personal Eulogy | Eleanor Lopez | May 9, 2012 |
| Personal Eulogy | Jann and Dan Sheeran | May 9, 2012 |
| Personal Eulogy | Marianne Calhoun | May 9, 2012 |
| Personal Eulogy | ann Johansmeyer | May 9, 2012 |
| Personal Eulogy | Stephan & Nancy Murphy Delaware Parents USMA '13 | May 9, 2012 |
| Rest In Peace | Scott Semerar | May 9, 2012 |
| Personal Eulogy | Bill & Ty Vaughan | May 9, 2012 |
| Personal Eulogy | Niki Pearce | May 9, 2012 |
| Rest in Peace David | The Preston Family | May 9, 2012 |
| Personal Eulogy | Sue Darden | May 9, 2012 |
| It was an Honor to know you ... | The Nilsen Family | May 9, 2012 |
| Personal Eulogy | Cheryl Hockaday | May 9, 2012 |
| Personal Eulogy | Michele Swicegood | May 9, 2012 |
| Farewell Dear Hero | SFC (Ret) Stephen Fine | May 9, 2012 |
| Personal Eulogy | Anonymous | May 8, 2012 |