Click on any eulogy link to view that eulogy.
Click on "Post a new eulogy" to add your own eulogy to John.
Other important links:
John Heinmiller
West Point, 2004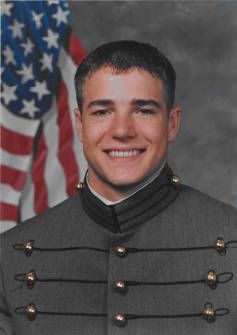 Be Thou At Peace
To date, 198 eulogies have been posted for John. Post a new eulogy to share some memories and thoughts that you may have. Additional biographical information may be found on the personal home page.
| Subject | Name | Date Posted |
| --- | --- | --- |
| Personal Eulogy | M | April 15, 2018 |
| Thinking of You on your Birthday | Dan | August 26, 2016 |
| Personal Eulogy | M | April 25, 2016 |
| Classmate | Ryan Radmer | May 19, 2015 |
| Personal Eulogy | Aunt Julie and Uncle Tom | April 22, 2015 |
| Thank You | AR | April 22, 2015 |
| Personal Eulogy | Miss you | October 28, 2014 |
| Hello to a dear friend! | Dan | April 21, 2014 |
| Great memories | EP Friend / Teammate | April 22, 2013 |
| On Earth as it is in Heaven | AR | April 22, 2013 |
| Not Forgotten | Class of 2015 | January 12, 2013 |
| Personal Eulogy | Jane | August 22, 2012 |
| Personal Eulogy | Friend | October 7, 2011 |
| Personal Eulogy | Dan | August 25, 2011 |
| Personal Eulogy | Dan Becker | May 29, 2011 |
| Personal Eulogy | EP Friend / Teammate | October 6, 2010 |
| Personal Eulogy | larry t saeger | July 13, 2010 |
| Yesterday's gift | Grateful | April 23, 2010 |
| Personal Eulogy | hs friend | April 22, 2010 |
| Personal Eulogy | Friend | March 7, 2010 |
| Personal Eulogy | Friend | September 4, 2009 |
| Personal Eulogy | peggy fifield | April 24, 2009 |
| Personal Eulogy | Anne | April 22, 2009 |
| Forever Remembered | Friend | January 8, 2009 |
| Personal Eulogy | cousin | November 28, 2008 |
| Personal Eulogy | Peggy Feige | May 22, 2008 |
| Personal Eulogy | EP 00 | April 20, 2008 |
| Personal Eulogy | friend | April 15, 2008 |
| Personal Eulogy | Friend | February 14, 2008 |
| Personal Eulogy | Cousin | January 15, 2008 |
| Miss you | friend | August 26, 2007 |
| Personal Eulogy | Your Aunt | April 22, 2007 |
| Personal Eulogy | Rich | March 30, 2007 |
| Thank You | A | January 14, 2007 |
| Personal Eulogy | Mary ('03 and '06 mom) | December 5, 2006 |
| Personal Eulogy | peggy fifield | November 5, 2006 |
| Personal Eulogy | friend | October 31, 2006 |
| Personal Eulogy | Friend | April 24, 2006 |
| Personal Eulogy | friend | April 22, 2006 |
| Personal Eulogy | Friend | April 17, 2006 |
| Personal Eulogy | B | September 24, 2005 |
| Personal Eulogy | mike | September 9, 2005 |
| Personal Eulogy | friend | August 8, 2005 |
| Personal Eulogy | chase podsiad | April 23, 2005 |
| Personal Eulogy | bud | April 22, 2005 |
| Personal Eulogy | laura | April 12, 2005 |
| Miss you | Close Friend | December 15, 2004 |
| Personal Eulogy | EP | December 12, 2004 |
| Personal Eulogy | classmate | October 15, 2004 |
| Personal Eulogy | Aunt Sue | October 11, 2004 |
| Personal Eulogy | friend | May 28, 2004 |
| Personal Eulogy | Anonymous | May 27, 2004 |
| Personal Eulogy | A close friend | May 6, 2004 |
| Personal Eulogy | friend | April 22, 2004 |
| Love you, John | Aunt Rita and Uncle Dick | April 22, 2004 |
| Personal Eulogy | Ticker's dad | April 22, 2004 |
| Thanks | friend | March 30, 2004 |
| Personal Eulogy | Aunt Mare | March 30, 2004 |
| Personal Eulogy | Maureen | March 11, 2004 |
| Personal Eulogy | Jane S. | February 8, 2004 |
| Personal Eulogy | friend | December 12, 2003 |
| Personal Eulogy | Friend | April 22, 2003 |
| Personal Eulogy | bash brother | April 22, 2003 |
| God Bless | Friend | April 21, 2003 |
| Personal Eulogy | Admirer | April 21, 2003 |
| Personal Eulogy | Laura Keenan | April 17, 2003 |
| Personal Eulogy | friend | April 14, 2003 |
| Personal Eulogy | Jim Carroll | March 24, 2003 |
| God bless | A dear friend | November 14, 2002 |
| EP Football | EA | September 16, 2002 |
| Personal Eulogy | Kent Justice | July 7, 2002 |
| Personal Eulogy | CDoran | May 9, 2002 |
| Personal Eulogy | Greer | May 3, 2002 |
| Personal Eulogy | David Garrity | April 22, 2002 |
| Letter to John | Sara | April 22, 2002 |
| Personal Eulogy | Susan Ivy | April 21, 2002 |
| To the Heinmillers | Erik | April 16, 2002 |
| Personal Eulogy | sffitzgerald | April 10, 2002 |
| Personal Eulogy | Kristina McMillan | April 6, 2002 |
| Personal Eulogy | Vinh Nguyen | February 8, 2002 |
| Personal Eulogy | J | January 19, 2002 |
| Personal Eulogy | acquaintance | December 25, 2001 |
| thoughts | E' | October 17, 2001 |
| Personal Eulogy | Jacquie | September 14, 2001 |
| Personal Eulogy | Connie Doran | August 29, 2001 |
| To John | Peter Vogel | August 26, 2001 |
| Personal Eulogy/Rejoice | Friend | July 21, 2001 |
| Personal Eulogy | C Cartwright | July 21, 2001 |
| Personal Eulogy | Joseph | June 17, 2001 |
| Personal Eulogy | Marianne Heinmiller Vargo | June 2, 2001 |
| Personal Eulogy | Susan McGreavy Pimental | May 3, 2001 |
| Personal Eulogy | '01 Parents | May 2, 2001 |
| Personal Condolences | Jim White | May 1, 2001 |
| Personal Eulogy | Anonymous Parent | April 30, 2001 |
| Personal Eulogy | matrid harper- mother class 04 | April 30, 2001 |
| Personal Eulogy | CADETS MOM 03 | April 29, 2001 |
| Personal Eulogy | an understander | April 29, 2001 |
| Personal Eulogy | Hannah Coleman | April 29, 2001 |
| Personal Eulogy | Joy and Brian(parents'04) | April 28, 2001 |
| Personal Eulogy | Diane Mathis | April 27, 2001 |
| Personal Eulogy | Wayne and Gwenda Baker | April 27, 2001 |
| Personal Eulogy | Eric James Woolf | April 26, 2001 |
| a fellow classmate | anonymous cadet | April 26, 2001 |
| Personal Eulogy | Wes Leisinger | April 26, 2001 |
| Personal Eulogy | '67 Grad | April 26, 2001 |
| Personal Eulogy | Kathy McGowan | April 26, 2001 |
| Personal Eulogy | Cheryl Patten | April 25, 2001 |
| Personal Eulogy | Bock Family '01 | April 25, 2001 |
| Personal Eulogy | Frank & Judi Garrett (04 parents) | April 25, 2001 |
| Personal Eulogy | A 2003 cadet's mom | April 25, 2001 |
| Personal Eulogy | KATHLEEN VIRGIN | April 26, 2001 |
| friend | Alex | April 25, 2001 |
| Personal Eulogy | Parents of '02 Cadet | April 25, 2001 |
| Personal Eulogy | Aunt of Class 2004 | April 25, 2001 |
| Personal Eulogy | Rick and Roberta Byrd 02 cadet | April 25, 2001 |
| Personal Eulogy | Just a Fried | April 25, 2001 |
| Personal Eulogy | Mother of 03 Cadet | April 25, 2001 |
| Personal Eulogy | Larry and Mary, Class of '04 Parents | April 25, 2001 |
| Personal Eulogy | Mother of '03 cadet | April 25, 2001 |
| Personal Eulogy | David Bumgardner | April 25, 2001 |
| Personal Eulogy | Rick and Vicki McPeak | April 25, 2001 |
| Personal Eulogy | Gene & Nancy Londo | April 25, 2001 |
| Personal Eulogy | Stephen and Cathey | April 25, 2001 |
| Why do the good die young? | A fellow cadet | April 25, 2001 |
| Personal Eulogy | Brenda and Chuck | April 25, 2001 |
| Personal Eulogy | Mother of a 2001 Cadet | April 25, 2001 |
| Personal Eulogy | Valerie & Dan Miller | April 25, 2001 |
| Personal Eulogy | Gerald A. Nilsen | April 25, 2001 |
| Personal Eulogy | Mom '04 | April 25, 2001 |
| please read my humble offer of thanks | an extremely grateful civilian | April 24, 2001 |
| Personal Eulogy | friend from beast- Echo co. | April 25, 2001 |
| Personal Eulogy | 04 sister | April 24, 2001 |
| Taps Vigil- A Soldiers Tribute | Conrad | April 24, 2001 |
| Personal Eulogy | Anonymous Cadet | April 24, 2001 |
| Personal Eulogy | CDT Wade Hatzinger | April 24, 2001 |
| Personal Eulogy | Richard and Diane Harris | April 24, 2001 |
| Personal Eulogy | John Smoot | April 24, 2001 |
| Personal Eulogy | Katie | April 24, 2001 |
| Personal Eulogy | Orlin and Sue | April 24, 2001 |
| Personal Eulogy | CDT Dustin Greenhill | April 24, 2001 |
| Personal Eulogy | '86 Grad | April 24, 2001 |
| Personal Eulogy | Nancy MacLeod ('04 Mom) | April 24, 2001 |
| Personal Eulogy | Nicholas Weeks | April 24, 2001 |
| Personal Eulogy | Dad (01) | April 24, 2001 |
| Personal Eulogy | Steve and Anita Schweitzer '04 | April 24, 2001 |
| Personal Eulogy | Billy Moss | April 24, 2001 |
| Personal Eulogy | Carolyn Donnell (Mom '02) | April 24, 2001 |
| Personal Eulogy | LTC Michael K. Beans | April 24, 2001 |
| Personal Eulogy | Heather Ritchey | April 24, 2001 |
| Personal Eulogy | Bill | April 24, 2001 |
| Personal Eulogy | A Graduate | April 23, 2001 |
| Personal Eulogy | Dian Welle ('02 Mom) | April 23, 2001 |
| Personal Eulogy | Sharon Maranich | April 23, 2001 |
| Personal Eulogy | Michael Fairman | April 23, 2001 |
| Personal Eulogy | Anonymous Cadet | April 23, 2001 |
| Personal Eulogy | Mike and Ruth Shane | April 23, 2001 |
| Personal Eulogy | Braden Hurley | April 23, 2001 |
| Personal Eulogy | Cadet Ian Welch | April 23, 2001 |
| Personal Eulogy | Denise and Chuck Brice | April 23, 2001 |
| Personal Eulogy | Don and Charlotte Lamp | April 23, 2001 |
| Personal Eulogy | Conrad Jahn | April 23, 2001 |
| Personal Eulogy | Cadet Kyle Burke | April 23, 2001 |
| Personal Eulogy | Troy Vaughn | April 23, 2001 |
| Personal Eulogy | Mike | April 23, 2001 |
| Personal Eulogy | Tyler | April 23, 2001 |
| Personal Eulogy | Cadet Chris Lee | April 23, 2001 |
| Personal Eulogy | Dennis and Faithe DaCosta | April 23, 2001 |
| Personal Eulogy | Don & Janis Vaughn ('04) | April 23, 2001 |
| Personal Eulogy | Dardy and Kenneth Hays | April 23, 2001 |
| Personal Eulogy | Bill & Vicki ('04 parents) | April 23, 2001 |
| Personal Eulogy | Sharon and Randy Rumbelow | April 23, 2001 |
| Personal Eulogy | a cadets mom | April 24, 2001 |
| Personal Eulogy | Neva Kear | April 23, 2001 |
| Personal Eulogy | Neva Kear | April 23, 2001 |
| Personal Eulogy | Allen & Laura Kuehl | April 23, 2001 |
| Personal Eulogy | Jeannette Miller ('04 Mom - Nevada) | April 23, 2001 |
| Personal Eulogy | Jim and Karla | April 23, 2001 |
| Personal Eulogy | Cadet Lynch '04 | April 23, 2001 |
| Personal Eulogy | Neil Hollenbeck | April 23, 2001 |
| Eulogy of Poetry and Hymns | Neil and Connie Hollenbeck | April 23, 2001 |
| Personal Eulogy | Leonard & Janet Meeks | April 23, 2001 |
| Personal Eulogy | Vincent TOURNY | April 23, 2001 |
| Personal Eulogy | Doug & Rita Holman | April 23, 2001 |
| Personal Eulogy | Peggy & Steve Siegert | April 23, 2001 |
| Personal Eulogy | Bob & Sherry | April 23, 2001 |
| Personal Eulogy | Tim | April 23, 2001 |
| Personal Eulogy | Bob and Jana Hublick | April 23, 2001 |
| Personal Eulogy | Ann Marie Dudek | April 23, 2001 |
| Personal Eulogy | Kip & Debbie Lynch | April 23, 2001 |
| Personal Eulogy | Dan | April 23, 2001 |
| Personal Eulogy | Pam Palmer | April 23, 2001 |
| Personal Eulogy | Just a Friend | April 23, 2001 |
| Personal Eulogy | Megan | April 22, 2001 |
| Personal Eulogy | Anonymous | April 22, 2001 |
| Personal Eulogy | Pat and Karen Towne | April 22, 2001 |
| Personal Eulogy | David and Phyllis Phelps | April 22, 2001 |
| Personal Eulogy | Susan Matthews | April 22, 2001 |
| Personal Eulogy | Dave & Kathy Husek | April 23, 2001 |