View a eulogy for Robert Peter Johnson, USMA '55, who passed away on January 26, 2003.
Other important links:
Robert Peter Johnson
West Point, 1955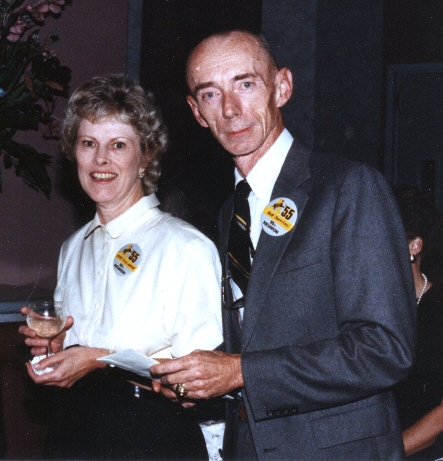 Be Thou At Peace
Posted by George Lawton on January 26, 2003:
I first got to know Bob Johnson about 5 or 7 years ago when he joined a group of grads who were trying to change some practices at the AOG. We worked on a survey of grad's opinions,administered it, and presented the results to the AOG's Board of Trustees. Needless to say, some of the conclusions were not necessarily to their liking, but Bob, as one of the presenters, was direct and forthright as was his nature. Eventually, many of the items we recommended were adopted.

Bob sent frequent messages about West Point and other items of interest to grads to the WP Forum. Some of his views were a bit controversal, but they always displayed a detailed knowledge of the Academy he loved, and always reflected his views in the best interests of his alma mater. In my opinion, Bob was one of the most honorable people I have ever known. He was not afraid to present a controversial view, not to be a bomb thrower, but because he truely believed it needed to be said and listeded to. No one can ever say that Bob was not a lover of West Point.
May you rest in peace, old friend.
Previous Eulogy
Next Eulogy
---
West-Point.Org (WP-ORG), a 501(c)(3) non-profit organization, provides an online communications infrastructure that enable graduates, parents, and friends of the military academy to maintain and strengthen the associations that bind us together. We will provide this community any requested support, consistent with this purpose, as quickly and efficiently as possible. WP-ORG is funded by the generosity of member contributions. Our communication services are provided in cooperation with the AOG (independent of USMA) and are operated by volunteers serving the Long Gray Line. For questions or comments, please email us at feedback@west-point.org.