View a eulogy for Robert Peter Johnson, USMA '55, who passed away on January 26, 2003.
Other important links:
Robert Peter Johnson
West Point, 1955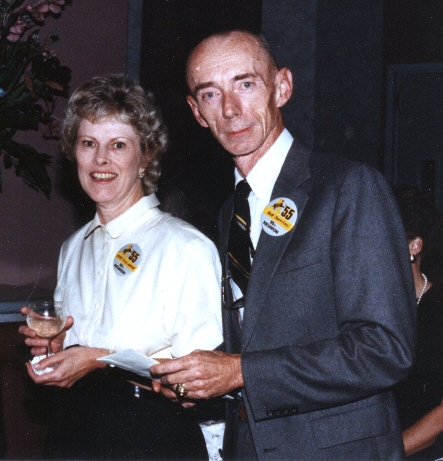 Be Thou At Peace
Posted by Jack Price on January 26, 2003:
I knew Bob long before I met him. WP-ORG builds many relationship like this. I was a Spanish student in my WP days, and we'd a book with a line sketch of Don Quixote, black against an ivory page. When I finally saw Bob in the flesh, the image leapt to my memory!

The tall, impossibly lean, angular frame, with a messianic focus on a goal beyond reach of mere mortals. Who else could he be? Filling in the portrait was his attentiveness to his Rosinante, an Army Mule. The last message in my folder to Bob, was sending a picture of him with his mule from our survey participant bios. http://www.west-point.org/service/consultant/bio/

As much as Bob stood out from the crowd due to his height, he also stood out for his dedication to high purposes and willingness to be counted on un popular issues. He stood while others sat.

We'll miss him on this end of the Long Gray Line file, but know he'll be waiting for us on the other end, with much to say!

A good friend, long remembered, with a smile... Grip Hands!

Jack
Previous Eulogy
Next Eulogy
---
West-Point.Org (WP-ORG), a 501(c)(3) non-profit organization, provides an online communications infrastructure that enable graduates, parents, and friends of the military academy to maintain and strengthen the associations that bind us together. We will provide this community any requested support, consistent with this purpose, as quickly and efficiently as possible. WP-ORG is funded by the generosity of member contributions. Our communication services are provided in cooperation with the AOG (independent of USMA) and are operated by volunteers serving the Long Gray Line. For questions or comments, please email us at feedback@west-point.org.