View a eulogy for Robert Peter Johnson, USMA '55, who passed away on January 26, 2003.
Other important links:
Robert Peter Johnson
West Point, 1955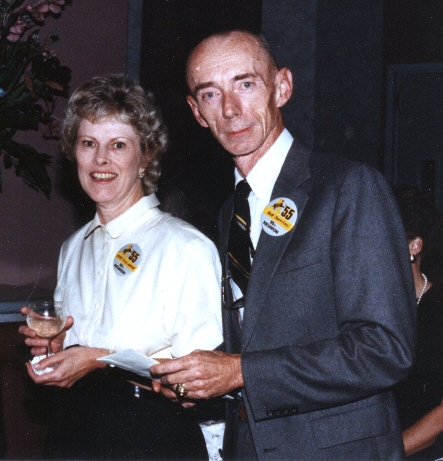 Be Thou At Peace
Posted by West Point 1955 on February 4, 2016:

Robert Peter Johnson

Birth: Jan. 6, 1931
New York, New York County (Manhattan), New York, USA
Death: Jan. 26, 2003
Petersburg, Dinwiddie County, Virginia, USA

Burial:
United States Military Academy Post Cemetery
West Point, Orange County, New York, USA

Spouse: Mary Alice Robinson Johnson

Johnson, Robert P. died January 26, 2003; retired United States Army Colonel, member of the West Point Class of 1955, President of the Lee-Grant Chapter of the West Point Alumni Association, survived by his wife, his sister, his daughter and son and their spouses and two grandchildren.

A viewing will take place at the J.T. Morris & Son Funeral Home at the intersection of Wythe St. and S. Adams St. in Petersburg from 7 - 9 PM on Thursday, January 30, 2003. A Mass of Christian Burial will be offered at 1:30 PM on Friday, January 31, 2003 at St. Joseph's Roman Catholic Church, 151 W. Washington St., Petersburg, VA.

Memorial Ceremony and Interment will take place on Monday, February 3, 2003 at 1:30 PM at the National Cemetery at the United States Military Academy at West Point, NY.

In lieu of flowers the family suggests donations to the Robert P. Johnson Scholarship Fund at All Hallows High School, 111 E. 164th St, Bronx, NY 10452."



Previous Eulogy
Next Eulogy
---
West-Point.Org (WP-ORG), a 501(c)(3) non-profit organization, provides an online communications infrastructure that enable graduates, parents, and friends of the military academy to maintain and strengthen the associations that bind us together. We will provide this community any requested support, consistent with this purpose, as quickly and efficiently as possible. WP-ORG is funded by the generosity of member contributions. Our communication services are provided in cooperation with the AOG (independent of USMA) and are operated by volunteers serving the Long Gray Line. For questions or comments, please email us at feedback@west-point.org.