View a eulogy for Robert Peter Johnson, USMA '55, who passed away on January 26, 2003.
Other important links:
Robert Peter Johnson
West Point, 1955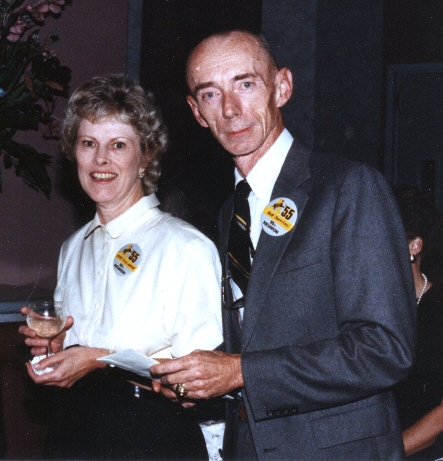 Be Thou At Peace
Posted by West Point 1955 on March 6, 2016:


Mary Alice (Robinson) Johnson

Mary Alice Johnson, age 75, of Prince George, Va., passed away on Monday, March 30, 2009.

She was born in Queens, N.Y., daughter of the late Michael and Delia Robinson. She was also preceded in death by her husband, Col. Robert P. Johnson, and her brother, Paul Robinson. Mrs. Johnson was a dedicated military wife for almost 30 years. She later obtained her master's degree and worked in education, culminating as the director at St. Leo College's satellite campus at Fort Lee. She spent the latter part of her career working in the real estate industry.

Mrs. Johnson is survived by her children, Lt. Col. Stephen G. Johnson and wife, Sabina, of Arlington, Va., and Valerie A. Johnson and husband, Daryl Tyson; grandchildren, Justin and Claire Tyson; brother, Joseph Robinson and wife, Lea, of Newtown Square, Pa.; and sister-in-law, Helen Lowe of New York, New York.

The family will receive friends at the Chesterfield chapel of J.T. Morriss & Son Funeral Home from 6 to 8 p.m. on Thursday, April 2, 2009. A funeral service will take place at a later date in the Chapel of Most Holy Trinity in West Point, N.Y., with interment following in West Point Military Cemetery. In lieu of flowers, the family requests memorial contributions be made to the National Parkinson's Foundation Inc., 1501 NW 9th Avenue/Bob Hope Road, Miami, FL 33136-1494. Condolences to the family may be registered at www.jtmorriss.com.



Previous Eulogy
Next Eulogy
---
West-Point.Org (WP-ORG), a 501(c)(3) non-profit organization, provides an online communications infrastructure that enable graduates, parents, and friends of the military academy to maintain and strengthen the associations that bind us together. We will provide this community any requested support, consistent with this purpose, as quickly and efficiently as possible. WP-ORG is funded by the generosity of member contributions. Our communication services are provided in cooperation with the AOG (independent of USMA) and are operated by volunteers serving the Long Gray Line. For questions or comments, please email us at feedback@west-point.org.