View a eulogy for Thomas Gerald Weaver, USMA '55, who passed away on December 6, 2017.
Other important links:
Thomas Gerald Weaver
West Point, 1955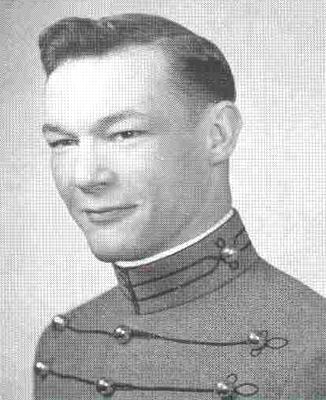 Be Thou At Peace
Posted by Carl McNair on December 8, 2017:
Tom Weaver and I were good friends during our four years at West Point, although he was in Company H2 and I was in Company E1 - the FIRST REGIMENT and Tom in the SECOND REGIMENT. However we were the "complementary height" companies in the days the Corps when companies were organized by heights from "flankers to runts" - as they were called respectively. Hence our two companies often interfaced on many operations, especially summer training.

Upon graduation, Tom chose Air Force and I chose Army, but remained in touch all those years with much in common, since I was a Master Army Aviator and Tom was a Command Pilot in the Air Force - exchanging "war stories" about flying and especially our combat tours in Vietnam - Tom went high, then low, in his attack aircraft and I stayed low in our Cobras and Hueys - joint attack operations at their finest, which wreaked fire and fury upon the enemy. Tom was awarded the Distinguished Flying Cross and 13 Air Medals - a warrior indeed, an airman of courage and valor.

However, my most memorable and proudest experience with Tom was when we both served in Bob and Pat Stati's wedding in June of 1955, at Sewart Air Force Base in Tennessee . Bob's father was in the Air Force as was Pat's, so our wedding party enjoyed seeing this happy couple joined in Holy Matrimony on a base of "BLUE", with 2d LT Tom Weaver, USAF, as their Best Man, a fitting title for Tom in his new "BLUE" uniform. This year the Stratis celebrated their 62d Wedding Anniversary since Tom handed Bob the wedding band at the Sewart AFB Chapel and we remained in touch with Tom and Sue over these many years.

So, as we bid our fond farewell to Tom and his Final Flight into the Heavens, it is most fitting to take an excerpt form John Gillespie Magee's famous poem, "High Flight".

OH! I HAVE SLIPPED THE SURLY BONDS OF EARTH - AND DANCED THE SKIES ON LAUGHTER SILVERED WINGS; SUNWARD I HAVE CLIMBED AND JOINED THE TUMBLING MIRTH - THE HIGH UNTRESSPASSED SANCITY OF SPACE, PUT OUT MY HANDS AND TOUCHED THE FACE OF GOD.

Farewell Dear Friend, Classmate and Great American
- Until we meet again in the Heavens Above!!!

CARL
USMA '55

Previous Eulogy
Next Eulogy
---
West-Point.Org (WP-ORG), a 501(c)(3) non-profit organization, provides an online communications infrastructure that enable graduates, parents, and friends of the military academy to maintain and strengthen the associations that bind us together. We will provide this community any requested support, consistent with this purpose, as quickly and efficiently as possible. WP-ORG is funded by the generosity of member contributions. Our communication services are provided in cooperation with the AOG (independent of USMA) and are operated by volunteers serving the Long Gray Line. For questions or comments, please email us at feedback@west-point.org.