View a eulogy for John Alexander Hottell, USMA '64, who passed away on July 7, 1970.
Other important links:
John Alexander Hottell
West Point, 1964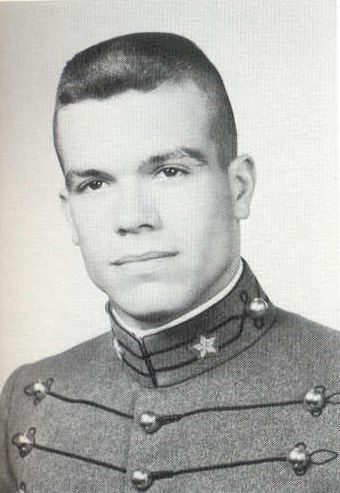 Be Thou At Peace
Posted by Alex Alexander on December 13, 2003:
It has been 33 years since Al's death, and 39 years since I last saw him at his graduation from West Point. His death still hurts. The full extent of his loss can never be known, but the world was and still is poorer for his absence. He had more potential for good than any man I have ever known, and I have dealt with and studied many.

We were on the swimming team together at West Point, the diving team to be precise. We also spent many happy hours together as gym rats, boxing, playing handball, testing ourselves on the obstacle course, and loving the action and friendly competition. I called him friend, and still do. I could go on about our friendship, but that's not the essence of my memories of him. At the most elemental level, Al Hottel was about human spirit...the very best of human spirit...and that's what I remember, and still experience, about him. He was gritty, determined, brilliant in ability and presence, and most of all joyous. I once watched him, in diving practice, collide with the diving board, jaw first, breaking a tooth and badly mauling his tongue, yet he emerged from the water bleeding, with a big smile, seeing the humor in the situation while ignoring the pain. Trivial incident, yes, but it said a lot about the man and his character.

I have just now read the eulogy Al wrote speculating on the possiblity of his own death. It is a tribute to him that not a word of it rings false. Al was the most genuine of people -- guileless, authentic, neither modest nor boastful, he was what he was with no shame, no pride, no pretense. Yet for all that, he was bigger than life and more than the rest of us. A giant in the making who was never able to complete the making.

I still miss him. I loved him and still love him as a brother, as a comrade, and as an example of what it is to be fully human.

Be thou at peace, brother.

Errol D. "Alex" Alexander
West Point class of 1965
December 2003
Previous Eulogy
---
West-Point.Org (WP-ORG), a 501(c)(3) non-profit organization, provides an online communications infrastructure that enable graduates, parents, and friends of the military academy to maintain and strengthen the associations that bind us together. We will provide this community any requested support, consistent with this purpose, as quickly and efficiently as possible. WP-ORG is funded by the generosity of member contributions. Our communication services are provided in cooperation with the AOG (independent of USMA) and are operated by volunteers serving the Long Gray Line. For questions or comments, please email us at feedback@west-point.org.