Other important links:
C. William Zadel
West Point, 1965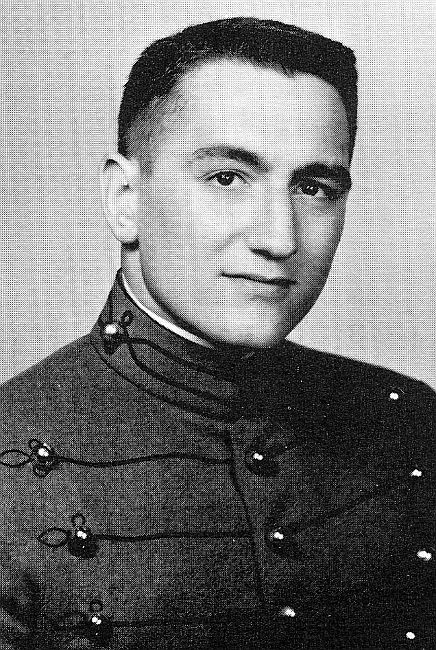 Be Thou At Peace
Posted by Rollie Stichweh on November 8, 2011:
EULOGY FOR BILL ZADEL
DELIVERED ON 27 OCTOBER 2011 IN OLD CADET CHAPEL
BY ROLLIE STICHWEH


BILL ZADEL -- A GREAT MAN WHO LED A GREAT LIFE

IT'S FITTING THAT WE HAVE THIS SERVICE HERE AT WEST POINT TODAY AND THAT BILL IS LAID TO REST IN THIS CEMETERY, NEXT TO HIS CLASSMATES AND RIGHT NEXT TO DENNY LEWIS, THE CLOSEST OF FRIENDS. THIS WAS HIS WISH. HE SHARED THIS WITH ME WHEN WE "TEAMED UP" ONCE AGAIN, JUST A FEW WEEKS AGO AS ROOMMATES AT THE HOTEL THAYER. NEITHER OF US EXPECTED THAT IT WOULD HAPPEN SO TRAGICALLY SOON....WE WERE THINKING MORE LIKE 25 YEARS FROM NOW.

BILL HAD A DEEP LOVE FOR WEST POINT. ANYONE COULD TELL THAT BY SIMPLY LOOKING AT HIS ATTIRE! HE WORE HIS WEST POINT RING ON ALL OCCASIONS. BEYOND THAT, HE HAD EVERY PIECE OF WEST POINT PARAPHERNALIA THAT COULD BE ACQUIRED -- FROM SPORTS JACKET; TRACK SUIT; RAIN JACKET TO SWEATER; T-SHIRTS AND GYM SHORTS. IT WAS EVEN RUMORED THAT HE HAD THE ORIGINAL, AUTHENTIC, CADET BOXER SHORTS -- BEARING THE CLASS OF '65 CREST. HAVING BEEN HIS HOTEL THAYER ROOMMATE, I CAN CONFIRM FOR ALL OF YOU THAT THE RUMOR WAS TRUE!

THE UNITED STATES MILITARY ACADEMY IS RENOWNED AS ONE OF THE WORLD'S PREEMINENT LEADER DEVELOPMENT INSTITUTIONS. WEST POINT'S MISSION IS TO EDUCATE, TRAIN AND INSPIRE THE CORPS OF CADETS SO THAT EACH GRADUATE IS A COMMISSIONED LEADER DEDICATED TO THE VALUES OF DUTY, HONOR, COUNTRY. BILL ZADEL PERSONIFIED THIS MISSION IN EVERY RESPECT.

THE GUIDING PRINCIPLE DIRECTING THE DEVELOPMENT OF CADETS HAS BEEN THE "WHOLE MAN CONCEPT". ITS KEY PILLARS INCLUDE: ACADEMIC; ATHLETIC; MILITARY; ETHICAL/SPIRITUAL AND LEADERSHIP. CONSIDER THIS WHEN THINKING ABOUT BILL WITHIN THE FRAMEWORK OF THESE KEY DIMENSIONS:

- ACADEMIC -- FORBES MAGAZINE NAMED WEST POINT THE MOST OUTSTANDING UNIVERSITY IN THE NATION. HE WAS ON THE DEAN'S LIST IN THIS VERY DEMANDING ENVIRONMENT.

- ATHLETIC -- COACH PAUL DIETZEL CALLED HIM "THE FINEST LINEMAN I'VE EVER COACHED IN MY ENTIRE CAREER" -- HIGH PRAISE COMING FROM A HIGHLY RESPECTED NATIONAL COACH OF THE YEAR. BILL WAS ONE OF THE TOUGHEST COMPETITORS EVER ON THE FIELD OF FRIENDLY STRIFE.

- MILITARY -- BILL EARNED THE RESPONSIBILITY FOR ONE OF THE KEY LEADERSHIP POSITIONS IN THE CORPS -- A CADET COMPANY COMMANDER, AND DID AN OUTSTANDING JOB.

- ETHICAL/SPIRITUAL -- BILL'S VALUES WERE DEEPLY ROOTED. I COULD TELL THAT THE FIRST DAY I MET HIM, AT PLEBE FOOTBALL PRACTICE ON HOWZE FIELD IN JULY, 1961. FROM THAT FIRST DAY, AND THROUGH FIVE DECADES TO FOLLOW, HIS TEAMMATES AND OTHERS KNEW THAT THIS WAS A MAN WHO COULD BE TRUSTED, WHO SPOKE THE TRUTH ALWAYS AND PERHAPS THE MOST MATURE OF OUR BAND OF BROTHERS. HE WAS THE "GO TO GUY" WHO YOU WOULD GO TO WHEN YOU NEEDED HELP.

- LEADERSHIP -- ON THE FIELD OR OFF, BILL WAS A NATURAL LEADER HERE AS A CADET, AS A HIGHLY DECORATED MARINE OFFICER IN VIETNAM, AND AS THE CEO OF SEVERAL BLUE CHIP FORTUNE 500 COMPANIES DURING A DISTINGUISHED BUSINESS CAREER. HE DIDN'T HAVE TO TELL YOU THAT HE WAS A LEADER. HE DIDN'T NEED A RANK OR NAME TAG. YOU KNEW IT BY SIMPLY BEING IN HIS PRESENCE.

BUT DESPITE ALL OF THESE ACCOMPLISHMENTS, BILL ZADEL WAS HARDLY "ALL BUSINESS". HE KNEW HOW TO HAVE FUN!

- HE LOVED TO BE WITH HIS CLASSMATES, FRIENDS AND FORMER TEAMMATES: ARMY FOOTBALL CLUB EVENTS; CLASS REUNIONS; SPECIAL GOLF EVENTS; LAS VEGAS SUPERBOWL GATHERINGS; MARINE CORPS REUNIONS TO NAME A FEW.

- HE LOVED KARAOKE. HE HAD A HUGE COLLECTION OF SONGS AND SANG AN IMPRESSIVE RENDITION OF ELVIS' -- "ARE YOU LONESOME TONIGHT"...ONLY TO HAVE DENNIS LEWIS COUNTER WITH A STIRRING VERSION OF "OLD MAN RIVER".

- A FRIGID JANUARY DAY COULDN'T KEEP HIM FROM "POPPING THE CORK" OF A SPECIAL BOTTLE OF CHAMPAGNE ON THE DECK OF HIS BEAUTIFUL COHASSET HOME, SURPRISING BETTY, CAROLE, AND ME AS HE SHARED HIS JOY FOR LIFE WITH EACH OF US.

- THERE WAS A NEVER TO BE FORGOTTEN WEEKEND IN NEW ORLEANS FRENCH QUARTER AS THE PARCELLS, LEWIS AND STICHWEHS ALL TRIED TO KEEP UP WITH BILL. THINK FOR A MOMENT --- DON, DENNIS AND NOW BILL --- NO LONGER WITH US.

HE WAS A BIG MAN WITH A BIG LAUGH WHO KNEW HOW TO HAVE BIG-TIME FUN!

OF HIS MANY PASSIONS, NONE CAME CLOSE TO THAT OF HIS FAMILY. HE LOVED BEING A GRANDPA -- TO FINN, ELIZABETH, SOPHIA, JOSEPHINE, CHARLES AND MICHAEL. HE WAS THRILLED THAT HIS THREE CHILDREN HAD FOUND AND MARRIED WONDERFUL MATES: JODIE ZADEL, CIARAN FOLEY AND MARIA ZADEL.

HE LOVED HIS KIDS -- BART; ELIZABETH AND DAVID. I CAN SEE HIM NOW ON THE FIRST TEE OF A GOLF COURSE IN LAS VEGAS WITH BART. NUDGING ME IN THE RIBS, HE WHISPERS -- "WATCH MY BOY" AND BART SMACKS IT 325 YARDS DOWN THE MIDDLE.

WAS THERE EVER A PROUDER DAD AT THE WEDDING OF HIS DAUGHTER? HE ORGANIZED A PROCESSION ON BOSTON STREETS (CONVINCING THE BOSTON POLICE TO BLOCK OFF THE STREETS) FROM CHURCH TO RECEPTION. WITH A BAND IN THE LEAD, HE BEAMED AS HIS DAUGHTER AND NEW HUSBAND LED THE WAY.

AND WHAT FUN IT WAS TO TRAVEL SOUTH WITH BETTY AND BILL TO WATCH DAVID PLAY FOOTBALL AT WAKE FOREST. DAVID WAS DRAFTED BY THE DALLAS COWBOYS AND MADE THE TEAM. BUT, HE FOUND THAT HE JUST DID NOT WANT THAT AS A CAREER. BILL'S REACTION? HE SUPPORTED HIS SON 100%, PROUD THAT DAVID HAD THE COURAGE TO MAKE A TOUGH DECISION. AND HE WAS THRILLED, DAVID, THAT YOU FOLLOWED HIM INTO THE MARINE CORPS. TO SERVE YOUR COUNTRY. HE WAS SO PROUD OF YOU ALL FOR ALL YOU HAVE ACCOMPLISHED AND THRILLED WITH THE SPECIAL HUMAN BEINGS YOU ALL HAVE BECOME.

AND THEN THERE'S BETTY. BILL AND I SPENT COUNTLESS HOURS TOGETHER OVER THE YEARS, AWAY FROM HOME. UNFAILINGLY, HE WOULD PULL HIS PHONE OUT EACH MORNING AND EVENING TO CALL BETTY. BILL AND I TALKED ON MANY OCCASIONS ABOUT HOW LUCKY WE WERE THAT OUR BEAUTIFUL BRIDES HAD ALLOWED US INTO THEIR LIVES. IN PARTICULAR, WE SPOKE ABOUT THAT AS WE FLEW TOGETHER TO VIETNAM IN THE SPRING OF "67. HE LEFT BEHIND BETTY AND ONE YEAR OLD, BART. I LEFT BEHIND CAROLE, PREGNANT WITH JENNY WHO I WOULD SEE FOR THE FIRST TIME WHEN SHE WAS 10 MONTHS OLD. AND WE LAST TALKED ABOUT THESE BEAUTIFUL WOMEN FOR THE LAST TIME AS ROOMMATES AT THE HOTEL THAYER ONLY WEEKS AGO. ONE THING IS CRYSTAL CLEAR -- BETTY WAS THE LOVE OF HIS LIFE.

- WHEN A 4TH AND LONG PLAY WAS CALLED IN THE HUDDLE, YOU KNEW YOU WOULD GAIN GROUND...BECAUSE BILL WAS OUT IN FRONT OF YOU LEADING THE WAY;

- WHEN WARRIORS LOOKED FOR LEADERSHIP DURING THE BEWILDERING CONFUSION OF COMBAT, YOU KNEW THEY WERE STRENGTHENED...BECAUSE BILL WAS CALMLY IN THE LEAD ALWAYS;

- WHEN FRIENDS AND BUSINESS COLLEAGUES NEEDED SUPPORT AT TOUGH DECISION POINTS IN THEIR LIFE, YOU KNEW THEY WERE COMFORTED...BECAUSE BILL WAS EVER AVAILABLE.

- WHEN FAMILY NEEDED ADVICE, DIRECTION, UNDERSTANDING AND LOVE THEY KNEW IT WOULD BE OFFERED...BECAUSE THEY WERE FOREVER BILL'S FAMILY.

AT WEST POINT, EXCEPTIONAL PEOPLE ARE COMMONPLACE, YET EVEN IN THIS PLACE OF HIGH ACHIEVEMENT, BILL WILL FOREVER STAND TALL.

SCHOLAR; ATHLETE; DECORATED COMBAT OFFICER; LEADER; SPECIAL FRIEND; LOVING FAMILY MAN.

BILL, YOU WERE A GREAT MAN WHO LED A GREAT LIFE.

WE LOVE YOU. GOD BLESS YOU. REST IN PEACE.

Previous Eulogy
Next Eulogy
---
West-Point.Org (WP-ORG), a 501(c)(3) non-profit organization, provides an online communications infrastructure that enable graduates, parents, and friends of the military academy to maintain and strengthen the associations that bind us together. We will provide this community any requested support, consistent with this purpose, as quickly and efficiently as possible. WP-ORG is funded by the generosity of member contributions. Our communication services are provided in cooperation with the AOG (independent of USMA) and are operated by volunteers serving the Long Gray Line. For questions or comments, please email us at feedback@west-point.org.