View a eulogy for Glade McKay Bishop, USMA '65, who passed away on September 2, 2017.
Other important links:
Glade McKay Bishop
West Point, 1965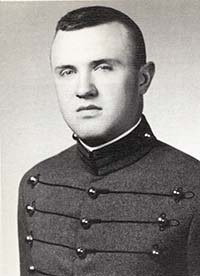 Be Thou At Peace
Posted by Step Tyner on September 8, 2017:
My contacts with Joe at West Point were sporadic but always interesting. In different regiments, we nonetheless encountered each other at Buckner and on various class trips. My favorable impression of him was formed the first time he inserted a quiet zinger into a multi-party conversation, succinctly summarizing the issue while gently lancing any egos that might have become dangerously over-inflated during the discussion. Joe only grew in my estimation as I saw how adept he was at quietly, almost casually, organizing a disparate gaggle of stressed out, bickering classmates into a group able to operate as one in achieving some common goal, be it military or recreational.

The high repute he enjoyed within the Classes of 1965 and adjacent was proven prescient by Joe's superb performance as a combat infantryman. Those experiences, in turn, led to his making lasting academic and policy-level contributions in areas like leadership and infantry doctrine.

Joe was a soldier, through and through, and a damned fine one. Though we were never intimates, I'd have counted myself blessed to have him in the next foxhole, or to be working with him on some thorny tactical plan.

Thanks for your quiet, determined competence, Joe. Thanks for the example of your courage in undergoing the warrior's ultimate test. And then, thanks for being my classmate.


Next Eulogy
---
West-Point.Org (WP-ORG), a 501(c)(3) non-profit organization, provides an online communications infrastructure that enable graduates, parents, and friends of the military academy to maintain and strengthen the associations that bind us together. We will provide this community any requested support, consistent with this purpose, as quickly and efficiently as possible. WP-ORG is funded by the generosity of member contributions. Our communication services are provided in cooperation with the AOG (independent of USMA) and are operated by volunteers serving the Long Gray Line. For questions or comments, please email us at feedback@west-point.org.