View a eulogy for Glade McKay Bishop, USMA '65, who passed away on September 2, 2017.
Other important links:
Glade McKay Bishop
West Point, 1965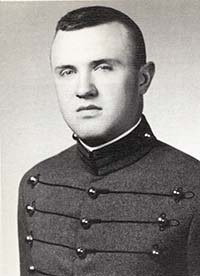 Be Thou At Peace
Posted by William F (Bill) Hecker Jr on September 23, 2017:
Joe has always been a special company-mate to everyone in K2. What I remember most about him during our years at West Point was that sparkle in his eye and his dry sense of humor.

After graduation, I did not see Joe for almost forty years. Then, as I was working at the Boeing Company on an Army program, Joe came to work on the same floor in our office building in Tysons Corner VA. He had not been there too long when one night about 6pm he collapsed by his desk. We called an ambulance and followed him to the hospital. Since his family was not immediately nearby, I stayed with him that evening to be there for support. Fortunately, Joe did recover and came back to work, but he was beginning to find things more difficult to do.

Not too long after that, we moved to Colorado Springs. As the 50th reunion started to ramp up (~2010-2011) we discovered that Joe had also moved to Colorado, now in a Lutheran Senior Living Center in Windsor, Colorado. He was under the watchful eye of his sister Janet, who's family lived nearby in Greeley.

Nanc & I visited him a number of times over those years. We noticed that the other folks at the Senior Living Center loved Joe. Everyone greeted him with a big smile and a hello as they passed by him..... whether it was the other seniors or the staff. Soon it became harder for Joe to answer the phone or an email. We then arranged our visits through Janet. But that sparkle in Joe's eye and his dry sense of humor never changed during our visits.

One time we had lunch in the Center dining room. Another time we invited Joe out to lunch at a local restaurant, but he said no, that we would eat in the dining room. When we arrived, we found Joe in the main lobby ready to go out to lunch, so out to lunch we went. That time we invited along Nanc's sorority sister who was a great talker and charmer. Joe really perked up and told us that he had a great time that day.

Over the last six years Joe continued to deteriorate, needing more help as time went on. He was not able to travel to the 50th Reunion, but after the reunion, I gave Joe a copy of our Class of 65 Reunion "Picture Book." He had a great time reliving the memories of West Point and the Classmates who's paths he crossed after graduation.

As time went on, Joe had a harder time doing things. He needed help taking his daily medications and other such chores. Janet moved him to a Senior Care Center in Greeley, not too far from where she lived. When we came to visit him there, he was now in a wheelchair and needed to be coaxed to come down stairs to visit. Once he came downstairs he had a great time visiting with us. One time we took our cairn terrier, Mac (Mac Arthur -- a good Army name), with us and Joe really enjoyed him. Another time classmates Bill Tredennick, and Les Haggie, and I went together to visit him. Bill and Les lived not too far away. The three of us had a great visit with Joe, but we could see that he was having a more difficult time on a daily basis.

Then last month Joe underwent a needed operation. He was recovering well until he contracted pneumonia. He passed away soon after. We will always remember Joe, our K2 Classmate and friend, an Infantryman with two silver stars. Be thou at Peace, Joe.

Previous Eulogy
---
West-Point.Org (WP-ORG), a 501(c)(3) non-profit organization, provides an online communications infrastructure that enable graduates, parents, and friends of the military academy to maintain and strengthen the associations that bind us together. We will provide this community any requested support, consistent with this purpose, as quickly and efficiently as possible. WP-ORG is funded by the generosity of member contributions. Our communication services are provided in cooperation with the AOG (independent of USMA) and are operated by volunteers serving the Long Gray Line. For questions or comments, please email us at feedback@west-point.org.