View a eulogy for Bruce Roland Marshall, USMA '65, who passed away on April 27, 2021.
Other important links:
Bruce Roland Marshall
West Point, 1965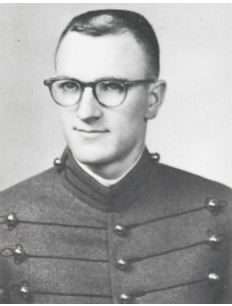 Be Thou At Peace
Posted by Margie Anne Bonnett on May 2, 2021:
Bruce was in our lives for two decades. Not just a friend, family to us, family to the core. I remember us taking a drive up to Hershey to hear Dr. David Jeremiah, going on hikes, watching the comedian Jeannie Robertson, and having home cooked meals out on our glassed in porch. One time, he even set up the projector, invited me up to his office, and picked out a movie. He said, "You've got to watch this, this girl's just like you". When the movie came on we were laughing because I was basically wearing the same clothes as the actress! I was so touched. Facetime, phone calls, texts every week. We're missing him so much, our heart aches.

He was so giving. When my Dad broke his leg, he was there helping my Mom and visiting my Dad while I was unfortunately and unexpectedly rushed to another nearby hospital.

Our little puppy, Miss Mollie, loved to untie his shoe laces. Bruce would bring his dog, KK over to play with Mollie. KK became "Miss Mollie's" first boyfriend. I can't even mention their names as she starts to whimper, waiting and looking out the window to see them come down the driveway.

He was a prolific speaker. I first learned of his Vietnam experience as he helped found our High Noon Toastmasters Club. His speech, "There goes the Richo Rum" details his experience being overrun by the Viet Cong. It was nail-biting, riveting, and no one was left with a dry eye in the audience. I only wish we would have taped this and hope there's a copy of this somewhere. Every American should hear his words to appreciate the military's dedication to their country.

Right now, as I write this, I'm so sad because we would have talked about plans of us getting together for Father's Day and all of us eating on the porch. I am so honored that he was a part of our lives and that God has this amazing, wonderful person in heaven.


Previous Eulogy
---
West-Point.Org (WP-ORG), a 501(c)(3) non-profit organization, provides an online communications infrastructure that enable graduates, parents, and friends of the military academy to maintain and strengthen the associations that bind us together. We will provide this community any requested support, consistent with this purpose, as quickly and efficiently as possible. WP-ORG is funded by the generosity of member contributions. Our communication services are provided in cooperation with the AOG (independent of USMA) and are operated by volunteers serving the Long Gray Line. For questions or comments, please email us at feedback@west-point.org.