Other important links:
Spotswood Dewitt
West Point, 1965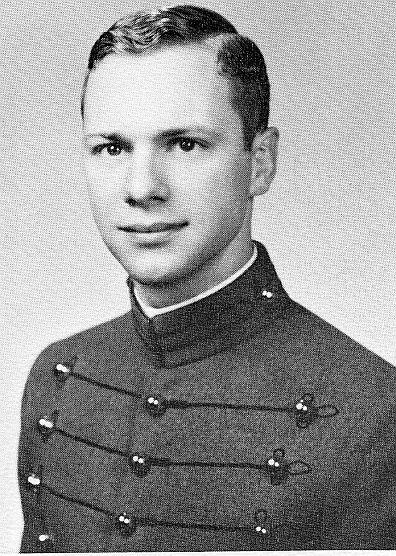 Be Thou At Peace
Posted by Lawrence P. Wiest on February 19, 2011:
Text of a speech in memory of Spotswood deWitt, first delivered by Lawrence Wiest Sunday 27 May 1990, 1100 hours, at the annual Marine Corps League Memorial Service at the President Chester A. Arthur gravesite, Albany Rural Cemetery, Albany, New York.


Dear Gold Star Mothers and family members, distinguished guests, and fellow veterans: let me take the occasion of this service to speak of one whom none of you know or heard of, a soldier killed in action a quarter century ago, in Vietnam, and ask that he be included in your thoughts and prayers this Memorial Day Sunday as well.

Allow me to take you back twenty-eight years when I was a cadet at West Point. I remember remaining seated one spring day after the noon meal in Washington Hall, that cavernous, medieval-looking mess hall, watching a feeble Douglas MacArthur giving his "farewell address" to the Corps of Cadets, then some twenty-five hundred strong. It was May 1962 and I was nineteen.

I was at the Academy long enough to know I was watching and listening to a legend, but I remember being somewhat disappointed when the old man approached the lectern wearing a plain dark suit and not his famous oversized khakis, nor that carefully rumpled hat, nor those aviator sunglasses, nor that long-stemmed corncob pipe that was his trademark.

And I found his address, which would become one of the most famous speeches given by any American, long and tedious. Oh I remember his repeating the words, the school motto, "Duty, Honor, Country," over and over, and I remember his describing the long grey line of West Pointers of generations past who gave up their lives for their country, and his stern admonition of what was expected of us, lest a million ghosts rise up from their white crosses if we faltered as soldiers.

But, at age nineteen I was more fascinated by the occasional drops of spittle from the General's mouth that arced through the rays of sunlight embracing him up there on the "poop deck," or balcony, where the brass and dignitaries sat, well above the din of cadets who had just finished wolfing down shepard's pie and fruit cobbler, all after countless plebes had recited from memory a calendar of upcoming events called "The Days."

Seated at the next table was a classmate from Richmond, Virginia, one who would become a close friend during our years at the Point. His name was Spotswood deWitt. Spotswood, he told me, was a family name, and it was not uncommon to use a surname as a given name down south. And while some called him Spot, I never did. Born and raised Catholic back when given names were restricted to the names of saints, I was intrigued with the name Spotswood and always called him that.

Not a great athlete nor much of a scholar, he and I had these things in common. We occasionally walked off our hours, punishment tours for excess demerits, on the "area" together. Nonetheless, Spotswood was a person of great dignity and stoicism even in the face of hazing by upperclassmen his first or plebe year at the Point. There was a certain Cary Grant-type elegance about him. I never saw him given to anger, nor did I ever hear him speak ill of another.

Spotswood was a gentle man. I once asked him why he chose the Academy and ultimately the army as a career. Taken aback at first by the question I put to him, he quickly smiled and said, "Larry, this is a most honorable profession we've chosen." We let it go at that.

We graduated in June of '65, and it was while our class, a few months later, was surviving airborne and ranger schools that Spotswood and I lost touch and went our separate ways, he with the artillery and I with the infantry and a first assignment to the 7th Division in Korea.

I know it was shortly after the Christmas holiday, in 1966. It was early morning and I was nursing a cup of coffee in a quonset hut near Camp Casey, Korea, scanning the latest issue of the Stars and Stripes, more specifically, scanning the latest list of casualties from a place called Vietnam, and that's when I saw his name. Spotswood deWitt. Like a closed fist to the face. That's what I remember about that day.

I have an old vinyl of that farewell General MacArthur delivered in '62, and now a cassette of it as well, which I listen to on infrequent occasions, usually during the Memorial Day season. As I prepare to transport myself back once again, I might retrieve from its resting place on page 111 of the yearbook, the rubbing that I made of the name located on panel 13E at line 67 of the Wall back when Sara and I, with my veterans' group, participated in its dedication some years back.

And, as the cassette runs, I'll study the rubbing. And when the General recites that litany of qualities required of an officer and a gentleman, I think of my classmate from Richmond.

And when the General speaks of "the meekness of true strength," my thoughts turn to the cadet seated with me that day at the plebe end of the tables.

And when the General requires of us "a heart that is clean," I picture Spotswood in my mind's eye.
Previous Eulogy
Next Eulogy