View a eulogy for Martin Hans Cesana, USMA '89, who passed away on May 8, 1996.
Other important links:
Martin Hans Cesana
West Point, 1989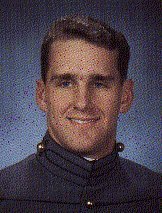 Be Thou At Peace
Posted by C. Benally on June 27, 2018:
Sir,
I remember you often! You and my drill sergeant. I don't know where to start or what to say but I'll keep it short Sir.

I have a wife and kids now. Graduated from grad school and amazingly earned my Ranger tab before I got out, honorably.

I met in you in Cp. Castle, South Korea, when I was an 18 year old pvt2, just coming off my Indian Reservation with practically no experience in the western ways of life. The only reason I enlisted was for college money and to see the world and I met you. You were a few years older than me and an excellent role model for me.

Thank you for everything you allowed me to do and I learned many things from you. I remember those treks up "Soyu" mtn, carrying the OE-254 antenna, which was at the time one of the duties of the driver for C-66 track vehicle. I remember telling you, "one day I will earn the Army Ranger Tab", and those climbs helped me in Ranger School. This was when I learned how to broadcast over the radio in the english language also, (english is my second language).

Everytime Kim Il Sung went haywire (Leader of N. Korea at the time), we went on pre-combat alerts. Thank you for allowing me to upload 1000 lbs of explosives in my vehicle all by myself everytime, trusting me with your life and mine. I learned much about responsibility.

Sir, I came to Irwin passed by your memorial there, also... "Marty's Kitchen"... I missed you. I remember you occasionally, tell my family about who you were.

I know you would have made it far in the military, because you believed in me and you gave me many oppurtunities to believe in myself also. One of my Drill Sergeants, became a Sergeant Major of your old school also. You two left lasting impressions in my life. Thank you.

I appreciate you Sir. Rest in Peace.

Previous Eulogy
---
West-Point.Org (WP-ORG), a 501(c)(3) non-profit organization, provides an online communications infrastructure that enable graduates, parents, and friends of the military academy to maintain and strengthen the associations that bind us together. We will provide this community any requested support, consistent with this purpose, as quickly and efficiently as possible. WP-ORG is funded by the generosity of member contributions. Our communication services are provided in cooperation with the AOG (independent of USMA) and are operated by volunteers serving the Long Gray Line. For questions or comments, please email us at feedback@west-point.org.