Other important links:
John W. Lewis
West Point, 1989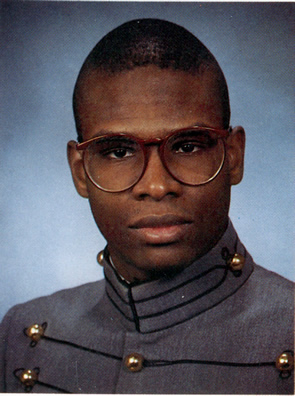 Be Thou At Peace
Posted by John Oliver on February 6, 2006:
An old proverb tells us that the ?eyes are the window of the soul.? The origin of this metaphor is unclear, but Cicero is credited with having said, in the century that preceded the Common Era, ?Ut imago est animi voltus sic indices oculi? (The face is a picture of the mind as the eyes are its interpreter).

Saturday I spent the day mourning with friends over the death of John Lewis. And I thought repeatedly over these expressions, wondering how they fit John?s impact on our own lives, and what they implied about John?s soul and intentions.

John?s was without question the most memorable face in our class at West Point. Mere mention of his name brings an instant image of his round head, bald dome and unique, disarming smile. That smile?it is likely the most vivid and prominent facial feature of any man I?ve ever known. It was John?s signature. But what did it say to us!?...what did it mean?

When a mother smiles at a newborn child, it is the most powerful influence on that child?s life and potential for survival. It communicates with an infant in very clear terms, ?the world will fulfill your needs, because you are loved and deserving of kindness?. A mother?s smile tells a child, ?you are my child and you are perfect?you are welcome and need only ask me?I will give you warmth, love and a full belly?.

As an adult, a smile tells us something different. On Saturday we heard many varied accounts of John?s unforgettable weapon of love, and how it spoke to us all. In addition to the countless flashes of white John shot me in the halls at school, there were two particular times when John left an indelible impression on me:

Plebe boxing ? No mouthpiece on earth was big enough to conceal John?s teeth. I remember sparring with him, thinking to myself, ?Is this man taunting me?...he?s got to be just as miserable as I am!? But it was just the opposite. John?s smile was saying, ?don?t be afraid, it?s OK for you to hit me back?we?re in this together.?

Ranger Graduation ? March 13th, 1990, the last time I saw John. We all had reason to celebrate, but John?s smile was the most determined of any among us. He made it clear, non-verbally, ?we deserve to feel proud of ourselves?we are survivors, and worthy to lead.?

John?s beautiful countenance meant something different and deeply personal to each of us. He used his smile like a greeting, to say, ?hello, I?m here.? But there was also the subtext in his patient manner, of an existential question??now, what are we going to do about it?? For me when John smiled, it most frequently felt like he was holding up a mirror, as if to let me look inside myself and make a decision. The question?...?what?s it going to be?...hope, or despair?? John was like a giant among men in that way. He was a Philosopher-King.

In The Who?s poignant and cynical rock song ?Behind Blue Eyes?, Pete Townshend instructs us,

When I smile, give me some bad news
Before I laugh and act like a fool.

This lyric first took meaning for me in the years following my departure from the Army.

It was a time of intense pain and reflection for me, because it came on the heels of the death of my first child. That child, conceived in my soul during dark days in Iraq, became the manifestation of all of my passions for life. She represented all that was good in the world, filled me with hopeful redemption. I was deeply in love with her.

When Kate died, I felt the complex and intense emotions that come from abrupt and untimely loss. My resolve alternated between two competing reactions. The one had me connecting with all people, all creatures, all life in the physical world, as a means of remaining in touch with the ubiquitous energy of my new spiritual guide. The other, much darker inclination compelled me to retreat, unwilling to permit joy from resurfacing in my life.

It?s a long struggle, making sense of loss?metabolizing its effect on your conclusions about our existence. Nearly thirteen years later it has become easier for me to focus on the optimistic response. But I?m still uncertain what my enduring reaction will be.

One matter became clear in my mind early, as Mr. Townshend?s voice surfaced often in my car. Although smiling is a primal indication of positive emotion, and typically happens involuntarily, it is not always what it may appear. I concluded from my own life that smiling can become more difficult as we age. Sometimes it only happens when we suppress our genuine emotions and force it to happen for the sake of others.

Depending on how your mind is wired, your memory may feature more prominently either the disappointment of life, or its joys. One thing is certain, life has a nasty habit of kicking all of us in the teeth. And it is during those times, when we?re dealt a heavy, unexpected blow, and our teeth are like so much broken glass, that it?s not only difficult to smile. It is unnatural. It is frightening. It is painful. Sometimes smiling is impossible. And we resort to our instinctual need for self-preservation. We retreat from the world. During those moments, our true nature is revealed.

I decided years ago that a smile is seldom evidence of blissful ignorance, as the song might suggest. Instead it is testimony to an indomitable spirit (the heart of a champion). It is the mother or grandmother who, no matter how many times her teeth have been broken by life?s injustices, flashes her most loving expression at an observing child, and makes love the prevailing force in the world. It is the man who ignores his self-doubts and the guilt over his own compromises, and looks across the room with a wink, to let his admirers know, ?you are worthy?you are good.? A man?s smile is evidence of his courage?his resolve?his love for the world.

For all who shared the privilege of coming into contact with John Lewis during his life, the proverb offers only a limited account by describing the eyes as the soul?s windows. There?s no doubting that his mouth, in particular that amazing toothy grin, offered the best glimpse into John?s soul.

What a gift to have known such a great man! What a gift to have walked in his presence for a short while, and observe the relentlessness of his optimism. What a gift to have shared with so many beautiful friends the pain of his departure, and the celebration that came from knowing that a small portion of John?s personal strength and love for the world is ours to preserve.

And what a champion of life was John W. Lewis! If we are all fools to smile at the world, and find reason to hope, then make me a fool like John W. Lewis!

Thank you for your friendship and example, John.

Johnny O.

Previous Eulogy
Next Eulogy