View a eulogy for James J. Walton, USMA '89, who passed away on June 21, 2008.
Other important links:
James J. Walton
West Point, 1989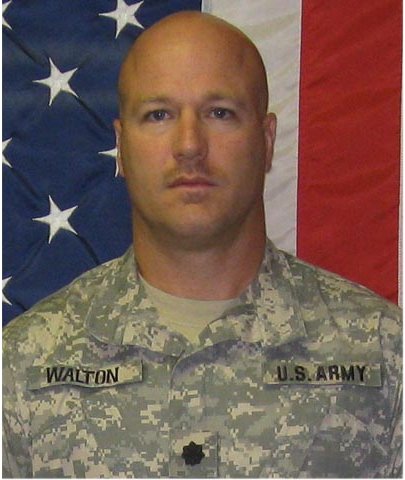 Be Thou At Peace
Posted by Diane Jewell on July 12, 2008:
For those of you who did not attend Jim's funeral, there was an opportunity at the end of the reception for people to stand up and tell stories about him. They were wonderful! Thanks to everyone who had enough courage to stand in front of hundreds of people on such a sad occasion and tell funny stories. Jim would have been first in line to do that.

Although I did not feel able to speak in front of everyone then, I did want to say something. Thank you for creating this site so I can share my own favorite memories of Jim.

How could someone have met Jim and walked away without a strong impression? He was a man who leaped through a second-story window to help a neighbor get inside her home when she was locked out. He was the Uncle who tossed his nieces and nephews around the pool and was first in line to watch Disney movies with them.

Jim put family above all else and made a point to email, call and visit, no matter where we lived. His smile was infectious, and he was mischievous, pulling pranks as an alter boy to make the priest laugh during mass, making siren noises in the back of the car so my mother would think she had to pull over, etc. Here are a few of my favorite memories:

1) Jim had an obsession with getting his middle finger into the family photos which, of course, HORRIFIED my mother. For months, no one knew about it, and he was so giddy about having succeeded. Jim was always laughing, so we never knew why he was so excited after the photos were over. Later on, after we figured out his trick, it was a constant battle to keep his fingers down. In the slide show at his wake and funeral, I made sure to slip in a photo where he succeeded. He would have wanted it that way. :-)

2) My brothers and I used to have swim practice on Sunday mornings and often had to attend church together afterwards. Five minutes before mass, they would zip into the church parking lot, grab a bulletin, and proceed back out of the parking lot to either McDonald's or Dunkin Donuts, missing mass altogether. (Of course, they were older and masterminded the whole thing. I was just along for the ride and threatened with bodily harm if I ever told my parents.) We were gone for precisely one hour, went home, put the church bulletin on the kitchen table to prove we'd been there, and got credit for being good little Catholics.

3) I remember Jim's wedding and the moment he went down the aisle, staring at Sarah the whole way, and mouthing the words "You look beautiful" as he got closer to her. I had many conversations with him about how lucky he was to have met her. She loved him, cherished him, and adored him, and she accepted all the things about Jim that a wife might not have wanted to support, including his skydiving adventures, motorcycle rides, military career, bike trips across country, etc. I thank Sarah from the bottom of my heart for loving Jim so completely and giving him so much happiness during the last years of his life.

Diane
Previous Eulogy
Next Eulogy
---
West-Point.Org (WP-ORG), a 501(c)(3) non-profit organization, provides an online communications infrastructure that enable graduates, parents, and friends of the military academy to maintain and strengthen the associations that bind us together. We will provide this community any requested support, consistent with this purpose, as quickly and efficiently as possible. WP-ORG is funded by the generosity of member contributions. Our communication services are provided in cooperation with the AOG (independent of USMA) and are operated by volunteers serving the Long Gray Line. For questions or comments, please email us at feedback@west-point.org.