View a eulogy for James J. Walton, USMA '89, who passed away on June 21, 2008.
Other important links:
James J. Walton
West Point, 1989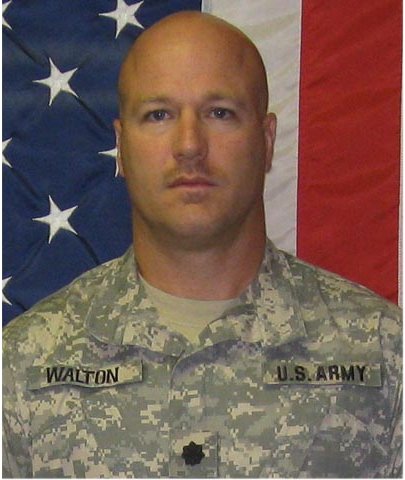 Be Thou At Peace
Posted by Mary Jane and Donald Walton on September 26, 2008:
"Grief is the price we pay for love.", Colin Murray Parkes.

Jim packed a lot of living into forty-one years, and he leaves behind wonderful memories for his family and friends. We celebrate his being and his accomplishments, as we mourn his passing.

As a child, he was challenged to keep up with three elder siblings. This he did, even at the price of frequent trips to the emergengy ward or pediatrician's office for injuries sustained in the process. His characteristic grin and the words "I'm the little fellow" endeared him to the nurses on duty.

He knew what he wanted to do in life at an early age (4th grade). He wanted to go to West Point and be a soldier. He had faith in two things: God and the institution known as the United States of America.He had self-confidence. He also had the ability to cause premature parental aging with some of his exploits and avocations, e.g., skydiving, motorcycling, long-distance bicycling, kayaking, etc. He was anything but boring. An excellent athlete, an adequate student (His automobile license number was "2ONGO"), and a genuinely good person, he contributed much to many in his short time.

Generous with his time, personal efforts and material possessions, Jim was a good and caring husband, son, sibling, uncle, friend and officer. A sense of humor, a puckish grin and a full commitment to the concepts of Duty-Honor-Country are legacies by which he will be remembered.

On the day he died he sent an E-mail home in which he proclaimed that he was happy being where he was "leading soldiers and training foreign countries to protect themselves", and he was fully committed to the mission.

We mourn, but we give tribute to "the life well-lived."

Well done, Son.
Mom and Dad

Previous Eulogy
Next Eulogy
---
West-Point.Org (WP-ORG), a 501(c)(3) non-profit organization, provides an online communications infrastructure that enable graduates, parents, and friends of the military academy to maintain and strengthen the associations that bind us together. We will provide this community any requested support, consistent with this purpose, as quickly and efficiently as possible. WP-ORG is funded by the generosity of member contributions. Our communication services are provided in cooperation with the AOG (independent of USMA) and are operated by volunteers serving the Long Gray Line. For questions or comments, please email us at feedback@west-point.org.