View a eulogy for Rebecca Jarabek, USMA '00, who passed away on September 14, 2006.
Other important links:
Rebecca Jarabek
West Point, 2000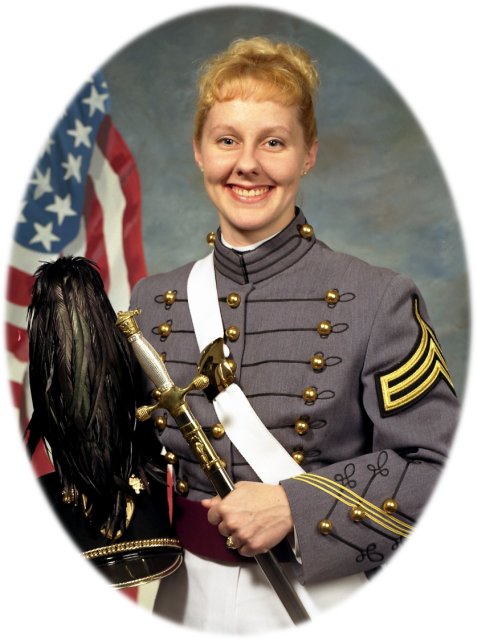 Be Thou At Peace
Posted by Jim Reid on June 29, 2010:
I didn't know what to say when I learned of CPT Jarabek's passing. I was in the 542nd, with her, and she was my PL. I am transitioning out of the Army (Retiring) now and I look back at those cherished souls, who I knew, who are gone, and I wonder what I, or anyone else, could have done differently, maybe, to change their course just long enough to keep them from the swinging door of the unknown.

I found a picture last week, in a box of photos, with myself, Jarabek, and another flight medic, during EFMB training we attended at CP Humphrey's. We were in our MOPP Suits, with black camo all over our faces taking a break from training to eat our MRE.

I still think of her, CPL Barnes (a Soldier of mine) and SFC Sprague (a Soldier I served with in Desert Storm), all were so very special, all were taken much to early, and all are so very missed.

I remember her as a very bright and yet whimsical young lady. A great person a heart, also carried the West Point Spirit with her in everything she did.

My sincerest condolences to her family. I know it has almost been 4 years, but I felt I should post a note.

v/r
Jim Reid
Previous Eulogy
Next Eulogy
---
West-Point.Org (WP-ORG), a 501(c)(3) non-profit organization, provides an online communications infrastructure that enable graduates, parents, and friends of the military academy to maintain and strengthen the associations that bind us together. We will provide this community any requested support, consistent with this purpose, as quickly and efficiently as possible. WP-ORG is funded by the generosity of member contributions. Our communication services are provided in cooperation with the AOG (independent of USMA) and are operated by volunteers serving the Long Gray Line. For questions or comments, please email us at feedback@west-point.org.