View a eulogy for Rebecca Jarabek, USMA '00, who passed away on September 14, 2006.
Other important links:
Rebecca Jarabek
West Point, 2000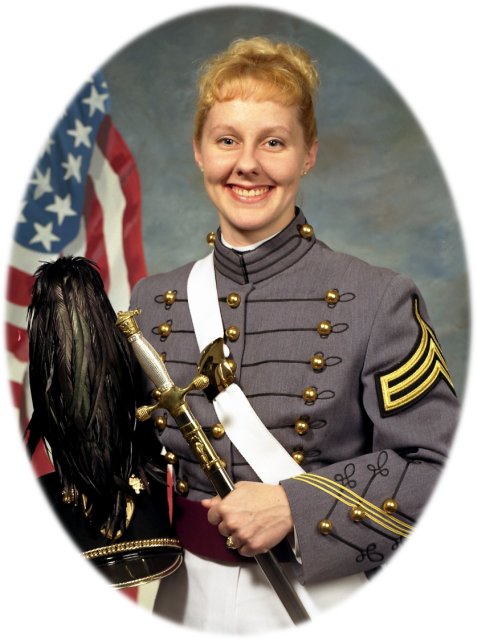 Be Thou At Peace
Posted by Sarah Fritts on September 24, 2006:
I have never me anyone like Becky and I never will again. She was unique and proud of it...which is what I loved about her. She was misunderstood, I know because I was one of those people at one time. Although she was in my company cow and firstie year, we hardly spoke a word. Becky was shy until you got to know her. Then she was a constant chatter box. It was like opening Pandora's box. There was no putting her back in and I never wanted to once she opened up.

We spent most of flight school/OBC together. We were stick buddies during instruments. We had a female flight instructor and despite the fact we didn't like our instructor we were secretly pleased three women were alone in an Army helicopter. As if we had somehow overcome the oppression of women in a male dominated Army. That was one of our favorite topics, along with the arts, fitness, and all the problems with the south.

I always considered Becky more intelligent, physically stronger, and more driven than me. She always left me during our runs. She recently completed a 100 mile bike ride and we did a sprint triathalon once. Becky was an explorer of places and people. She traveled extensively locally and internationally. Where I thought the south devoid of interesting things to do, Becky always proved me wrong. Leave it up to her to know where to find the Shakespeare plays, the thrift shops, and concerts.

I remember her laugh, her camero, her sense of style, and especially her fierce independence...and vulnerabilty.

I miss you Becky.

Previous Eulogy
Next Eulogy
---
West-Point.Org (WP-ORG), a 501(c)(3) non-profit organization, provides an online communications infrastructure that enable graduates, parents, and friends of the military academy to maintain and strengthen the associations that bind us together. We will provide this community any requested support, consistent with this purpose, as quickly and efficiently as possible. WP-ORG is funded by the generosity of member contributions. Our communication services are provided in cooperation with the AOG (independent of USMA) and are operated by volunteers serving the Long Gray Line. For questions or comments, please email us at feedback@west-point.org.