View a eulogy for Michael Robert Adams, USMA '02, who passed away on March 16, 2004.
Other important links:
Michael Robert Adams
West Point, 2002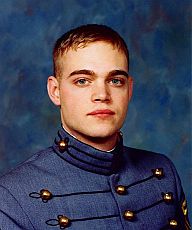 Be Thou At Peace
Posted by Ryan Simonson on March 20, 2004:
Mike and I were roomates for almost a year. One semester when he was CDT CSM Adams and held weekly meetings with his CDT BN CMD in order to make, as he said, "vain attempts to square him away." The second almost whole semester was when we were firsties. We were living high on life, leaning forward, and so ready to get out into the Army and prove our value. I am sure he more than proved his to all his soldiers before this tragic accident claimed his life.

Mike was a great friend, someone I always counted on to give me the honest truth, even if it would hurt. Mike knew, followed, and enforced all the rules, not because he enjoyed being harsh, but because he honestly believed that by doing so he would better himself and all those around him.

Mike, thank you, you have bettered me and I am very grateful to have had the honor of knowing you. I miss you now and I know I will for the rest of my life. Peace be onto you wherever you are now and thank you for being the wonderful man that you were here on Earth.


Previous Eulogy
Next Eulogy
---
West-Point.Org (WP-ORG), a 501(c)(3) non-profit organization, provides an online communications infrastructure that enable graduates, parents, and friends of the military academy to maintain and strengthen the associations that bind us together. We will provide this community any requested support, consistent with this purpose, as quickly and efficiently as possible. WP-ORG is funded by the generosity of member contributions. Our communication services are provided in cooperation with the AOG (independent of USMA) and are operated by volunteers serving the Long Gray Line. For questions or comments, please email us at feedback@west-point.org.