View a eulogy for Mark Andess Garner, USMA '02, who passed away on July 6, 2009.
Other important links:
Mark Andess Garner
West Point, 2002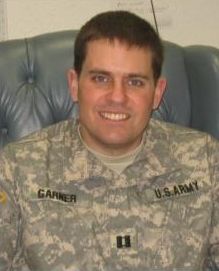 Be Thou At Peace
Posted by G. Travis Clifton on July 16, 2009:
Mark was one of my best friends. I have many fond memories of our time there together. We played together on one of the worst intramural rugby teams ever fielded at West Point. We lost every game and Mark ended up with a broken orbit but we had a great time together. I still remember Mark telling me about this girl from back home, Nickayla, that he began talking to regularly. We all gave him a hard time (mostly because we were jealous that he had a girlfriend which were hard to come at the time). After seeing Mark and Nickayla together (at 100th night), I knew Mark was not going to let this one get away. Mark applied his characteristic resolve to his relationship with Nickayla and won her over.

Mark was dedicated to his wife, his family, his friends, and America. He approached all challenges with quiet determination and a stoic but optimistic attitude.
Mark was very smart, funny, amicable, with an all around pleasant disposition but I have always felt that Mark's most defining quality was his service towards others. At West Point, we were constantly tested by receiving numerous "leadership challenges" in addition to our academic, military, and physical training work. When things were busy, it was difficult to find people to help. No matter what, Mark was always willing to help. He was always there for someone in need or for the greater good of the group. His generosity with his time was so great, that I would sometimes not ask him for help (even if I needed it) because I felt it was abusing his good nature.

It is hard to express what a tragic loss this is to those who did not know him. My prayers are with him and his family.

Previous Eulogy
Next Eulogy
---
West-Point.Org (WP-ORG), a 501(c)(3) non-profit organization, provides an online communications infrastructure that enable graduates, parents, and friends of the military academy to maintain and strengthen the associations that bind us together. We will provide this community any requested support, consistent with this purpose, as quickly and efficiently as possible. WP-ORG is funded by the generosity of member contributions. Our communication services are provided in cooperation with the AOG (independent of USMA) and are operated by volunteers serving the Long Gray Line. For questions or comments, please email us at feedback@west-point.org.