View a eulogy for Leonard Mallonee Cowherd III, USMA '03, who passed away on May 16, 2004.
Leonard Mallonee Cowherd III
West Point, 2003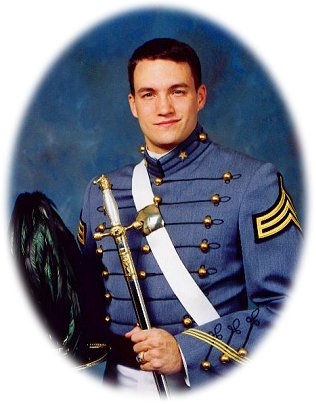 Be Thou At Peace
Posted by Shawn Fitzgerald on May 19, 2004:
How can we ever capture what a person meant to the world in a paragraph? We can't. Leonard and all the he stood for is captured in our hearts and minds forever. Lenny was one of the best people that this world has ever seen - intelligent, athletic, dependable, loyal beyond words, always positive, always strong, always energetic, and that is how he shall be remembered. Lenny was a Phantasm, a Trustee, a loving husband, a loyal son and brother. We only remember the good times - DD6, class weekends, Army-Navy games, the deestro, Yankee games, mulegates - because with Lenny, they were all good times. My heart goes out to all that knew and loved him, because if you knew Lenny, then it goes without saying that you loved him. The Phantasms have a saying; we've had it and lived by it for a few years, but never before now has it held so much meaning for any of us.

"Brotherhood's our rule that cannot bend. We can conquer anything together. All of us are bonded forever. If you die, I die. That's the way it is."

We love you and miss you, Lenny.
Previous Eulogy
Next Eulogy
---
West-Point.Org (WP-ORG), a 501(c)(3) non-profit organization, provides an online communications infrastructure that enable graduates, parents, and friends of the military academy to maintain and strengthen the associations that bind us together. We will provide this community any requested support, consistent with this purpose, as quickly and efficiently as possible. WP-ORG is funded by the generosity of member contributions. Our communication services are provided in cooperation with the AOG (independent of USMA) and are operated by volunteers serving the Long Gray Line. For questions or comments, please email us at feedback@west-point.org.