View a eulogy for Peter T. Heuchling, USMA '06, who passed away on August 21, 2003.
Other important links:
Peter T. Heuchling
West Point, 2006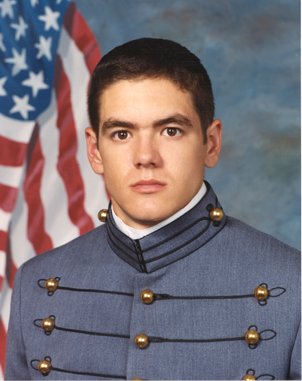 Be Thou At Peace
Posted by Kenneth E. Lang '56 on August 31, 2003:
The following remarks are those of Gerald Richardson '56, one of 3 members of our class in attendance at the Memorial Service. This is his report back to the USMA1956 class forum, posted here by the moderator of that forum.

It was a warm (some might say hot) sunny afternoon yesterday, 26
August 2003, when the mourners began to arrive at the Cadet Chapel
to pay their last respects to Cadet Peter "Todd" Heuchling of the
USMA Class of 2006. As I walked down the aisle, escorted by a
yearling cadet, I could not help remembering that only a few days
earlier Todd Heuchling stood in the yearling ranks at Camp Buckner
as Mike Conrad, on behalf of the Class of 1956, presented the class
flag to our adopted sons and daughters of the Class of 2006.
The Cadet Chapel seemed filled to capacity with Todd's classmates, a
large number of family members and USMA Staff & Faculty to include
the Supe, Com and Dean. Farrell Patrick, Doris and Bert Tucker,
Barby and I were the representatives from the Class of 1956. It was
an honor to be present and a witness to such a solemn and moving
memorial service.
There were flowers on the alter provided by the Cadet Chapel. On
the floor, immediately in front of the alter was the beautiful
display of flowers from our Class with the notation "In Memory of
Peter Todd Heuchling from the USMA Class of 1956." These were the
only other flowers present. I certainly was proud that our entire
Class was honoring Todd in such a manner while at the same time
further cementing the bond that we are striving to develop with the
Class of 2006. In front of our flower display was a table
containing a photo of Todd in cadet full dress and his tar bucket
hat.
Eulogies by Todd's Tactical Officer and several classmates pointed
out that Todd was an outstanding cadet in all areas of endeavor. He
finished his plebe year as a star man, had demonstrated exceptional
leadership qualities as a plebe and as a yearling at Camp Buckner,
and was an excellent athlete. The eulogy which brought tears to the
eyes of all present came from Todd's father. Flanked by two
relatives, Robert Heuchling, with a broken heart, told of how his
son had made it his goal to attend West Point from a very early age
on and that his son's whole life had been devoted to achieving that
goal. He noted how proud he was of Todd and the success he had
attained during his plebe year and at Camp Buckner. He mentioned
that Todd had called home about the success he had leading his
Buckner Company to win the Sandhurst Competition and that the
victory day had been the happiest of his life. It took a great deal
of courage for Todd's father to get up and speak about his son under
such circumstances. I personally would not have been able to do
such a thing had the deceased been one of my sons.
Following the Service I talked to Todd's roommate about the
circumstances surrounding Todd's death. It seems that Todd was
participating in a time trial for the Cadet Marathon Team. He was
well out in front when, about 100 yards from the finish line, he
collapsed. He was rushed to the hospital where he died. Todd was
19 years old. The local newspaper indicated that an autopsy was
being performed, but to date there has not been any new information.

Previous Eulogy
Next Eulogy
---
West-Point.Org (WP-ORG), a 501(c)(3) non-profit organization, provides an online communications infrastructure that enable graduates, parents, and friends of the military academy to maintain and strengthen the associations that bind us together. We will provide this community any requested support, consistent with this purpose, as quickly and efficiently as possible. WP-ORG is funded by the generosity of member contributions. Our communication services are provided in cooperation with the AOG (independent of USMA) and are operated by volunteers serving the Long Gray Line. For questions or comments, please email us at feedback@west-point.org.