Click on any eulogy link to view that eulogy.
Click on "Post a new eulogy" to add your own eulogy to Peter.
Other important links:
Peter T. Heuchling
West Point, 2006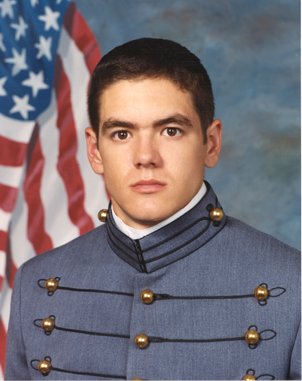 Be Thou At Peace
To date, 74 eulogies have been posted for Peter. Post a new eulogy to share some memories and thoughts that you may have. Additional biographical information may be found on the personal home page.
| Subject | Name | Date Posted |
| --- | --- | --- |
| Personal Eulogy | Pedro J. Maldonado | November 30, 2005 |
| Personal Eulogy | nancy graham, '04 mom | November 22, 2005 |
| Personal Eulogy | Mike Guardia | October 25, 2003 |
| Personal Eulogy | Joseph R. Davis | September 12, 2003 |
| Taps Vigil Poem | G-2 '07 | September 11, 2003 |
| Personal Eulogy | Vivian Calhoun | September 9, 2003 |
| Todd's Memorial Service | Kenneth E. Lang '56 | August 31, 2003 |
| Personal Eulogy | Ken and Teresa A Crevier | August 28, 2003 |
| Personal Eulogy | Shirley Olivieri-Mathies | August 27, 2003 |
| Personal Eulogy | Mary Anne and Ron Watts | August 27, 2003 |
| Personal Eulogy | Chris Moore '06 | August 27, 2003 |
| Personal Eulogy | Hans and Vera Beck | August 27, 2003 |
| Personal Eulogy | Pamela & Dennis Desilets | August 27, 2003 |
| Personal Eulogy | Webber | August 27, 2003 |
| Personal Eulogy | Roger and Dianna Mathews | August 27, 2003 |
| Personal Eulogy | Mike and Suzanne Riccitiello | August 27, 2003 |
| Personal Eulogy | Aida and Angel Cases | August 27, 2003 |
| Personal Eulogy | Ron and Lynette Pfannenstiel | August 27, 2003 |
| Personal Eulogy | Clorinda and Bill Schenck / York, ME | August 27, 2003 |
| Personal Eulogy | Michael L. Jackson (USMA'85) | August 27, 2003 |
| Personal Eulogy | Jana Hublick | August 26, 2003 |
| Personal Eulogy | Peggy Fifield | August 26, 2003 |
| Personal Eulogy | Robert & Irene Bechard | August 26, 2003 |
| Personal Eulogy | Mike and Carol Rosenberg | August 26, 2003 |
| Personal Eulogy | Luanne & Steve Greenheck | August 26, 2003 |
| Personal Eulogy | Burnedette Rose Hill | August 25, 2003 |
| Personal Eulogy | Rob and Stacey McCully | August 25, 2003 |
| Personal Eulogy | Tari Gratton | August 25, 2003 |
| Personal Eulogy | Tari Gratton | August 25, 2003 |
| Personal Eulogy | Damon & Jana Walsh | August 25, 2003 |
| Personal Eulogy | Chris Blackburn | August 25, 2003 |
| Personal Eulogy | Cody Pittman | August 25, 2003 |
| Personal Eulogy | Tony & Annette Jones | August 25, 2003 |
| Personal Eulogy | Dottie Smith | August 25, 2003 |
| Personal Eulogy | James and Karla Webber | August 25, 2003 |
| Personal Eulogy | Michael & Sarah Collins | August 25, 2003 |
| Personal Eulogy | Daniel Krueger | August 25, 2003 |
| Personal Eulogy | Charles and Mary Crigger | August 25, 2003 |
| Personal Eulogy | Tony & Annette Jones | August 25, 2003 |
| Personal Eulogy | Elizabeth Perkins | August 25, 2003 |
| Personal Eulogy | USS DECATUR (DDG-73) WARDROOM | August 25, 2003 |
| Personal Eulogy | Jude Onwuanumkpe | August 24, 2003 |
| Personal Eulogy | John & Mary Francis | August 24, 2003 |
| Personal Eulogy | Dan Parker | August 24, 2003 |
| Personal Eulogy | Ed and Maura Shaffer | August 24, 2003 |
| Personal Eulogy | Lindsey McNamara | August 24, 2003 |
| Personal Eulogy | Glenn and Susan Hurley | August 24, 2003 |
| Personal Eulogy | Jeff Hoyle | August 24, 2003 |
| Personal Eulogy | Patrick Brundage | August 24, 2003 |
| Personal Eulogy | B-2, '06 | August 24, 2003 |
| Personal Eulogy | Wayne & Barbara Bernasconi | August 24, 2003 |
| Personal Eulogy | Steve and Anita Schweitzer | August 24, 2003 |
| Personal Eulogy | Sue & Chester Delvaux | August 24, 2003 |
| Personal Eulogy | David Webb | August 24, 2003 |
| Personal Eulogy | Vince and Pat Griffin | August 24, 2003 |
| Personal Eulogy | Jim & Nancy Carlson | August 24, 2003 |
| Personal Eulogy | Diane and Vern Pritchard | August 24, 2003 |
| Personal Eulogy | Steve & Teresa Sanders | August 24, 2003 |
| Personal Eulogy | Rick & Sue Due | August 24, 2003 |
| Personal Eulogy | Christian and Jennifer Ellinger | August 23, 2003 |
| Personal Eulogy | Benny and Tammy Davis | August 23, 2003 |
| Personal Eulogy | Anthony and Gina Fuscellaro | August 23, 2003 |
| Personal Eulogy | Larry and Joyce Zimmerman | August 23, 2003 |
| Personal Eulogy | Jeanne and Charles Powers | August 23, 2003 |
| Personal Eulogy | Doug & Rita Holman | August 23, 2003 |
| Personal Eulogy | Sharon & Randy Rumbelow | August 23, 2003 |
| Personal Eulogy | Bob & Bette Harriman | August 23, 2003 |
| Personal Eulogy | Jann and Dan Sheeran | August 23, 2003 |
| Personal Eulogy | Nan Pyle | August 23, 2003 |
| Personal Eulogy | Steve and Jan Brooks | August 23, 2003 |
| Personal Eulogy | Reese and Diane Burke | August 23, 2003 |
| Personal Eulogy | Don and Shelley Filer | August 23, 2003 |
| Personal Eulogy | Dian Welle | August 23, 2003 |
| Personal Eulogy | Ernie and Helen Montagliani | August 23, 2003 |