View a eulogy for Daniel Edgar Speilman, USMA '65, who passed away on July 9, 2019.
Other important links:
Daniel Edgar Speilman
West Point, 1965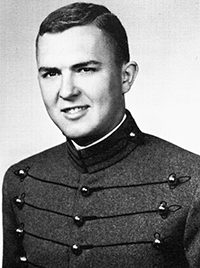 Be Thou At Peace
Posted by Joe Barkley on July 14, 2019:
Daniel Edgar Spelman; USMA 1965
Friend; Classmate Company mate (E-2); Teammate in High school (Woodrow Wilson High School, Beckley, WVA)

I have known Dan (Danny) Speilman since 1958. I was a junior at Woodrow Wilson High School in Beckley, WVA. I played football, was on the wrestling team and the track team. Dan was a sophomore, a year behind me, playing quarterback on the JV football team and on the wrestling and track teams too.

I sort of know him earlier or was somehow aware of him in the Junior High school and when I was in a sophomore in high school; but it would be a stretch to say I really knew him before the end of the summer of 1958 and the beginning of football practice.

I, along with Rich Callaway, Russ Wall, and John Shumate; the tackles and guards on the varsity defensive line took great delight in "pounding" Dan into the ground as he directed the plays of the JV team against our line. Dan would get up, look at us, look at his line and jog back to the huddle to call the next play, or run the next play the coach had given him. This was repeated through the football seasons of 1958 and 1959.

Dan was always tough. No matter how many times we tackled him; he got up, looked both ways and ran the next play.
He did become the starting quarter back in his senior year at WWHS; the 1960 season.

While I was "on" the wrestling and track teams, Dan was really a part of the varsity teams in those two sports. He developed in to a very good athlete.

But his "toughness" and still being a "really nice kid" is what I remember most.

In December of 1961, at a Plebe Christmas Hop, I was completely surprised to find Dan there, at that time, with a young lady who had happened to live on the same street I did back in Beckley. I had no idea that Dan had gone to West Point and we were in the same class.

In "Cow year" Dan and I found ourselves together in E-2, but in different division stairwells. Firstie year we actually lived across the hall from one and other and he was my "boss" for a detail when he was the company XO. We were both surprised that two "boys" from Beckley and WWHS were in E-2.

As happens too often everyone went separate ways and sort of fell out of contact. Then at the 20th Reunion (I think) someone grabbed me from behind in a big tight bear hug, yelling "No one from West Virginia is allowed here." And Dan and I just collapsed laughing.

Again, we sort of fell out of contact and then I learned that he retired and lived in Lewisburg, WVA, but had become ill. I was able to call. We talked at some length about his illness, and his recovering.

I called about twice a year just to work on staying in touch. With each call I was learning that Dan's physical condition was deteriorating as he had developed diabetes too.

About that time, I too had been involved in a serious accident where I had broken my thigh and had some complex metal work holding it together. I had not been progressing in the recovery very well.

In a phone call with Dan he was telling me that he had received two new Prosthesis for his feet and he had worked up to walking a mile in the halls. I was surprised, and told him that I admired that. I immediately began to work on my own recovery with more diligence, as he had inspired me to do better with his tenacity.

We all know Dan's condition continued to deteriorate. He and I talked about some missions in the "3/4 CAV" and being out front of everything and no one really knowing where he was; and the "Agent Orange" dripping off the tracks; and other "war stories" too. And we talked about Beckley, and football, the snow and the kids too.

Even as things seemed to be deteriorating, I marveled at Dan's toughness and his pressing on.

We all know too, that he was able to do that because he had excellent care and support from his wife, Nancy, and his family.

It is truly said of Dan Speilman, "Well Done! Be thou at Peace!"




Previous Eulogy
Next Eulogy
---
West-Point.Org (WP-ORG), a 501(c)(3) non-profit organization, provides an online communications infrastructure that enable graduates, parents, and friends of the military academy to maintain and strengthen the associations that bind us together. We will provide this community any requested support, consistent with this purpose, as quickly and efficiently as possible. WP-ORG is funded by the generosity of member contributions. Our communication services are provided in cooperation with the AOG (independent of USMA) and are operated by volunteers serving the Long Gray Line. For questions or comments, please email us at feedback@west-point.org.