Other important links:
Henry Martin Dermody
West Point, 1965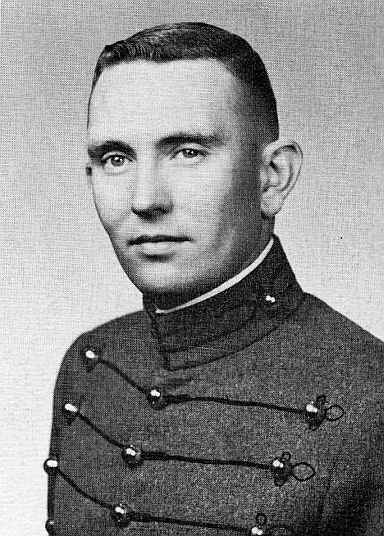 Be Thou At Peace
Posted by Clair Gill on December 2, 2012:
Harry....Harry. I know you are looking down on us. When you planned this day in ever-loving detail, you never told us that it would be so hard. But you did want us to have a good time, so let's get on with the celebration of your life and time with us.

Harry knew that his time on Earth was limited -- finitely -- from the day of his brother Fran's passing away so quickly, and when he learned that he had the same fatal disease.

In vintage Harry fashion, he went to work to extract the very most he could from his limited time. His priorities seemed to be:

.Taking care of the love of his life, Kay, and his girls, along with his extended family
.Helping his friends and West Point Classmates wherever they had needs
.Supporting his Class, the Military Academy, the Army and his Community, and
.Adjusting to the conditions of his declining health

Harry developed and executed the mother of all transition plans as he concluded business, met with literally hundreds of his friends, spent time on Cape Cod, and got ready for the hereafter.

BIOGRAPHY

He was born in Pinehurst, NC, at the end of the Great Depression (1939) where his "little old" Irish father worked tending bar, and his "hard as nails" Polish mother bore and reared him, along with his brother and three sisters.

The family moved to Manchester, MA where Harry became a lifelong "Bostonian," and acquired the proper brogue of the culture where he grew up. This also shaped his political leanings, of which we will say more later.

He enlisted in the Army as a Private in 1958, as a stepping-stone to bigger/better things that his family could not afford. Encouraged by his superiors, Harry applied for and was accepted into the Prep School and West Point in 1960. After a stutter step with academics (he became a turnback), he joined the Class of 1965 where his leadership abilities were recognized when he was selected to be a Cadet Battalion Commander in his First Class year.

In November of 1965, Harry married Kay Hurley, daughter of a prominent Boston lawyer, after a Cinderella-esque courtship that began a year earlier when he was fitting her for boots at the West Point ski slope. Together, they produced a loving family with two wonderful daughters, Laura and Joanna, and their "adopted" Gwendolyn. Quiet and demure, and ever at Harry's side looking out for him, and adding much softness that he never could display, Kay is a sure bet for sainthood.

Harry was commissioned in the Army Signal Corps in 1965, and became an Airborne/Ranger. After a very short tour in CONUS, Harry shipped to Vietnam where he served in the 196th Inf Bde/Americal Division as a communications officer, and then as an Infantry Company Commander. Improving on his academic prowess, he earned an MBA from the Wharton School, U/Penn, and then transferred to the Army Ordnance Corps as a logistics officer. He did troop time as a battalion XO and Commander, and began a series of high-level tours with the Army Materiel Command where he wielded enormous influence. After brigade command at Aberdeen Proving Grounds, Harry and the family moved to Germany where he became the Deputy Commander of the III Corps Support Command that deployed and ran the logistics for Operation Desert Shield/Desert Storm. When Harry spoke proudly of his military service, it was never in context of his accomplishments -- of which I am sure there were many -- but much more so of the soldiers and officers with whom he served and led.

"The Colonel" Dermody retired in 1993 with a full 30 years of distinguished service to his country. Harry and Kay located waterfront property in this lovely little town of Centreville, MD, and had their home built to their specs. Harry enmeshed himself in local politics (but never ran for office), financial support of the locality and his Church, and support to his West Point Class and Alma Mater.

VINTAGE HARRY

Harry enjoyed his role as the "old man" of the Class of 1965. He also had the reputation of being a legitimate curmudgeon. This provided him with many excuses to lobby for extra strokes on the golf course and to get the final word on ending discussions/arguments in his favor. Being Irish and coming from Boston put him on the other side of most of his Classmates, politically speaking and with no uncertain terms. Additionally, his hearing impairment often became a crutch for him to end arguments on his terms as he averred that he simply could not hear or understand the other side--case closed. He absorbed (and loved taking) many, many pot shots from his friends, and relished in slapping them back and having the final say.

Harry was always "going ahead with" something, or in the past tense, he "went ahead and...." did whatever. This idiosyncrasy of speech says a lot about the man -- constantly looking ahead and not paying much attention to the past or his back. He did not tolerate fools, nor could he fathom anything but working toward a definable goal. Also known for speaking plainly and bluntly, bureaucrats, nattering nabobs and pedants often fell to the wayside as Harry focused on positive outcomes, and drove decisions and progress. Always feisty, good natured and cantankerous, Harry's outward demeanor masked a huge heart that we felt and respected.

As many of you know, Harry was the heartbeat of the Class of 1965, having led several very successful fund raising campaigns for the Academy, having served on numerous committees, boards and task forces for the Association of Graduates, and having put in place policies and procedures to govern and lead Class activities. I have heard from many outside our Class about how we are admired and respected for our ability to get things done in support of the Academy, to look out and care for each other and our widows/NOK, and to communicate amongst ourselves. I can assure you that these accolades are largely attributable to Harry's work and deep love for his Class and Alma Mater. He taught the rest of us how to do it -- and we will carry on in his memory.

As the Class approaches its 50th Reunion, Harry led us in our final funding campaign to provide support to several projects of great importance to the Superintendent, the Dean and the AOG. Well, for those of you who have never done it, fund raising takes a lot of organization and work, and is not for the faint hearted. And the last 20 percent is the hardest to get. At a conference call meeting just last week (that Harry "attended"), it was reported by one of the regional lieutenants that he was having trouble getting 6 or 7 individuals to cooperate. After thinking about it, the lieutenant went back to these persons with the threat that, if they did not become more cooperative, he was going to turn them over to Harry. Long story short, they capitulated, and that was going to become the MO for the other regions. I'm not sure, but suspect we will still be able to get some more mileage out of Harry, using this ploy.

A mutual friend posted the following story on our Class Eulogy web page, relating to our semi-annual Class golf outings. "But the real fun was the hilarious banter that would ensue at the 19th hole after a few shots of Irish Whiskey. Classmates would tell him to quit complaining about his game; he should expect to lose some accuracy and distance because he was so much older than the rest of us. That usually elicited a short two-word response that I will leave to your imagination, followed by "My friend."

Harry was well known for his special affection for a glass of good Irish whiskey. The cap to a long day--working, golfing, or whatever--usually became a drink of Irish - one, two or three fingers, depending on the activity or level of frustration. I am certain he took a bottle with him and will hold up his heavenly glass as we hold up ours.

The Dermody clan has a long history of attending Army vs. Navy football games with the Class. A key element of each of these games was the late night/early am card games, with Harry leading the banter, passing back and forth insults and stories -- expletives deleted -- as he amassed his small fortunes in nickels, dimes and quarters. We will be sure to save a seat at the table for him next weekend in Philadelphia.

CLOSING

We all feel the loss of something great in Harry's moving on to the next level where we hope he will be "going ahead" and getting things ready for us when our time comes. There will never be another Harry, but we who knew him carry a part of him in our very being. If he could speak to us here today, we would probably hear him say again, "Bless you, my son."

Here's to you, Harry. Well done.
Previous Eulogy
Next Eulogy