View a eulogy for John Alexander Hottell, USMA '64, who passed away on July 7, 1970.
Other important links:
John Alexander Hottell
West Point, 1964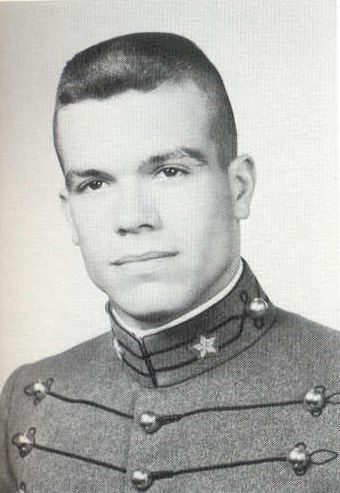 Be Thou At Peace
Posted by Les Roseberry on January 25, 2001:
I served with Capt. Hottell on June 2, 1969. I was his battalion RTO. This was the date of a rather devistating fire fight along a beautiful river bank, and apparrently the day before Capt. Hottell wrote his obituary. We were working with A 1/8, who's company commander was a CMH awardee, Capt. Marm. We made a rather large tacticle error on June 1st by finding a bunker complex along the river and then pulling out of it to set up our night location(A company's). Our company was ferried across the river in a big aluminum Navy boat after we had tried to cross to an island on which we had spotted some NVA. The poor sailor that ferried us and got hauled in under a Huey sure looked like he was scared and out of place. I can't blame him much, he didn't know us and he probably didn't have any idea how far a bunch of dirty grunts would go to protect him. He was in good hands. Althought the day before when we tried to cross to the island in fast current a large part of a platoon was swept away. They lost their gear and weapons as they saved themselves from the river that was trying to take them down. It looked like a seen out a John Wayne movie, with a smoke screen billowing down the river as a huey flew in and picked our lead man out of the river with one of his skids. Thank God the Gooks had left the island or they could have used us for a turkey shoot. Anyhow, on the 2nd A 1/8 start into bunker complex first thing in the morning, all hell broke loose. Charlie had moved in during the night and was waiting for them. The fighting didn't end until the early hours of the next morning. By then between the two companies and a downed chopper we had a combined count of over fifty dead or wounded. We paid dearly for that day's work. Capt. Hottell was awarded the Silver Star for his leadership that day. But it must have set him to thinking just how quickly life can end. I must admit I was surprised to see his self written obituary thirty-one years later. He must have set right next to me that night and written it. We would talk about most everything, football, our families, all the stuff grunts hold dear, but he never mentioned that letter. I was always impressed with him. As grunts we didn't get clean clothes often but he always had that West Point look about him, aviator sunglasses, leather gloves and a riding crop(yes,in the Jungle). I never new about his death until 1999. I had been looking for him on TV during Desert Storm, I knew he was one of the brightest and best, I thought surely he would be one of the Generals leading our troups to victory. I can't express how shaken I was when I found out he had been dead for 29 years. He was the finest officer I ever served and who knows how much he could have done for our country had he lived. I can not write anything that says so much about duty, honor, and country, as his obituary has done, I can only be thankful for my time I served with him.
Previous Eulogy
Next Eulogy
---
West-Point.Org (WP-ORG), a 501(c)(3) non-profit organization, provides an online communications infrastructure that enable graduates, parents, and friends of the military academy to maintain and strengthen the associations that bind us together. We will provide this community any requested support, consistent with this purpose, as quickly and efficiently as possible. WP-ORG is funded by the generosity of member contributions. Our communication services are provided in cooperation with the AOG (independent of USMA) and are operated by volunteers serving the Long Gray Line. For questions or comments, please email us at feedback@west-point.org.