Other important links:
Gerald Curtis Brown
West Point, 1964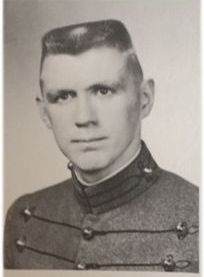 Be Thou At Peace
Posted by Debbie Brown on August 7, 2006:
Here is an obituary we've written. I wanted to post this on the West Point eulogy site as well. -- Debbie (Jed's daughter)

Gerald (Jed) Curtis Brown, a career U.S. Army officer and civil engineer, died on Friday, 28 July 2006 in Walter Reed Army Hospital in Washington D.C. He is survived by his beloved wife, Jean Jennings Brown, of Falls Church, VA; daughters Debbie of St. Paul, MN and Susie of Perth, Australia; and by a wonderful circle of family and friends.

Jed was born on 10 August 1942 in Worcester, MA to Victor C. and Ethel Dean Brown. After his father returned from WWII Army service in Europe, he purchased the family farm in New Sharon, Maine and moved the family there. This was monumental in Jed?s life; the state shaped his character and love for nature. Maine was always his home.

The eldest of nine children, Jed excelled in academics and athletics while working hard to help on the farm. Jed aspired to attend college and learn more about the world, but the family lacked funds for higher education. Fortunately Jed was accepted by the U.S. Military Academy; at age 17 he departed to enter the Class of 1964 at West Point. He worked and played hard those four years, thoroughly enjoying his studies and fellow classmates. In June 1964, Jed was commissioned as an officer in the Corps of Engineers, married Adelaide (Ann) Forshey, and headed off to U.S. Army Airborne and Ranger schools. His initial assignments were as platoon leader, battalion staff officer and company commander in Munich, Germany. The latter assignment was cut short when he was mobilized to serve 14 months with the 27th Engineer Battalion in Vietnam.

Upon returning to the U.S. in 1967, Jed earned a master?s degree in civil engineering at the University of Illinois, Urbana-Champaign, then immediately served a second combat tour in Vietnam with the 1st Cavalry Division. Subsequent assignments included Ft. Sam Houston, TX; Ft. Leavenworth, KS; instructing military history at West Point; command of the 82nd Engineer Battalion in Bamberg, Germany; the U.S. Army War College in Carlisle, PA; Ft. Belvoir, VA; command of the Army Corps of Engineers Baltimore District; Ft. Monroe, VA; studies at the Harvard University Center for International Affairs; command of the Army Corps of Engineers North Atlantic Division in New York City; and two assignments in the Pentagon. He was promoted to brigadier general in 1989. During his career Jed worked extensively with government agencies at the federal, state and local levels, including the U.S. Congress, Environmental Protection Agency, Department of Justice, Department of the Interior, Federal Emergency Management Agency and the Federal Highway Administration. After thirty years of military service, he retired from active duty in June 1994.

After Army retirement, Jed continued working and enjoyed positions at Sverdrup Corporation (later Jacobs Engineering Group Inc.) and Parsons Brinckerhoff, Inc. He married Jean Jennings in August 1998 and enjoyed the years he had with her immensely. In December 2001 they moved to Geneva, IL for Jed?s position as associate director of operations at Fermi National Accelerator Lab, a job he loved and often joked that he would have done without pay. When not working, Jean and Jed built a home on the Maine coast, went to the gym daily, traveled, visited museums and cultural events, spent time with family and friends, stayed active in several communities, read and learned continuously. Jed was a generous person, he loved life, exuded energy and enthusiasm, and he strove to live well. He will be missed.

Jed will be remembered in a memorial service at 8:30 AM on 25 September 2006 at the Ft. Meyer chapel in Arlington, VA and will be interred immediately thereafter in Arlington National Cemetery. A visitation will be held the evening prior from 6-9 PM at Murphy Funeral Home in Falls Church, VA. In lieu of flowers, donations to Friends of the Fort Point State Park will be gratefully accepted. Jed loved this lighthouse and park near his home in Stockton Springs, Maine and the charitable organization is being created to fund its restoration and upkeep.

Previous Eulogy
Next Eulogy
---
West-Point.Org (WP-ORG), a 501(c)(3) non-profit organization, provides an online communications infrastructure that enable graduates, parents, and friends of the military academy to maintain and strengthen the associations that bind us together. We will provide this community any requested support, consistent with this purpose, as quickly and efficiently as possible. WP-ORG is funded by the generosity of member contributions. Our communication services are provided in cooperation with the AOG (independent of USMA) and are operated by volunteers serving the Long Gray Line. For questions or comments, please email us at feedback@west-point.org.