View a eulogy for James Ewell Echols, USMA '65, who passed away on June 27, 1970.
Other important links:
James Ewell Echols
West Point, 1965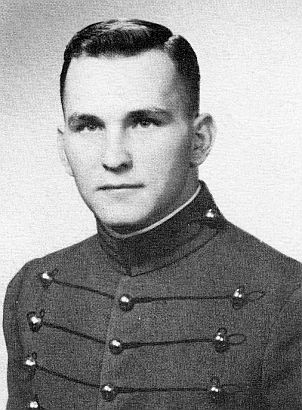 Be Thou At Peace
Posted by Step Tyner on April 12, 2006:
Jim and I were pretty close as EM at Fort Belvoir, living across the spit-shined aisle from each other as we did. Though an Army brat, his diction was pure Okeefenokee, or so it seemed to me, and his gravelly bass vice added to the aura of mystery: "What is this guy saying?"

He soon proved himself to be both intelligent and resourceful, excellent qualities in an ally ... and I would hate to have had him as an enemy. Jim was little but he was tough, ready to do whatever was required to accomplish the mission. Though I saw him but seldom at WP and never once we were commissioned, I am persuaded that he retained those qualities as an officer. I know that many non-grad officers have praised him to me, and a good friend of mine, ROTC with a Medal of Honor from Vietnam, still gets tears in his eyes as he reminisces about good times spent with Jim and Smokey.

What endeared Jim to me (and many others, from all backgrounds and ethnicities) was his robust sense of humor. The atmosphere at the USMA Prep School was stultifying, relieved only by weekends in nearby DC -- Bassin's, the Rocket Room, the Hayloft, the Brickskellar ... all but the latter in turn porn theaters and yuppie lofts, but then the center of our little universe. Jim was a splendid companion in our outings, and his excellent instincts got us out of a few places just before the solid waste hit the air agitating device. [I don't know how he knew those guys were bikers, and packing heat.]

I cannot but believe that Jim's penchant for blowing out the cobwebs stood him in good stead at our beloved WP, and I envy those who had closer association with him then, particularly during plebe year. I do recall standing in someone's room in East Barracks one night during firstie year, and glancing out the window just in time to see Jim rappelling from the roof to the ground. It may be the romantic exaggeration of an old soldier speaking here, but I believe that he was in his underwear.

You've been gone a long time, old friend, but you left memories that will outlast all of us.
Previous Eulogy
Next Eulogy
---
West-Point.Org (WP-ORG), a 501(c)(3) non-profit organization, provides an online communications infrastructure that enable graduates, parents, and friends of the military academy to maintain and strengthen the associations that bind us together. We will provide this community any requested support, consistent with this purpose, as quickly and efficiently as possible. WP-ORG is funded by the generosity of member contributions. Our communication services are provided in cooperation with the AOG (independent of USMA) and are operated by volunteers serving the Long Gray Line. For questions or comments, please email us at feedback@west-point.org.