View a eulogy for Martin Hans Cesana, USMA '89, who passed away on May 8, 1996.
Other important links:
Martin Hans Cesana
West Point, 1989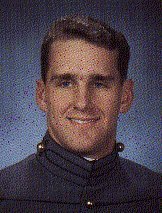 Be Thou At Peace
Posted by Ginny Lindsay on March 22, 2006:
Playing Poker with a Legend
A Tribute to Marty Cesana


It was one night in February, 2006. I was visiting my brother Alvin Lindsay in Colorado Springs. Al recently took a job with ?The Acropolis Group? - a land development group headed up by a fellow West Point graduate, Chad Dalton. Al came from a high stress patent law position in California to join forces with Chad in ?selling the dream? to investors. ?It?s all about dirt,? Al kept saying. What ever it was, I believed in the dream that they were selling! I would have bought into it that night if I was an investor. Al and Chad seemed to have that effect on people.

Al had Chad over for dinner and a friendly game of Poker. I had only briefly met Chad on two occasions in the past and I looked forward to getting to know my brothers new partner.

The Poker game became pretty serious. We had been talking it up for the two previous days. My image was quickly shot when I went out in an all-in against Chad in the third hand of the night with a cold bluff. He had two queens - bad time to bluff. I felt pretty stupid after bragging about my poker talents. In my defense, I said that I was a gutsy player and I liked to feel out my competition. I said that I liked to play like Gus Hansen or Daniel Negreanu, two of ?the greatest poker legends of all time.? Al argued that he liked Phil Helmuth even though Phil was a big mouth who talked a lot of trash. We laughed and argued briefly about what ?poker legends? we worshiped.

With dinner we had a few drinks and after dinner we had a few more drinks. As poker progressed, we drank more and became very serious about the game. We began to reminisce about the old days and mutual friends. Marty Cesana almost immediately came into the discussion. Al and Chad were in the same company with Marty at West Point. I was fortunate enough to have met Marty through Al when I was at Ithaca College in New York. I really got to know Marty when I lived in Germany for two years. Al and Marty were stationed together in Karlsrhue, Germany.

As we talked about the ?Marty days?, the cards stopped being dealt. We stopped raising and re-raising each other. Marty had joined our poker table and his presence was clearly felt. You could almost hear his laughter. We fought for turns to tell our numerous stories about our dear friend Marty, or Hans, as we liked to call him. ?Ohhho Marty,? we used to say. There were numerous stories about West Point. Marty was the strong one who kept everyone going. Chad and Al talked a lot about Plebe year.



Chad recalled:

?It was one of the away football weekends plebe year and there was a dance for us plebes. My old girlfriend came out to visit and I rented a car. I was in a bad way because lots of things were revealed by the old girlfriend. After I dropped of the car in Newburgh, Hans and his parents picked me up. It was good to get in that car!. He was once again there for me!?

?I stood next to him everyday in Beast and he was always mad that I was a hair taller and therefore the first guy in line. There were times in Beast when I got him through the day and times when he got me through. When I received my ?stars? the last week of senior year, he was the one who brought them to me in my room. When I opened the door he smacked me upside the head and had a few choice words for me. There was no one more perfect than Marty to bring me my stars (stars are the little designations that let people know you're in the top 5% academically). I miss the old man. He made the place tolerable.?

Al spoke about the last time he saw Marty:

?Looking back on it, I wish I could have known that it would be the last time I would see Hans. What would I have said differently? I would have made it a point to remember more about our conversation. We were both at Fort Irwin together. We were going through our national training center rotation. In between our missions we made it a point to find each other out in the field. We parked our Humvees side by side and had a great ?Marty? conversation. We leaned against our vehicles looking into the night sky. We talked about life in general. Marty gave me his normal pep talk. He knew that I could be doing better than I was and he knew that I didn?t really care. No one cared like Marty did. That night we talked for a long time. Marty was really happy and at peace with himself. He was doing exactly what he wanted to be doing. I went on to Fort Stewart where I eventually finished my company command. Marty left us all a few weeks later after the tragic accident in the field.?

My recollection that night:

I remember Marty in so many ways. Mostly I remember his beautiful crooked smile and how he always told it like it was ? even if you did not want to hear it. Marty was the truth - in every way. Marty was the best of the best - the best friend, the best son, the best brother, the best officer. I felt proud to know Marty, we all did.

I remember when Marty took me to Switzerland to meet his relatives. I was able to see ?Marty?s world.? He always talked about his ancestors and how wonderful Switzerland was. He spoke the language and laughed with his Great Aunts. They were the cutest women I had ever met. They kept pinching my cheeks and Marty laughed because I had no idea what they were saying. I saw a different side of Marty that weekend. He talked a lot more than normal. He was really in his element. We ate Swiss chocolate and drank wine together as he told me many wonderful stories.

Everyone wanted to be like Marty. Marty did not typically say a lot but what he did say was important. For a man of few words, it really meant the world to me when he actually told me that he loved me. Maybe it was the wine talking. I believe that Marty did love me, in the purest sense, in the same way he loved his sister Jesse. He always told me that I reminded him of his sister. That was a big compliment because I think the world of Jesse. I met her at Ithaca College and got to know her better in Germany. We became friends because of Marty. Marty often became frustrated with me only because he wanted me to be the best that I could be. He had high hopes for me and I always wanted to make him proud. I think we all did.

Marty never judged anyone. He always touched people in a rare way. He led people to become the best that they could be. Marty wanted nothing but the best for those he loved.

We all wish that somehow we could have saved him. We know we can?t bring him back, but that night Marty did play poker with us. He was there, sitting with us just as clearly as Al, Chad and I were sitting there. We felt him and we talked to him. We all cried together and laughed together in Marty?s honor. Marty is always with us in some way no matter how long he has been gone. We all knew that he would be one of ?The Greats?, a God in his own right, ?a legend.? Everyone knew that he would have been one of the greatest generals of all time. That, I would have bet all my money on!

Our Poker game eventually resumed, after we wiped our tears and picked up our cards. I finally redeemed my poker reputation after my first all-in blunder. It turned out to be a very special night. One we will all remember forever. It was a perfect tribute to Marty - Unprompted and from our hearts.

We wanted to share this evening with you because we don?t now if you are aware of how Marty touches our everyday lives and hearts. We wanted you to know how he guides us through hard times and inspires us to be the best that we can be. Nothing will ever bring Marty back to us but we want you to know that he lives within each of us every day, now and forever. Thank you for your son. God Bless.

With Love,

Ginny, Al and Chad.


Previous Eulogy
Next Eulogy
---
West-Point.Org (WP-ORG), a 501(c)(3) non-profit organization, provides an online communications infrastructure that enable graduates, parents, and friends of the military academy to maintain and strengthen the associations that bind us together. We will provide this community any requested support, consistent with this purpose, as quickly and efficiently as possible. WP-ORG is funded by the generosity of member contributions. Our communication services are provided in cooperation with the AOG (independent of USMA) and are operated by volunteers serving the Long Gray Line. For questions or comments, please email us at feedback@west-point.org.