View a eulogy for James J. Walton, USMA '89, who passed away on June 21, 2008.
Other important links:
James J. Walton
West Point, 1989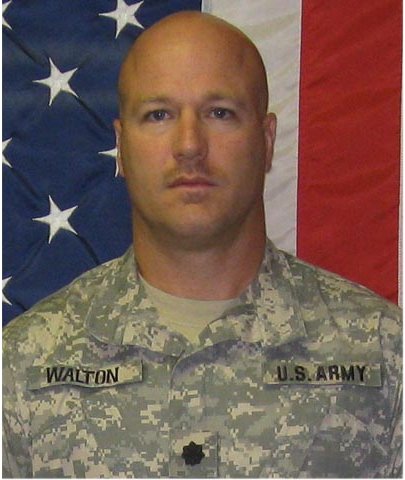 Be Thou At Peace
Posted by Tom Weisenfels on July 1, 2008:
I went to USMA with Jim and was in his company (G-4) during the West Point experience.

I am so sorry to hear of his loss to Sarah, his family, the Army, and the Nation. I remember Jim as being what we called "strack". Strack was a term that defined "by the book" and in line with the rules. Jim loved being a soldier and, better yet, serving his country and being proud of being a soldier. He always made the rest of us feel a little bad as we were concerned about academics and where we were headed while Jim was focused on being the best soldier he could be and living by the code. He lit up whenever it was time to do the Army or infantry stuff and was known to stress discipline's importance to the young plebe freshman at the academy (thus his nickname "quill" for quill pen in the 1800s that would be responsible for writing up the little slips that denote disciplinary action for those cadets that were out of line. The slips of paper just became known as "quill"). I'm not sure if anyone ever explained the full story of the nickname so there you have it.

Jim will be remembered as a fantastic soldier that gave everything, including the ultimate price, to his country. I know he is proud of his service and it is so fitting that he will rest at Arlington under the flag and with his countrymen that served with the same vigor in supporting our Nation.

On a personal level, I grieve with Sarah and the family and am so sorry you lost a friend and husband. My prayers are with you all as you try to make peace with all of this and find the calm for perspective in what is part of God's divine order of things. The pain must be tremendous. There is much to be gained by all of us who knew Jim in our reflections, learning points, assessment of priorities in life, and what Jim's sacrifice will mean to us and how we apply it.

As Dave Brunnert mentioned in the Cadet Prayer, and what Bruce Estok mentioned in his comments, Jim found the harder right in what he did in seeking out how he could be the best officer possible. I respect him tremendously for that focus and selfless commitment.

My prayer is that those close to Jim find peace and meaning to all this and will look to the Lord to share that burden and beat on His chest... He can take it. His West Point family loved him and we will miss him, his legacy, and imprint. Gripped, Tom

Previous Eulogy
Next Eulogy
---
West-Point.Org (WP-ORG), a 501(c)(3) non-profit organization, provides an online communications infrastructure that enable graduates, parents, and friends of the military academy to maintain and strengthen the associations that bind us together. We will provide this community any requested support, consistent with this purpose, as quickly and efficiently as possible. WP-ORG is funded by the generosity of member contributions. Our communication services are provided in cooperation with the AOG (independent of USMA) and are operated by volunteers serving the Long Gray Line. For questions or comments, please email us at feedback@west-point.org.