View a eulogy for Daren M Hidalgo, USMA '09, who passed away on February 20, 2011.
Other important links:
Daren M Hidalgo
West Point, 2009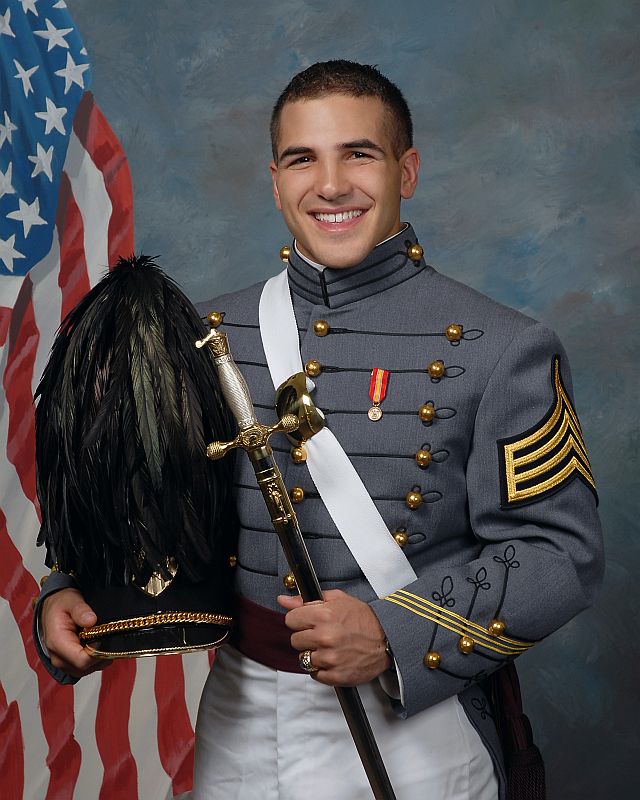 Be Thou At Peace
Posted by Carly Chicantek on February 21, 2016:
I met Daren in middle school. We even briefly dated (I mean very briefly, as in two weeks) freshman year of high school. We decided it was too weird to take it past the friend zone...and all of our friends made fun of us for giving high fives instead of kissing. I remember how heartbroken I was when he said he was moving. But, we managed to stay in touch despite it. At times, a lot of time would lapse before we'd talk, but when we did, we'd be on the phone for hours; I would even fall asleep while on the phone with him sometimes because I didn't want the conversation to end. He was truly the best friend. He cared so much about other people. I can be a pessimistic person (I prefer the term "realistic") which irritates some of my friends and family, but Daren would always just laugh at me and my negative notions. He was so wise. Hindsight is 20/20 they say, but I wish I would have taken his wisdom to heart more. I remember when we met for coffee before he was deployed, the last time I saw him. We caught up on a variety of things, our first marathons-how he killed it and I nearly died. I complained about work; I was in my first job as a registered nurse, and it was awful. I remember telling him about how I would cry almost every day when I came home from work. At the time, I was dating a guy who (whom? that was the one grammar lesson that never quite stuck) would later become my husband, and then ex-husband. He chimed in at this point and said, "Doesn't your boyfriend make you smile?" I was a bit taken aback at his shift in topic. I remember feeling a bit embarrassed and defensive about this. But he was right, I don't recall my boyfriend at that time being very supportive or empathetic about the difficult time I was having with work. But I brushed it off, blamed myself, got a new job, got another new job, got married to said boyfriend, and then got divorced shortly after. When I reflect on the whole situation, I can't help but remember what Daren asked me that day, and wish I wouldn't have brushed it off so easily at the time. One of my best friends, who was also friends with Daren, told me during my divorce that before Daren was deployed he told her to look out for me. He really was the best. Five years after his death, I still miss him so much. I can't help but think about all the amazing things he'd be doing if he were still here. I try not to dwell on that, because I know he wouldn't want that. So I try instead to exemplify the qualities he had, although he set high standards. A few things in the last few years have fallen into place for me, and I like to pretend that Daren is still looking out for me. Be thou at peace, my darling friend.
Previous Eulogy
Next Eulogy
---
West-Point.Org (WP-ORG), a 501(c)(3) non-profit organization, provides an online communications infrastructure that enable graduates, parents, and friends of the military academy to maintain and strengthen the associations that bind us together. We will provide this community any requested support, consistent with this purpose, as quickly and efficiently as possible. WP-ORG is funded by the generosity of member contributions. Our communication services are provided in cooperation with the AOG (independent of USMA) and are operated by volunteers serving the Long Gray Line. For questions or comments, please email us at feedback@west-point.org.