Click on any eulogy link to view that eulogy.
Click on "Post a new eulogy" to add your own eulogy to Daren.
Other important links:
Daren M Hidalgo
West Point, 2009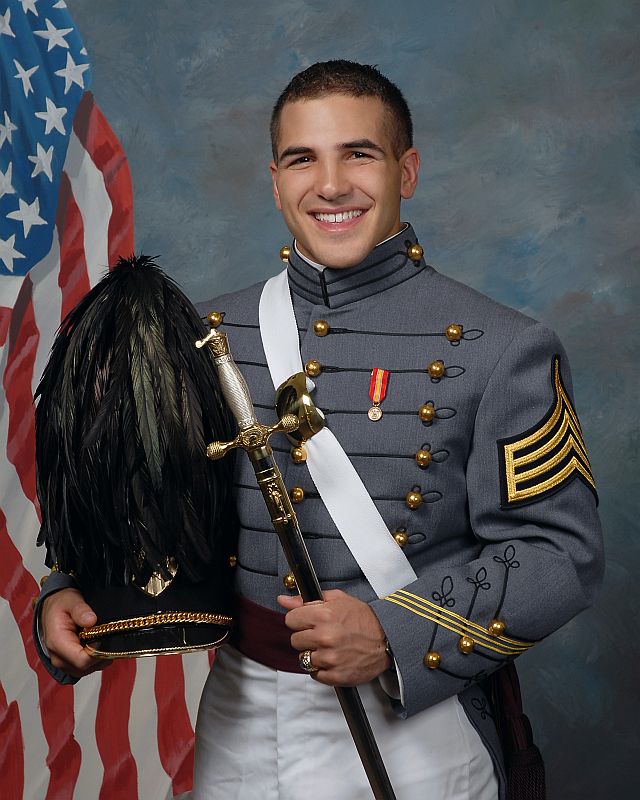 Be Thou At Peace
To date, 193 eulogies have been posted for Daren. Post a new eulogy to share some memories and thoughts that you may have. Additional biographical information may be found on the personal home page.
| Subject | Name | Date Posted |
| --- | --- | --- |
| Go Guppies! | Rizwan Shah | February 21, 2016 |
| Personal Eulogy | Carly Chicantek | February 21, 2016 |
| Personal Eulogy | Ellen Duke | February 20, 2016 |
| Personal Eulogy | James Flannery | February 20, 2016 |
| Greatest Friend - to everyone | Kristin M Pettersen | February 20, 2016 |
| Personal Eulogy | Sarah Honeyager | February 20, 2016 |
| Personal Eulogy | Peggy Bayliss | February 20, 2016 |
| 5th Anniversary. | Leslie Boyanton | February 20, 2016 |
| Personal Eulogy | PA resident | December 29, 2014 |
| Personal Eulogy | Sujeet Shenoi | June 8, 2014 |
| Personal Eulogy | Andrew Moore | December 16, 2013 |
| Personal Eulogy | Ellen Duke | February 20, 2013 |
| Personal Eulogy | Luanne and Bill Leeds | February 29, 2012 |
| Personal Eulogy | Tollie Strode, Jr. (1980) & Gloria Strode | November 12, 2011 |
| Personal Eulogy | Tollie Strode, Jr. (1980) & Gloria Strode | November 12, 2011 |
| Personal Eulogy | Sujeet Shenoi | September 14, 2011 |
| Personal Eulogy | Chris Runkle | June 30, 2011 |
| (!!!) | beth | June 27, 2011 |
| Personal Eulogy | Betsy and Jim Morrow | March 28, 2011 |
| The Hidalgo Ilk | Paul Lushenko | March 19, 2011 |
| Personal Eulogy | Gebby, '09 Guppy | March 18, 2011 |
| Daren Hidalgo | W. M. Treadway | March 12, 2011 |
| Personal Eulogy | Dan Cooney '90 | March 10, 2011 |
| Personal Eulogy | Jim Melanson '84 | March 10, 2011 |
| Personal Eulogy | John & Retta Kurth - proud parents of Cpt. Hans Kurth (KIA March 13, 2004) | March 9, 2011 |
| Personal Eulogy | Jerry L Crosby Sr, State of Arizona | March 8, 2011 |
| Personal Eulogy | John (USMA '70) and Linda Bryant | March 7, 2011 |
| Personal Eulogy | Bill Tomasi USMA 87 | March 4, 2011 |
| Personal Eulogy | Mary Nebe | March 4, 2011 |
| Personal Eulogy | Chuck Toomey '80 | March 4, 2011 |
| Personal Eulogy from Will Treadway's parents '09 | Deborah & Bill Treadway | March 4, 2011 |
| Personal Eulogy | Kevin Guilfoyle | March 4, 2011 |
| Personal Eulogy | Kathryn ~08 Parent | March 3, 2011 |
| Personal Eulogy | Tim Blake | March 2, 2011 |
| Personal Eulogy | David & Sherri Perry, Parents of 2013 Cadet | March 2, 2011 |
| Personal Eulogy | Yale and Philomena Weatherby | March 2, 2011 |
| Personal Eulogy | Jane and Mike Susong | March 1, 2011 |
| Personal Eulogy | Eliza (Love A Cadet) | March 1, 2011 |
| Thank you | Kristie Bugs | March 1, 2011 |
| Personal Eulogy | Mary ('03 & '06 mom) | March 1, 2011 |
| Personal Eulogy | Patrick Lieto | March 1, 2011 |
| Personal Eulogy | John and Sigrid Suddarth | February 28, 2011 |
| Sorry for your Loss | Scott & Allison Lesak | February 28, 2011 |
| Personal Eulogy | Mary Pleuss | February 28, 2011 |
| Personal Eulogy | Mother of Class 2011 | February 28, 2011 |
| Personal Eulogy | Sharon Collins | February 27, 2011 |
| Personal Eulogy | Jerry Napolitano | February 27, 2011 |
| Personal Eulogy | Randy and Laura Weidner | February 27, 2011 |
| Personal Eulogy | Rich and Regina Lesak - Waymart, Pennsylvania | February 27, 2011 |
| Personal Eulogy | Teesa McKinley, Class of 1981 | February 27, 2011 |
| Daren Hidalgo | Chris Bubany | February 27, 2011 |
| Personal Eulogy | Gaeel Beaham | February 26, 2011 |
| Mary Warhank an '09 mom | Mary Warhank | February 26, 2011 |
| Personal Eulogy | Cynthia Causbie | February 26, 2011 |
| Personal Eulogy | Donna Griego | February 26, 2011 |
| Personal Eulogy | ann johansmeyer | February 26, 2011 |
| What a bright light | Mother, class of 2013 | February 26, 2011 |
| prayers | Fr Taillon St Thomas More parish, RI | February 26, 2011 |
| Personal Eulogy | Sonja Rodriguez | February 26, 2011 |
| Personal Eulogy | Emily Sfeir | February 26, 2011 |
| Personal Eulogy | Phil Biggs '86 | February 25, 2011 |
| Personal Eulogy | Jessica Riley | February 25, 2011 |
| Personal Eulogy | Tony & Georgianna Herrero | February 25, 2011 |
| Personal Eulogy | The Hawthorne Family 2009 | February 25, 2011 |
| Personal Eulogy | Ben Wackerlin | February 25, 2011 |
| Thank you, Daren. | Virginia Deriaz | February 25, 2011 |
| Parents of 2012 Cadet | Anna & Martell Swain | February 25, 2011 |
| Personal Eulogy | Lynda Scott | February 25, 2011 |
| Personal Eulogy | Ian Jones | February 25, 2011 |
| Personal Eulogy | Joanne Ratcliff | February 25, 2011 |
| Personal Eulogy | Mary & Mike Conway | February 25, 2011 |
| Personal Eulogy | Jane | February 25, 2011 |
| Personal Eulogy | Sharon and Lew Verash | February 25, 2011 |
| Personal Eulogy | Carol and Dave Peterson | February 25, 2011 |
| Personal Eulogy | C. Freitag | February 25, 2011 |
| Personal Eulogy | Cheryl and bill Bennett | February 25, 2011 |
| Personal Eulogy | Patty and Steve Gorss, Parents '09 | February 25, 2011 |
| 3 Minutes v2.0 | Carlos Andres del Castillo | February 25, 2011 |
| Personal Eulogy | Dennis Rote | February 25, 2011 |
| May God Comfort You | Daniel Wicker | February 25, 2011 |
| Personal Eulogy | Mikstas (2009) | February 25, 2011 |
| Personal Eulogy | Mary Fruehauf | February 25, 2011 |
| Personal Eulogy | Elizabeth Lazzari | February 25, 2011 |
| Personal Eulogy | Mother 2009 | February 24, 2011 |
| Our deepest sympathy | Kurt & Kerry Bleikamp, parents 2013 cadet | February 24, 2011 |
| Personal Eulogy | George & Marlene Hall | February 24, 2011 |
| Personal Eulogy | Bob and Mary Ann Nichols | February 24, 2011 |
| Personal Eulogy | The Ange Family | February 24, 2011 |
| Personal Eulogy | The Marano Family | February 24, 2011 |
| Personal Eulogy | Messina Family | February 24, 2011 |
| Personal Eulogy | Father of Cadet Class 2012 | February 24, 2011 |
| Personal Eulogy | Robert and Maria Naylor '09 | February 24, 2011 |
| Personal Eulogy | Derek Johnson | February 24, 2011 |
| Personal Eulogy | Frank Janoski | February 24, 2011 |
| Personal Eulogy | Koenen Family | February 24, 2011 |
| Personal Eulogy | Deb Johnson | February 24, 2011 |
| Personal Eulogy | Susan Foushee | February 24, 2011 |
| Personal Eulogy | Chris & Karen Kroll | February 24, 2011 |
| May God give you strength | Lissa Pollacia | February 24, 2011 |
| Personal Eulogy | Kyle Hatzinger | February 24, 2011 |
| Personal Eulogy | Carol Schubert | February 24, 2011 |
| From an old warrior. | Maj. John W. Hamner, USAF Ret. | February 24, 2011 |
| Personal Eulogy | Gomez Family | February 24, 2011 |
| Personal Eulogy | Mom 2010 | February 24, 2011 |
| Personal Eulogy | Denise austin | February 24, 2011 |
| God Bless your Family | Robin Chavez | February 24, 2011 |
| Personal Eulogy | Mr. and Mrs. Pauze and family | February 24, 2011 |
| Personal Eulogy | Larry Choate III | February 24, 2011 |
| Personal Eulogy | Debra Thomas | February 24, 2011 |
| Personal Eulogy | Patti Thweatt | February 24, 2011 |
| Personal Eulogy | 2012 mom | February 24, 2011 |
| Personal Eulogy | Marlene Huber | February 24, 2011 |
| Most sincere sympathies | Mom of 08 grad | February 24, 2011 |
| Personal Eulogy | Sloan Family | February 24, 2011 |
| Personal Eulogy | Terry & Alice Epps (Parents of USMA '09 Grad) | February 24, 2011 |
| Personal Eulogy | Paula and Ed Maxwell | February 24, 2011 |
| Personal Eulogy | Dennis and Mary Anderson | February 24, 2011 |
| Our Deepest Sympathy | The Kearn Family and Nyhan Children | February 24, 2011 |
| Personal Eulogy | Cline Family | February 24, 2011 |
| Personal Eulogy | Ken Anderson | February 24, 2011 |
| Personal Eulogy | Jocelyn and Donald Clark | February 24, 2011 |
| Mom of Cadet '12 | Bev Kinley | February 24, 2011 |
| Personal Eulogy | The Buckley family, 2013 | February 24, 2011 |
| Personal Eulogy | The Pritchett Family | February 24, 2011 |
| Personal Eulogy | Jeannie Rose | February 24, 2011 |
| Personal Eulogy | Mom 2013 | February 24, 2011 |
| Personal Eulogy | Ellen Duke | February 24, 2011 |
| Personal Eulogy | David DeMarco | February 24, 2011 |
| Personal Eulogy | Gigi And Carl Sanders | February 24, 2011 |
| Personal Eulogy | Susan Willard | February 24, 2011 |
| Condolences to the Hildago Family | Andra Kai Shaw | February 24, 2011 |
| To family, friends and classmates.... | Don and Janie Harris | February 24, 2011 |
| Personal Eulogy | The Flannery Family | February 24, 2011 |
| Thanks for making many hearts smile | Pao Mei Fisher (Etchells) | February 23, 2011 |
| so sorry | sharon Buck | February 23, 2011 |
| Personal Eulogy | Laurel McMahon | February 23, 2011 |
| Personal Eulogy | Lynne Kennedy | February 23, 2011 |
| Rest in Peace young man | '08 Mom | February 23, 2011 |
| Prayers to you | Jacquie Holcombe | February 23, 2011 |
| Personal Eulogy | Ken & Janet Kalitka | February 23, 2011 |
| Personal Eulogy | JK and Angie Graves Family - Kentucky | February 23, 2011 |
| Personal Eulogy | TONY FULLERTON | February 23, 2011 |
| Personal Eulogy | Larry and Candace Rocha | February 23, 2011 |
| Personal Eulogy | Carla and Dan van Ingen | February 23, 2011 |
| Personal Eulogy | Gail & Lloyd Merrill | February 23, 2011 |
| Personal Eulogy | Barbara Knepper | February 23, 2011 |
| Personal Eulogy | Richard and Deborah Nifong | February 23, 2011 |
| Our sympathies | The Swoope Family, Mississippi | February 23, 2011 |
| Personal Eulogy | Dave & Linda Mirkovich | February 23, 2011 |
| Personal Eulogy | The Smith Family -Fall Creek, Wisconsin | February 23, 2011 |
| Personal Eulogy | Rev and Mrs Raymond Merriweather | February 23, 2011 |
| Our deepest condolences | Rob and Bev Pruden | February 23, 2011 |
| Personal Eulogy | Patricia Moore | February 23, 2011 |
| Personal Eulogy | The Sandonato Family | February 23, 2011 |
| Personal Eulogy | Donna Dolan | February 23, 2011 |
| Personal Eulogy | bill and Phyllis Roberts | February 23, 2011 |
| For your Freedom and Mine | Carlos & Catherine del Castillo | February 23, 2011 |
| Personal Eulogy | Suzanne and Greg Hastings | February 23, 2011 |
| Personal Eulogy | The Cosentino Family | February 23, 2011 |
| Personal Eulogy | Patti Kelly | February 23, 2011 |
| Personal Eulogy | John and Debbie Flowers | February 23, 2011 |
| Personal Eulogy | The Ott Family | February 23, 2011 |
| Personal Eulogy | Tara Milchak | February 23, 2011 |
| Personal Eulogy | The Brandenburgs | February 23, 2011 |
| A Happy-Go-Lucky Guy | Becky Hamilton | February 23, 2011 |
| Personal Eulogy | The Astemborski Family | February 23, 2011 |
| Personal Eulogy | Catherine and Glenn White | February 23, 2011 |
| Personal Eulogy | the Stockwell Family | February 23, 2011 |
| Personal Eulogy | The Schaeffer Family | February 23, 2011 |
| Personal Eulogy | Jordan Stringfellow | February 23, 2011 |
| Personal Eulogy | Barbara and Ed Anania | February 23, 2011 |
| Personal Eulogy | Cheryl Patten | February 23, 2011 |
| Personal Eulogy | The Hubbard Family | February 23, 2011 |
| Personal Eulogy | Mr. and Mrs. Terry Laufer | February 23, 2011 |
| Personal Eulogy | Richard Fuller | February 23, 2011 |
| Personal Eulogy | Cheryl Hockaday | February 23, 2011 |
| Personal Eulogy | Michele Swicegood | February 23, 2011 |
| Personal Eulogy | Tom and Rebecca Wierschem | February 23, 2011 |
| Daren, we miss you so much! | Nate Pulliam | February 23, 2011 |
| Personal Eulogy | Glennette & Craig Grimes | February 23, 2011 |
| Personal Eulogy | Hughbert and Gail Collier | February 23, 2011 |
| Personal Eulogy | Drew Poyner | February 23, 2011 |
| Personal Eulogy | Timothy B. Watkins | February 23, 2011 |
| Personal Eulogy | C.D. and Mary Crigger | February 23, 2011 |
| WP Parent 13 | Tammy Sutherland | February 23, 2011 |
| Personal Eulogy | Leonard and Janet Meeks | February 23, 2011 |
| Personal Eulogy | Koeppe Family | February 23, 2011 |
| Personal Eulogy | Ann Marie Glossinger | February 23, 2011 |
| Personal Eulogy | Jeanette Grayeb-Mihal | February 23, 2011 |
| Personal Eulogy | The Sheppard Family | February 23, 2011 |
| God Bless Daren and his family. | Steve Eakins | February 23, 2011 |
| Personal Eulogy | Maureen Orvik | February 23, 2011 |
| Personal Eulogy | Jane Graham | February 23, 2011 |