Click on any eulogy link to view that eulogy.
Click on "Post a new eulogy" to add your own eulogy to Rhett.
Other important links:
Rhett William Schiller
West Point, 2003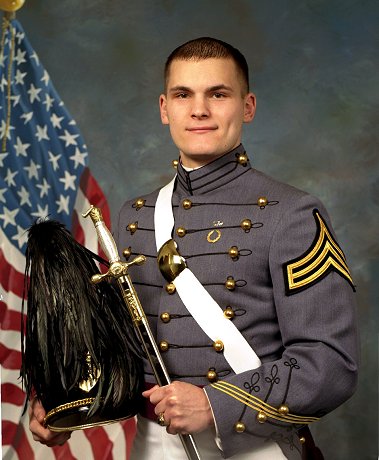 Be Thou At Peace
To date, 81 eulogies have been posted for Rhett. Post a new eulogy to share some memories and thoughts that you may have. Additional biographical information may be found on the personal home page.
| Subject | Name | Date Posted |
| --- | --- | --- |
| Personal Eulogy | Hope | November 7, 2021 |
| Personal Eulogy | Hope | May 30, 2021 |
| Personal Eulogy | Hope | May 25, 2020 |
| Personal Eulogy | HOPE | November 12, 2018 |
| Personal Eulogy | Hope | November 11, 2017 |
| Personal Eulogy | Hope | May 29, 2017 |
| Personal Eulogy | Hope | November 11, 2016 |
| Personal Eulogy | Hope | May 30, 2016 |
| Personal Eulogy | Hope | November 16, 2015 |
| Personal Eulogy | HOPE | November 11, 2015 |
| Personal Eulogy | Hope | May 25, 2015 |
| Personal Eulogy | Hope | November 11, 2014 |
| Personal Eulogy | Hope | November 7, 2014 |
| Rememberance | Hope | May 26, 2014 |
| Personal Eulogy | Hope | November 7, 2013 |
| Memorial Day | Hope | May 26, 2013 |
| Personal Eulogy | Hope | November 16, 2012 |
| Veteran's Day | Hope | November 11, 2012 |
| Happy Birthday | Hope | November 7, 2012 |
| Personal Eulogy | Friend | November 16, 2011 |
| Personal Eulogy | Hope | November 16, 2011 |
| Personal Eulogy | Hope | November 11, 2011 |
| Personal Eulogy | Hope | November 7, 2011 |
| personal eulogy | Hope | September 11, 2011 |
| Personal Eulogy | Hope | July 4, 2011 |
| Rememberance | Hope | May 30, 2011 |
| Personal Eulogy | Hope | November 16, 2010 |
| Personal Eulogy | Hope | November 11, 2010 |
| Personal Eulogy | Hope | November 7, 2010 |
| Memorial Day | Hope | May 31, 2010 |
| Personal Eulogy | Hope | November 16, 2009 |
| Personal Eulogy | Austin Honrath | November 12, 2009 |
| Personal Eulogy | Hope | November 11, 2009 |
| Personal Eulogy | Hope | November 7, 2009 |
| Personal Eulogy | Kevin Wiman | June 19, 2009 |
| Personal Eulogy | Hope | May 25, 2009 |
| Personal Eulogy | Leonard M. Cowherd II | November 16, 2008 |
| Personal Eulogy | Hope | November 16, 2008 |
| Personal Eulogy | Hope | November 11, 2008 |
| Personal Eulogy | Hope | November 7, 2008 |
| Personal Eulogy | Hope | May 31, 2008 |
| Personal Eulogy | Chris Earl | May 26, 2008 |
| Personal Eulogy | Hope | November 16, 2007 |
| Personal Eulogy | Hope | November 7, 2007 |
| Shanghai News | Martin Klingelhoefer | November 3, 2007 |
| Personal Eulogy | Hope | November 1, 2007 |
| Personal Eulogy | Grace | May 27, 2007 |
| Prayers | Leonard M. Cowherd II | January 28, 2007 |
| Personal Eulogy | Parent 2003 | December 25, 2006 |
| Personal Eulogy | Dee | December 16, 2006 |
| Personal Eulogy | Richard Nifong Family | November 30, 2006 |
| Sandhurst memories | Kate (Purchase) Fleming | November 30, 2006 |
| Personal Eulogy | Mary - 2003 mom | November 27, 2006 |
| Personal Eulogy | Robert & Engracia Gregory | November 24, 2006 |
| Personal Eulogy | Rachael Franklin | November 24, 2006 |
| Personal Eulogy | Tim Lawrence | November 24, 2006 |
| Personal Eulogy | Andrew Taylor | November 24, 2006 |
| Personal Eulogy | Donna and Bill Ray | November 23, 2006 |
| Personal Eulogy | Carol L. Davis | November 22, 2006 |
| Personal Eulogy | Matt and Colleen Joosten | November 21, 2006 |
| Personal Eulogy | Robert and Doris Unger | November 21, 2006 |
| Personal Eulogy | Joseph W. Adamczyk | November 21, 2006 |
| Personal Eulogy | Scott Wybro | November 21, 2006 |
| Personal Eulogy | Brandon Ritz | November 21, 2006 |
| Personal Eulogy | Brandon Ritz | November 21, 2006 |
| Personal Eulogy | Ryan Hollin | November 21, 2006 |
| Personal Eulogy | Debbie Timajo | November 21, 2006 |
| Personal Eulogy | Kara Brown | November 21, 2006 |
| Personal Eulogy | Jamie (Curry) Chapman | November 21, 2006 |
| Personal Eulogy | Jay Hack | November 20, 2006 |
| Personal Eulogy | Geoff Earnhart | November 20, 2006 |
| Personal Eulogy | Robert Gregory | November 20, 2006 |
| Personal Eulogy | Robert Gregory | November 20, 2006 |
| Personal Eulogy | Pam & Dennis Desilets | November 20, 2006 |
| Personal Eulogy | Jessica Bice | November 20, 2006 |
| Personal Eulogy | Lawrence Ross Moody,Sr. | November 20, 2006 |
| Personal Eulogy | ann johansmeyer | November 20, 2006 |
| Personal Eulogy | Brandi Record | November 20, 2006 |
| CPL Schiller | Tim Wyant | November 20, 2006 |
| Personal Eulogy | Alex Aquino | November 20, 2006 |
| Personal Eulogy | Erich Atkins | November 20, 2006 |