Click on any eulogy link to view that eulogy.
Click on "Post a new eulogy" to add your own eulogy to Mitchell.
Other important links:
Mitchell Alexander Winey
West Point, 2018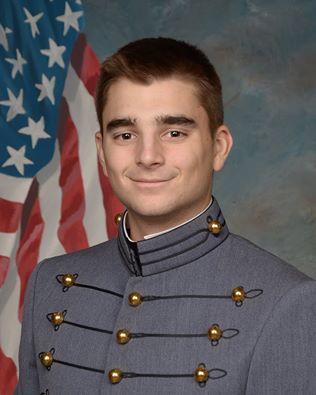 Be Thou At Peace
To date, 124 eulogies have been posted for Mitchell. Post a new eulogy to share some memories and thoughts that you may have. Additional biographical information may be found on the personal home page.
| Subject | Name | Date Posted |
| --- | --- | --- |
| Personal Eulogy | DULCE FAMILY CLASS 2014 | June 18, 2016 |
| Personal Eulogy | Senft Family | June 17, 2016 |
| Personal Eulogy | DARLENE FOREMAN | June 15, 2016 |
| Personal Eulogy | Patrick Family, Class of 2012 | June 15, 2016 |
| Personal Eulogy | Julie Carroll (Class of 2015 mother) | June 15, 2016 |
| Personal Eulogy | Randy Harnish | June 13, 2016 |
| May God comfort you in this time of sorrow | Agnes Prassas | June 11, 2016 |
| Personal Eulogy | Marsha Garrison | June 10, 2016 |
| Personal Eulogy | Russ and Tracy Klehn, Class of 2018 Parents | June 8, 2016 |
| Personal Eulogy | Keith and Chyrisse Miller | June 8, 2016 |
| Personal Eulogy | The Strimel Family, Class of 2013 | June 8, 2016 |
| Personal Eulogy | Tony Lentini | June 8, 2016 |
| Prayers for your family | The Cooley Family | June 7, 2016 |
| Personal Eulogy | Dan and Cathy Jostes | June 7, 2016 |
| Personal Eulogy | Sharon and Jeff Esterman | June 7, 2016 |
| Personal Eulogy | William Johnson | June 7, 2016 |
| Personal Eulogy | Ken Witzenman | June 7, 2016 |
| Personal Eulogy | John and Lindsay Dingle (parents of 2017 cadet) | June 7, 2016 |
| For family | Joyce Cho ( mother of Class 2017) | June 6, 2016 |
| Personal Eulogy | Robert and Doris Unger | June 6, 2016 |
| Personal Eulogy _ Mother of 2010 and 2012 grad | Janet Cruickshank | June 6, 2016 |
| Love of Duty......... | Daniel A. Green | June 6, 2016 |
| Personal Eulogy | Jeanette Grayeb-Mihal | June 6, 2016 |
| Personal Eulogy | Julee and Daniel Hunt and 2LT Austin Hunt | June 6, 2016 |
| Personal Eulogy | Overly Family | June 6, 2016 |
| With deepest sympathy | Miller Family, Class of 2018 | June 6, 2016 |
| Personal Eulogy | Harlene Coutteau | June 6, 2016 |
| Personal Eulogy | Frank and Carla Gonzales; Parents of a 2018 Cadet | June 6, 2016 |
| Personal Eulogy | Valencia de la Vega-Maslonka | June 6, 2016 |
| Personal Eulogy | Jim and Mary Veldkamp | June 6, 2016 |
| Personal Eulogy | Mark Hogan | June 6, 2016 |
| Personal Eulogy | Sakata Family | June 6, 2016 |
| Personal Eulogy | Jim and Tracy Schultz- 2016 and 2019 parents | June 6, 2016 |
| Personal Eulogy | Kirk & Carol Brownfield | June 6, 2016 |
| Personal Eulogy | The Swoope Family '09 | June 6, 2016 |
| Personal Eulogy | Jeff & Denise Panicucci - Class of 2018 Parents | June 6, 2016 |
| So very sorry for your loss - Family of a 2016 | Shari Downum | June 6, 2016 |
| Personal Eulogy | Katy Wissemann, 2018 parent | June 6, 2016 |
| Personal Eulogy | Veronica DeBorde | June 6, 2016 |
| Personal Eulogy | Gigi and Carl Sanders 2012 Parents | June 6, 2016 |
| Personal Eulogy | Kizzy Collins Parent 2018 | June 6, 2016 |
| Personal Eulogy | Michele Demetriou | June 6, 2016 |
| Personal Eulogy | Jordan Family, parent of a 2019 | June 6, 2016 |
| My hope that you may find comfort | Bill Martin - 2016 parent | June 5, 2016 |
| Personal Eulogy | Jacqueline Wegner | June 5, 2016 |
| Personal Eulogy | Steve and Debbie Dunn- Parent class of 2018 | June 5, 2016 |
| Personal Eulogy | Judy Geneser | June 5, 2016 |
| Personal Eulogy | Mary Walkup | June 5, 2016 |
| Personal Eulogy | Stacey and Chris Machorek, 2019 parents | June 5, 2016 |
| Personal Eulogy | Julia and David Charles (2017 parents) | June 5, 2016 |
| Personal Eulogy | The Okorn family, Michael class of 2016 | June 5, 2016 |
| Personal Eulogy | Michael and Evelina Duchrow | June 5, 2016 |
| With Deepest Sympathy | John and Sandy Cooper - Parents of 2015 | June 5, 2016 |
| Personal Eulogy | Melissa Matos | June 5, 2016 |
| Personal Eulogy | Cedric and Mary Edwards | June 5, 2016 |
| Personal Eulogy | Patricia Moton | June 5, 2016 |
| Personal Eulogy | Lisa Smith | June 5, 2016 |
| Personal Eulogy | Kelly Family | June 5, 2016 |
| Personal Eulogy | Laura Ariail | June 5, 2016 |
| Personal Eulogy | Robb and Gina Peterson, parents of a 2018 cadet | June 5, 2016 |
| Personal Eulogy | Paige Kellogg | June 5, 2016 |
| Personal Eulogy | Jeannine Harjo-parent class of 2018 | June 5, 2016 |
| Personal Eulogy | Wanda Goode 2017 parent | June 5, 2016 |
| With deepest sympathy | Sasha and Peter Kukharsky - Parents '14 | June 5, 2016 |
| Personal Eulogy | Rosalie Bowen | June 5, 2016 |
| With deepest sympathy | Keith and Nancy Fabi (Parents of 2017 Cadet) | June 5, 2016 |
| Personal Eulogy | Art & Shinta Stanley-parents 2015 | June 5, 2016 |
| Personal Eulogy | Julie and Tim Swartz, parents of a 2018 cadet | June 5, 2016 |
| Personal Eulogy | Mary Chandler,parent '17 | June 5, 2016 |
| Personal Eulogy | The Crane Family | June 5, 2016 |
| Personal Eulogy | Reed Family, 2013 | June 5, 2016 |
| Personal Eulogy | Mayeaux family-class of 2014 | June 5, 2016 |
| Personal Eulogy | Kathy Lefebvre | June 5, 2016 |
| Personal Eulogy | Michelle and Jim Turner, parents of 2019, La Porte, IN | June 5, 2016 |
| For the family | Karen Park parent of 2018 class | June 5, 2016 |
| Personal Eulogy | Tracey Jones (Parent of a 2018) | June 5, 2016 |
| Personal Eulogy | Holly Williamson | June 5, 2016 |
| Personal Eulogy | Rose Tanega | June 5, 2016 |
| Personal Eulogy | Markey family, Class of 2017 | June 5, 2016 |
| Personal Eulogy | barbara lynn armstrong | June 5, 2016 |
| Personal Eulogy | Lenny & Sonja Hollimon, Parents of a 2018 | June 5, 2016 |
| Personal Eulogy | Eva Price | June 5, 2016 |
| Personal Eulogy | Marcus and Jill Castilla | June 5, 2016 |
| Personal Eulogy | Heidi & David Bares | June 5, 2016 |
| Personal Eulogy | Jim and Betty Lewis | June 5, 2016 |
| Personal Eulogy | Crabtree family | June 5, 2016 |
| Personal Eulogy | Jay and Sherri Matkovich, parents 2018 | June 5, 2016 |
| Personal Eulogy | Susan Harrison | June 5, 2016 |
| With deepest sympathy | Mary Crigger | June 5, 2016 |
| For the Family | Crissy and Joakim Mortensen Parents of 2016 | June 5, 2016 |
| Personal Eulogy | Toni Casciato | June 5, 2016 |
| Personal Eulogy | Laura Meyers, mom of 2016 and 2018 | June 5, 2016 |
| Personal Eulogy | Jerry Napolitano | June 5, 2016 |
| Personal Eulogy | Parents of 2011 & 2014 | June 5, 2016 |
| So sorry for your loss | Mike Spurling | June 5, 2016 |
| Prayers | Anne Baki | June 5, 2016 |
| For the family | Karen M Hudson | June 5, 2016 |
| Personal Eulogy | Jenny Lee | June 5, 2016 |
| Personal Eulogy | Linda Gray | June 5, 2016 |
| Personal Eulogy | Louise Mahony | June 5, 2016 |
| Personal Eulogy | Jon and Dr. Katherine Harris, Parents 2010 | June 5, 2016 |
| Personal Eulogy | Fred and Heather Hardee | June 5, 2016 |
| Personal Eulogy:Mother of 2010 grad | Penny Knepp | June 5, 2016 |
| Personal Eulogy | The Costello Family/John Grad 2013 | June 5, 2016 |
| So Sorry | Rita Raydon | June 5, 2016 |
| Personal Eulogy | Luci Davidson | June 5, 2016 |
| Personal Eulogy | Kim Giachinta | June 5, 2016 |
| Personal Eulogy | The Walkers | June 5, 2016 |
| Personal Eulogy | Maureen Crowley - Parent 2014 | June 5, 2016 |
| Personal Eulogy | Joel and Sandra Horning | June 5, 2016 |
| With deepest condelences | Parent of class 2013 grad | June 5, 2016 |
| Personal Eulogy | Lynn and Bill Knutson | June 5, 2016 |
| Personal Eulogy | Lugene Armstrong | June 5, 2016 |
| Our thoughts and prayers are with you. | Joan Shumaker | June 5, 2016 |
| In our prayers | Karyn Ayala | June 5, 2016 |
| Deepest Sympathy | Jim and Nanette Reitter | June 5, 2016 |
| Personal Eulogy | Mike and Lela Buckley, John, 2013 grad | June 5, 2016 |
| Heartfelt condolences | Kelly Coppage | June 5, 2016 |
| your loss | Joy Dzwilefsky | June 5, 2016 |
| Personal Eulogy | Wayne D. Niehus | June 5, 2016 |
| Our heartfelt condolences | Donna and Joe Maggard - Parents 2012 | June 5, 2016 |
| USMA 1994 Gripping Hands | Brandi Bryan Peasley | June 5, 2016 |
| Personal Eulogy | Frank & Pamela Struzinski | June 5, 2016 |
| Personal Eulogy | Ann Johansmeyer | June 5, 2016 |