View a eulogy for Donald Edward Nowland, USMA '65, who passed away on May 10, 2017.
Other important links:
Donald Edward Nowland
West Point, 1965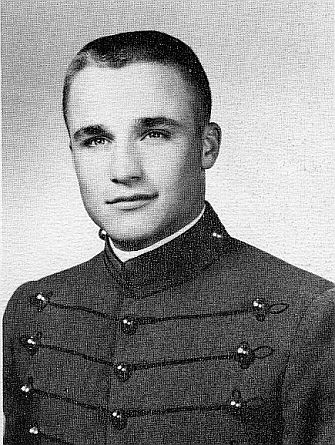 Be Thou At Peace
Posted by Davita Nowland on July 2, 2017:
Don Nowland, my soulmate, the love of my life, took his last breath at 9:24 AM, May 10 at the Kaplan house. He would have been 74 on May 21. Don and I would have celebrated our 22nd wedding anniversary this New Year's Eve.

When Judy Jacobi asked me (with great sensitivity) if I wanted to speak to you tonight about our experience at the Kaplan house, I knew it would be difficult, but I had to say yes.

Don was a West Point Graduate class of 1965. He fought for our country in Vietnam, served 23 years in the Army, and retired from the Army as a full Colonel. After the army Don went to work for Raytheon, and retired June 2016.

Don was an engineer, a soldier, a poet, a coach, a mentor, an inspiration, and the best guy I ever knew. I was crazy about him.

This year's Memorial Day speaker at Memorial Park spoke about service - how every day deeds, not just military service can contribute significantly to making our world a better place. Don knew this, and he lived it every day of his life.

In 2007 Don was diagnosed with a rare, slow growing form of GI cancer for which there was/is no cure. That day his oncologist said he could expect a good quality of life for quite some time. Don's cancer did remain stable for quite some time, and he did have quite a good quality of life until the fall of 2015 when his cancer became more active.

On Friday May 5, at 6:30 am I called 911 because Don took a fall in our bedroom and I couldn't get him up. He went by ambulance to the Salem Hospital ER. By early Friday afternoon he was admitted to the ICU. He didn't sustain any critical injuries during the fall but we discovered he had a massive infection in his abdomen causing tremendous pain and dangerously unstable vitals. It was a shock to us - even though he'd been very sick for a while, we had just been to Dana Farber the day before for labs and treatment and we were congratulating ourselves because he was responding to the latest treatment strategy. This was less than 24 hours later.

Things seemed to move in slow motion after that. The frightening series of events in the ICU came to a head Sunday night, after which I remember asking his amazingly compassionate nurse if now would be the right time to talk about hospice. She confirmed that it was.

I wanted to spare Don any additional pain and anxiety over moving him so we discussed initiating hospice in the ICU. I knew about the Kaplan house, but at the time I didn't think it would be long, and didn't want to move him. But the ICU nurses told me that if they needed his bed, he would be moved to the "floor" and that wouldn't be a good thing for him.

Then the hospice coordinator came to see me that Monday morning in the ICU with an offer to move him to the Kaplan house. I hesitated for only for a moment when I noticed Don's nurse nodding encouragingly at me to take the offer. She assured me he would be comfortable during the transport - that I wouldn't be sorry - and that I was doing the right thing at the right time.

From the moment I entered Don's room at the Kaplan House- after he was situated, I could feel things were different. He looked comfortable and peaceful, and for the first time in 3 days I could breathe. We knew the end was close, but I felt peaceful because he was peaceful, and the staff was so attentive. They convinced me to go home and get our dog and a few things and to make myself more at home. So I went home to get our dog and some basic necessities. I can't even tell you how wonderful it was to have our dog with us.

Over the next 40 hours or so I found myself telling the nurses about Don, our lives together and our goopy love story while Don slept peacefully. They listened with genuine interest as I told stories while pointing to some of our favorite photos I brought with me to have in his room. I was so comforted by their open interest and compassion.

The way the hospice team worked together to help me with the end of life details was so professional, heart-felt and totally appropriate. I particularly liked the way they helped me choose a funeral home - not giving me a big list to sort thru, but a solid recommendation based on Don's wishes at just the right time. It turned out to be an excellent choice.

Having Don's last 2 days pain free, stress free in a beautiful and peaceful setting where he was treated with great care, dignity and respect really helps me when I think about those last few days. Having those last peaceful hours to anticipate the inevitable was a most precious gift, and it helps me to not focus on those terrifying days prior in the ICU.

With all my heart, thank you Care Dimensions for being there and for giving us this most precious gift.

Previous Eulogy
Next Eulogy
---
West-Point.Org (WP-ORG), a 501(c)(3) non-profit organization, provides an online communications infrastructure that enable graduates, parents, and friends of the military academy to maintain and strengthen the associations that bind us together. We will provide this community any requested support, consistent with this purpose, as quickly and efficiently as possible. WP-ORG is funded by the generosity of member contributions. Our communication services are provided in cooperation with the AOG (independent of USMA) and are operated by volunteers serving the Long Gray Line. For questions or comments, please email us at feedback@west-point.org.