View a eulogy for James J. Walton, USMA '89, who passed away on June 21, 2008.
Other important links:
James J. Walton
West Point, 1989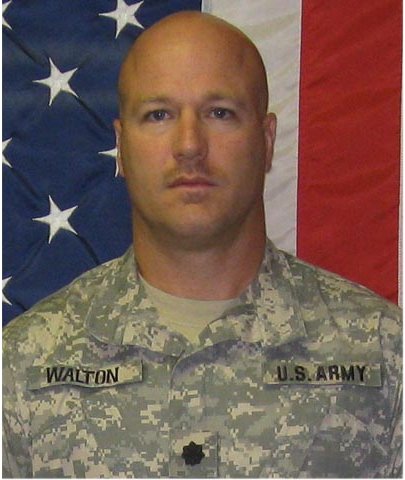 Be Thou At Peace
Posted by Karen Walsh on July 7, 2008:
My deepest condolences to Sarah and the entire Walton family. I am sad beyond words.

I was a Class of 91, G-4, Guppy... a diver on the Army team with Jim... and one of those plebes who Jim "Quill" Walton mentored and demanded perform to a higher standard.

He was relentless in the company area about standards, knowledge, and professionalism; he knew how to make everyone laugh after a tough workout, all sweaty and strung up over a trampoline; and he was a faithful friend. We often joked that no one would ever know we were friends because his rigid commitment to duty would not allow him to bend a rule. So I was "Walsh" in the company area and "Karen" (and a few choice other nicknames!) in the pool. But Jim supported me faithfully. Even when he was disciplining me because I didn't know the articles in the morning paper (because we were together at morning practice!?!), he did so with that crooked little smile of his.

My parents slept easier knowing that Jim would tell them if I was struggling more than the rest. He always spent time with them when they visited West Point... to let them know that West Point wasn't easy for anyone, but that I was ok. For that, Jim, I will always be grateful.

The Army family is so small... I was advised of our great loss via a mutual Army friend of Don's. We had spoken so many times of the Walton brothers. Our mutual respect for both Jim and Don's professionalism and love of your friendship is indicative of the mark Jim no doubt left on every life he touched!

It does not surprise me to learn that Jim volunteered for duty which was significantly more dangerous than most. He ALWAYS chose the harder right. In death, as he did in life, Jim brings honor to The Corps. So Walton Family, please know that I and my family, the Army family, and this beautiful nation that Jim loved so much, all mourn the loss of a good, strong, honorable man.

Jim was many things to me... a company-mate, a teammate, a mentor, but above all, Jim Walton was my friend. He was a beautiful soul, and he lives on in me.

Be Thou at Peace.
Previous Eulogy
Next Eulogy
---
West-Point.Org (WP-ORG), a 501(c)(3) non-profit organization, provides an online communications infrastructure that enable graduates, parents, and friends of the military academy to maintain and strengthen the associations that bind us together. We will provide this community any requested support, consistent with this purpose, as quickly and efficiently as possible. WP-ORG is funded by the generosity of member contributions. Our communication services are provided in cooperation with the AOG (independent of USMA) and are operated by volunteers serving the Long Gray Line. For questions or comments, please email us at feedback@west-point.org.