View a eulogy for James J. Walton, USMA '89, who passed away on June 21, 2008.
Other important links:
James J. Walton
West Point, 1989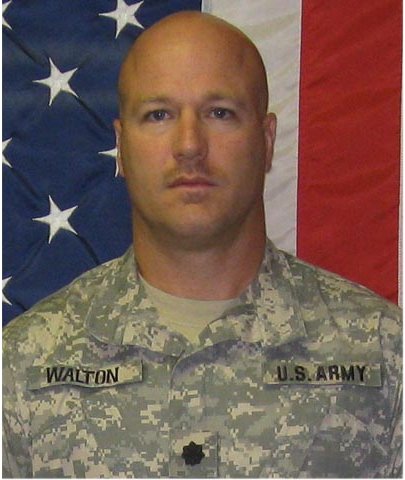 Be Thou At Peace
Posted by Cathy (Sutter) Hansen on July 8, 2008:
Sir, The Alma Mater:

Hail, Alma Mater dear,
To us be ever near,
Help us thy motto bear
Through all the years.
Let duty be well performed,
Honor be e'er untarned,
Country be ever armed,
West Point, by thee.

Guide us, thy sons, aright,
Teach us by day, by night,
To keep thine honor bright,
For thee to fight.
When we depart from thee,
Serving on land or sea,
May we still loyal be,
West Point, to thee.

And when our work is done,
Our course on earth is run,
May it be said, 'Well Done;
Be Thou At Peace.'
E'er may that line of gray
Increase from day to day,
Live, serve, and die, we pray,
West Point, for thee.

Jim was a cow when I was a plebe in Guppyland (G-4). As Bruce has already stated, Jim made sure everyone knew the regulations, and that the plebes knew their knowledge. And yes, as Karen, my roommate, has already stated Jim made sure I knew my news and knowledge, much to my chagrin. I will never forget Jimís sense of duty.

A year later we were both having knee surgery, on the same day, at Keller (1 of 3 surgery choices to required to graduate from West Pointóthe other 2 choices being a shoulder scope or wisdom teeth removal). Iíll never forget Jim shaving/marking his knee for the doctor to make sure the correct knee was cut on. Also, when the anesthesiologist (a LTC) asked whether to do a partial block or to knock you out with general anesthesia: Jim took the partial, while I took the chicken route of general anesthesia. We both laughed later since I recovered from the anesthesia quicker than Jim. It ended up that the LTC had to give Jim general anesthesia on top of the partial dosage to totally knock him out for the scope. I can only imagine that Jim was asking too many details about the surgery while it was occurring!!

Later that night, with Jimís room on the opposite hospital hallway, we both experienced the wrath of the nurses. The nurses, who I believe were CPTs, yelled at us because we were both hopping around on crutches trying to get pizza delivered to us for dinner. I will never forget Jimís sense of humor.

The last time I talked to Jim was about 5 years ago when I got out of the Army after serving 11 Ĺ years. Jim gave me words of support after telling him about my recent change in career to becoming ďjustĒ a stay at home mom of 2 small boys and supporting my military spouse. I will never forget Jimís support for others.

Jim, Well Done; Be Thou At Peace.
Previous Eulogy
Next Eulogy
---
West-Point.Org (WP-ORG), a 501(c)(3) non-profit organization, provides an online communications infrastructure that enable graduates, parents, and friends of the military academy to maintain and strengthen the associations that bind us together. We will provide this community any requested support, consistent with this purpose, as quickly and efficiently as possible. WP-ORG is funded by the generosity of member contributions. Our communication services are provided in cooperation with the AOG (independent of USMA) and are operated by volunteers serving the Long Gray Line. For questions or comments, please email us at feedback@west-point.org.