View a eulogy for James J. Walton, USMA '89, who passed away on June 21, 2008.
Other important links:
James J. Walton
West Point, 1989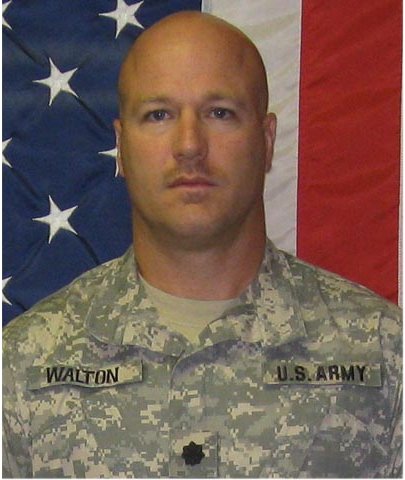 Be Thou At Peace
Posted by Brian A. Farlow on June 1, 2009:
In December 2007, I deployed to Afghanistan with LTC Walton as part of a mentor team. LTC Walton was the team leader for Team A and our mission was to mentor Kandak A of the Headquarters Security and Service Brigade (HSSB)in Kabul, Afghanistan. I had not trained at FT. Riley as part of LTC Walton's team, but as part of a different team that was assigned to mentor another kandak in HSSB. Although I was "new" to LTC Walton's team, he immediately made every effort to make me comfortable and feel part of his team. I can honestly say that I have never had the privilege of serving with a finer combat leader than LTC Walton. His professionalism, courage, tactical and technical expertise, compassion, sense of duty and humor made our mission successful despite the difficult situation. Even after he was in Kandahar, he looked after us--sending suggestions and "lessons learned" based on his experiences. I watched (and learned) as LTC Walton developed, fostered and ultimately earned the deep trust of the Afghan leadership of Kanda A. Indeed, when the leadership of Kandak A learned of his death, they were deeply moved and saddened and, even though he was no longer a mentor of Kandak A when he was killed, nearly every officer in the Kandak requested to be present at the Fallen Soldier ceremony on Camp Phoenix. The real tribute to LTC Walton, however, is that when he left our team to take another (and, honestly, more dangerous) mission in Kandahar, every member in Team A offered to join him despite the increased risks.

This Memorial Day marks nearly one year since LTC Walton was killed in action. Rarely a day goes by that I don't pause to think about him and to thank my good fortune for having the opportunity to work with such a great leader, fine soldier and exceptional patriot. I believe that I can speak for all the soldiers of Team A when I say that, while LTC Walton is no longer with us, each of us carry part of him in our heart and we will cherish that part forever.

Well done!

Previous Eulogy
Next Eulogy
---
West-Point.Org (WP-ORG), a 501(c)(3) non-profit organization, provides an online communications infrastructure that enable graduates, parents, and friends of the military academy to maintain and strengthen the associations that bind us together. We will provide this community any requested support, consistent with this purpose, as quickly and efficiently as possible. WP-ORG is funded by the generosity of member contributions. Our communication services are provided in cooperation with the AOG (independent of USMA) and are operated by volunteers serving the Long Gray Line. For questions or comments, please email us at feedback@west-point.org.