View a eulogy for James J. Walton, USMA '89, who passed away on June 21, 2008.
Other important links:
James J. Walton
West Point, 1989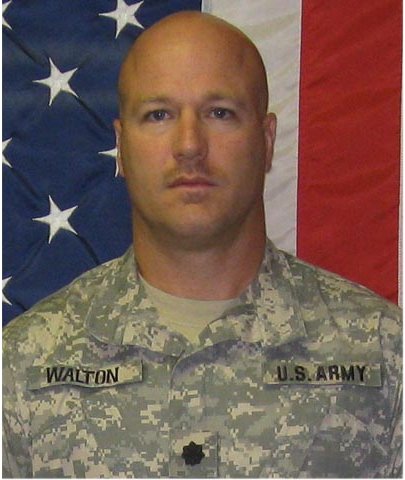 Be Thou At Peace
Posted by Erin Sindle on June 10, 2009:
I met Jim in 2004 at Skydive Virginia, where I'd gone to experience the thrill of my first skydive. I went down with a large group of friends from church, and as we were waiting for our turns to board the plane, Jim came along, introduced himself, and then asked us what had made us decide to willingly throw ourselves out of a perfectly good airplane. When I told Jim that my then-boyfriend (now husband) was a Special Forces officer who'd jumped out of virtually every kind of aircraft, and that I wanted to somehow share in that experience, he grinned, gave me a high-five and said, 'Now THAT'S a reason to jump out of an airplane!'

On my subsequent trips to Skydive Virginia, Jim and I would talk about our common love of military history and about his, my husband's and my experiences in the military. His enthusiasm for life was infectious, and more than once I would have tears streaming down my face from laughing so hard.

When my husband was in Iraq in 2007/2008, Jim would send me encouraging emails, reminding me of the important work that my husband was doing, and that he knew it meant a lot to my husband (also named Jim) to know that I fully supported him. Jim's emails were a source of encouragement and support, and very often laughter, too. In his last email to me, he wrote: 'Jim loves God, loves his country, and wants to help make the world a better place. What a crappy kind of person to fall in love with!'

Jim was one of the kindest, funniest, most gregarious, most outgoing, most big-hearted and most dedicated people I've ever had the privilege of knowing, and though he may be gone, he will most certainly never be forgotten.

Rest in peace, my friend.



Previous Eulogy
Next Eulogy
---
West-Point.Org (WP-ORG), a 501(c)(3) non-profit organization, provides an online communications infrastructure that enable graduates, parents, and friends of the military academy to maintain and strengthen the associations that bind us together. We will provide this community any requested support, consistent with this purpose, as quickly and efficiently as possible. WP-ORG is funded by the generosity of member contributions. Our communication services are provided in cooperation with the AOG (independent of USMA) and are operated by volunteers serving the Long Gray Line. For questions or comments, please email us at feedback@west-point.org.